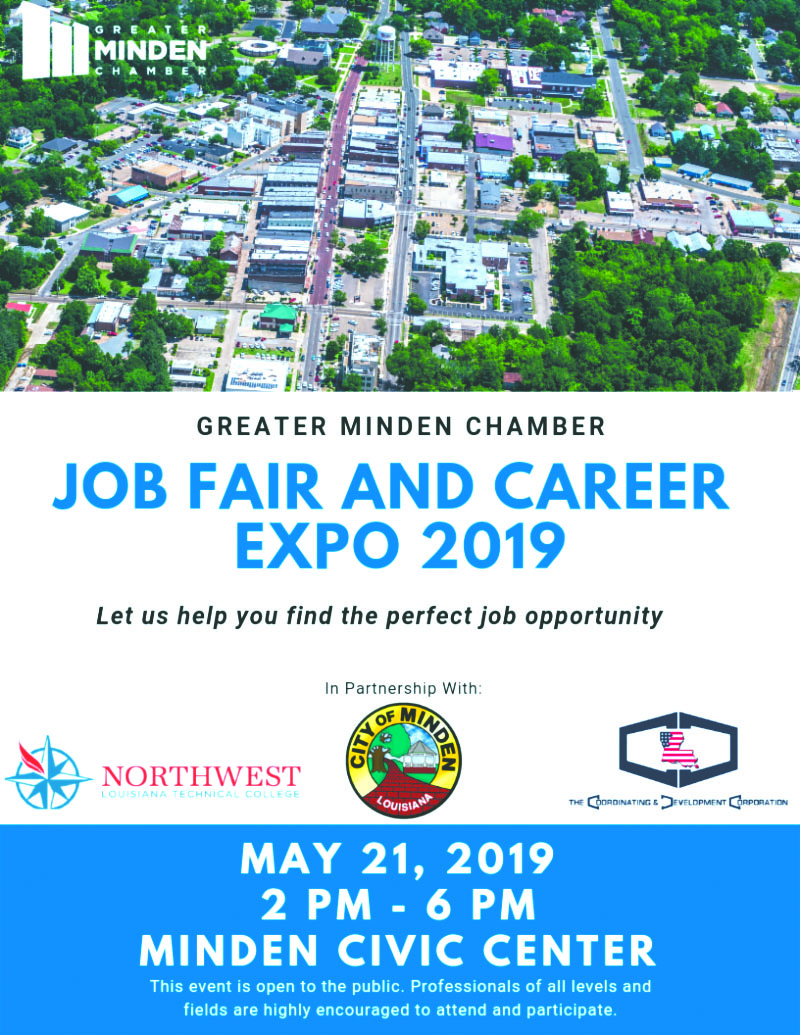 The Greater Minden Chamber, in partnership with Northwest Louisiana Technical College, City of Minden, and the Coordinating Development Corporation, will be hosting a job fair and career expo on May 21.
This event will be held at the Minden Civic Center from 2 p.m. to 6 p.m.
"We are excited about the response from area companies who are looking for employers," said Greater Minden Chamber President Stephanie Barnette.
"We are expecting a great turnout from those looking for work, or interested in changing careers. We are encouraging everyone to come dressed for success with a resume' in hand because employers will be doing interviews on the spot."
The event is open to the public, and professionals of all levels and fields are highly encouraged to attend and participate.
"From retail to manufacturing. From healthcare to government jobs. There will be options for every skill set. Mercy's Closet will also be in attendance showcasing some of the business attire clothing/shoes that they have available in their new store. We are looking forward to adding new employees to our business community and growing the Greater Minden area. We hope to see you on Tuesday," said Barnette.
The following employers have been confirmed for the job fair:
Minden Medical Center, Northwest LA Technical College, City of Minden, Fibrebond Corporation, Webster Parish School Board, Walmart Minden, Coordinating & Development Corp, LA Workforce Commission, McInnis Brothers Construction, Webster Parish Library, Clement Industries, Minden Police Department, Minden Fire Department, Sanders Machine, International Paper Springhill, Cricket Wireless, Garden Court Rehab, Whispering Pines – Plain Dealing, Adecco Staffing, Goodwill Industries, Springhill Medical Center, Webster Parish Sheriff's Office, Catamaran Solutions and Ringgold Nursing & Rehab.