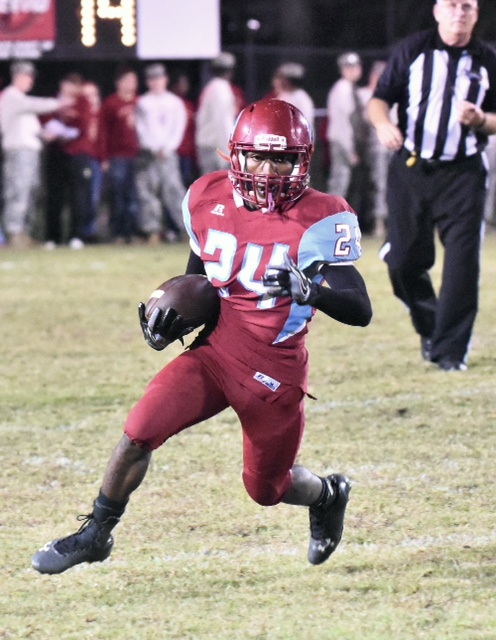 LIVONIA – Careful what you tweet.
Livonia running back/linebacker and LSU commitment Patrick Queen called out the Crimson Tide on social media prior to Friday's game. In the fourth quarter with Minden polishing off a 35-8 beatdown, Queen was probably suffering from tweeter's remorse.
The Crimson Tide (11-1) limited the Livonia Wildcats (7-5) to jaw-dropping 35 yards of offense and got a star effort from Tavarius Edwards to power their way into the quarterfinals of the Class 4A state football playoffs.
Minden will face Warren Easton at home in The Pit the day after Thanksgiving at 7 p.m.
"I thought everybody played well in all phases of the game," Minden head coach Spencer Heard said. "The defense seemed like they got a little bit of their swagger back this week. Our secondary was breaking on balls, coming up with picks, and it was nice to see us put a little pressure on the quarterback."
Quarterback Antonio Rivetter fired 3 touchdown passes, all to Tavarius Edwards who finished the night with 4 catches for 105 yards to go along with the 3 TD's. Rivette finished with the same statline, going 4-for-9 through the air, but did add 55 rushing yards and a score on the ground.
The Tide ran for 195 yards, led by Kolby Jackson with 9 carries for 76 yards and a 5-yard touchdown run before halftime to make the score 29-8 at the halfway point.
The only points of the second half came on a 9-yard catch by Edwards from Rivette, set up by a 43-yard run from Jackson.
"The offensive line was coming off the ball well," Heard said. "We just grinded on them and controlled the clock."
Leonardo McCarter had a special night defensively, recording 3 interceptions from his cornerback position.
"They weren't easy picks," Heard said. "He made great breaks and great catches. He played well, and really, all our DB's did."
Zi'Kerrion Baker and Jacareon Lathan each recorded a sack, while Kendall Allums and Ethan Culp each had 1/2 sack.
Jamin Oliver rushed for 39 yards and Rykarrian Robinson added 24 rushing yards to round out the offense for Minden.
Livonia quarterback Kerri Wells finished the game beaten and battered, finishing only 4-of-17 passing with 0 TD's and 3 interceptions. Patrick Queen finished with 10 carries for 10 yards and a fumble.