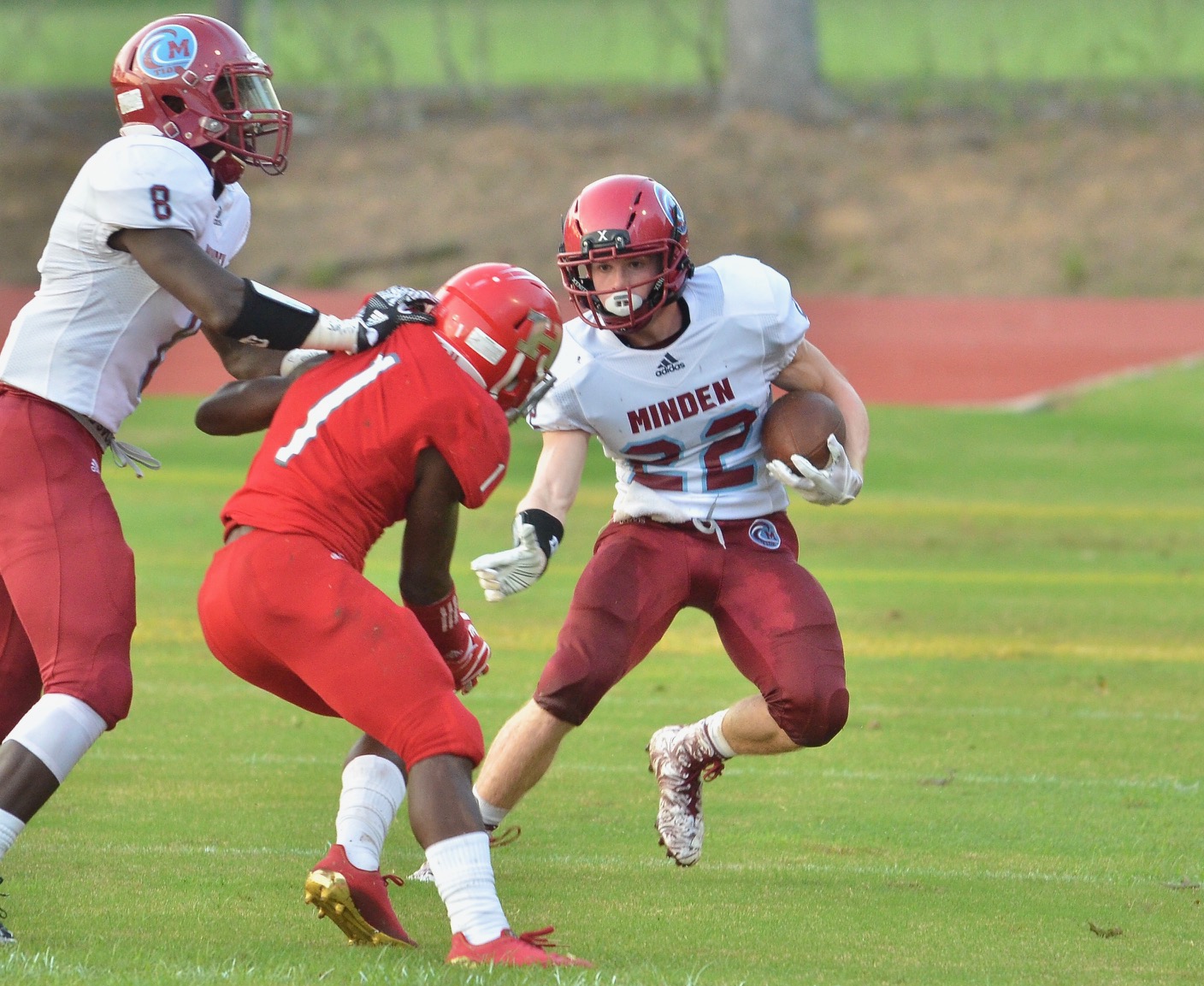 For the first time this year, Minden won't have to travel on a Friday night.
At long last, the Crimson Tide are making their 2017 home debut following three weeks on the road. It's been a whirlwind few weeks too, as the Tide have played three tough opponents in Haughton, Haynesville and North Webster.
Minden lost the first of those three at Haughton 42-7 before winning back-to-back ball games in dramatic fashion. Now, Huntington comes to town on the heels of a loss to Captain Shreve.
The Raiders are 1-2 with the lone win coming against Southwood in week two. Stephen Dennis is in his first season as head coach of Huntington, but has the Raiders playing better football, according to Minden head coach Spencer Heard.
"They're pretty solid," Heard said. "They have some big kids up front. They try to run the ball at you; they run a little wildcat with their running backs. Defensively, they're good too. Some of the same kids that block on that wildcat set do a good job on defense too. It's going to be challenge for us with them coming in."
It will be more of a challenge for Huntington to come in and knock off Minden in a game of this magnitude. It's the 1-4A opener and home opener, Minden is riding high off a pair of huge victories and the offensive personnel are beginning to show signs of life; not to mention, the Tide's special teams have big top notch.
"We're looking forward to Friday," Heard said. "It was weird starting the season like that. We're ready to get back home. Coach Ensminger and me have been helping them prep the field the past few days, going in and sanding some of the gaps. We're just excited and ready."
Minden's offense feels like it's on the verge of becoming a threatening unit. On the game-winning drive in last week's game with North Webster, Seth Tyler completed three nice passes to Patrick Heard, Marcus Smith and finally Decoriun Brim for the touchdown.
"We think we're going to be able to run the ball," Heard said. "We're going to get to a point where somebody we play will take away the run. We have to be able to throw the ball. Depending on the game flow, we'll do some things Friday, but we feel good about our base offense."
On defense, Minden must contain the dynamic Craig Davis who set a Huntington rushing record in last week's loss to Captain Shreve with 316 yards on the ground. Davis is the player Huntington will hope to unleash against Minden.
"We have to be able to stop the run," Heard said. "They're going to put a bunch of blockers in front of him and he's elusive. They have another good running back too."
Fans are encouraged to purchase presage tickets for Friday's contest, which begins at 7 p.m., from the Minden High front desk for $7. Reserved seating tickets are available for $8 which includes seating in the red-backed section in the center of the new home grandstands. All presale tickets must be purchased before noon Friday.