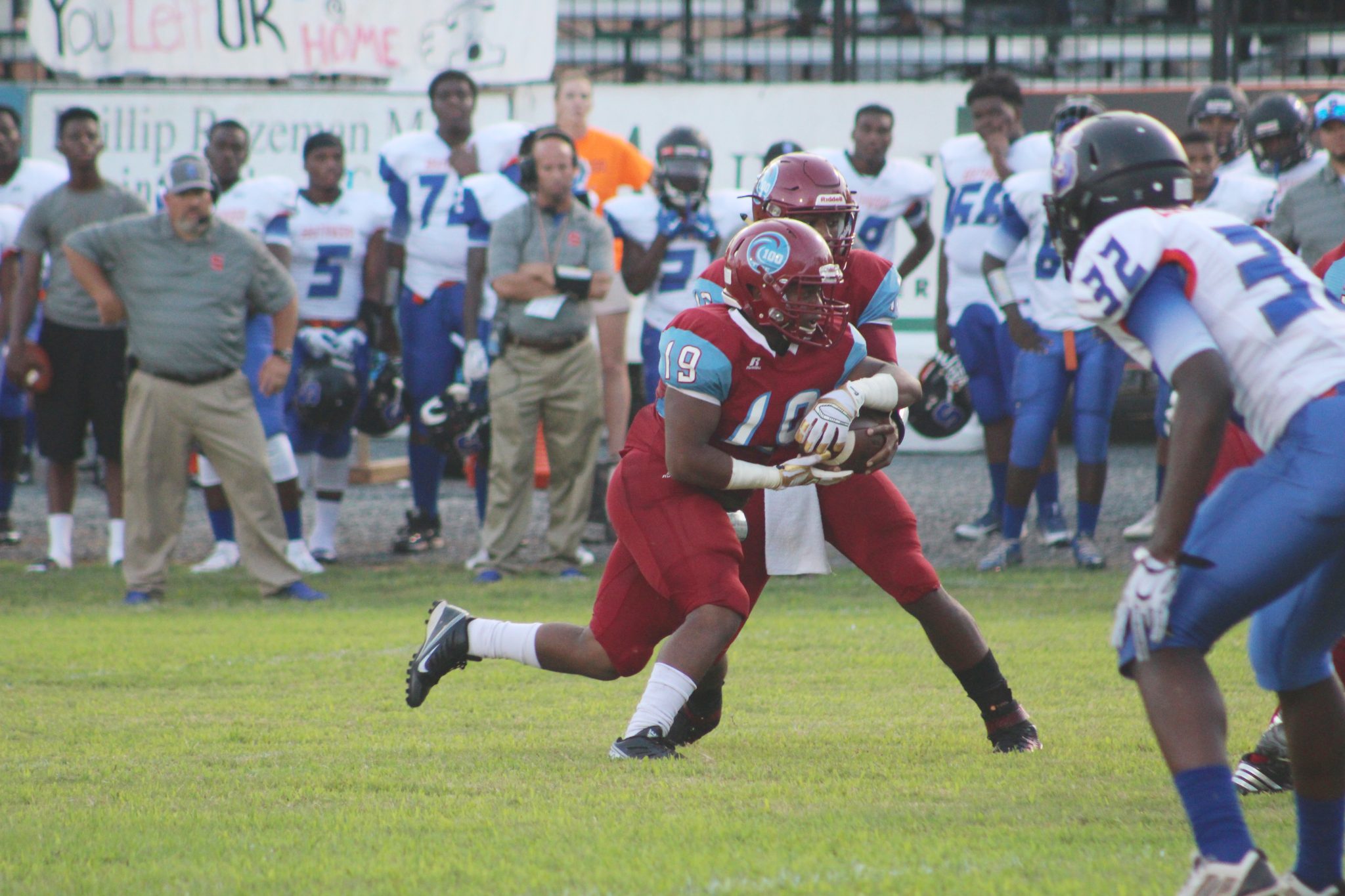 Spencer Heard has been able to pick his poison when it comes to running backs this season.
The fourth-year head coach of the undefeated Crimson Tide has four capable backs in Kolby Jackson, Patrick Heard, Jamin Oliver and Rykarrion Robinson. Through seven games, the Tide are averaging an impressive 212.2 rushing yards per game with opponents likely wondering how one team could have four dangerous runners.
"They're taking care of business," Heard said of his deep running back stable. "They're kind of similar, but each brings their own special skill set to the field."
Jackson, a diminutive figure at just 5-foot-8, 165-pounds soaking wet, is shifty in the open field and capable of running between the tackles as well. He burst onto the scene with a big sophomore campaign before dropping off as a junior. Now, Jackson is making the most of his senior season as he leads the team in rushing yards with 417 through seven games. Last week against Bossier, Jackson finished with 156 yards and a touchdown on only seven carries.
"Kolby has run the ball well this season," Heard said. "Last week he showed some real speed on a long run and he's run the ball tough inside for us this year."
Patrick Heard, the older of Spencer Heard's two sons, has stepped into the slot position vacated by L'Jarius Sneed and played splendid football. Patrick is the fastest player on the Minden roster, and his speed was on display two weeks ago against Benton when he broke two long touchdown runs to spark the Tide past the Tigers. Heard is second on the team in rushing (394), but has found the end zone a team-high six times on the ground.
"His thing seems to be the edge runs," Spencer Heard said. "He's good at getting out there and letting his blockers set up the runs. He runs off their blocks and then he uses his speed. He has his own characteristic way of running the ball."
Jackson and Heard do most of the work, but it's the duo of Jamin Oliver and Rykarrion Robinson that have become known for finishing teams off.
Oliver, a senior who waited patiently to find his niche in the Minden offense, has found paydirt twice for the Tide while totaling 148 yards in short yardage and goal-line situations.
"Jamin is more of an inside-type runner," Heard said. "He's low to the ground, probably about 5-foot-8, 200-pounds. He has that low center of gravity. The thing we've been stressing with him in particular is finishing runs. He has that forward lean that gets you positive yards or inches after contact and it seems like he's getting better each week."
Robinson, a transfer from nearby Ringgold, has rushed for 146 yards and two scores of his own. He finished off the Benton Tigers with a 15-yard touchdown run in week six and had 46 yards rushing in the Tide's homecoming win over the Bearkats. Heard raves about his ability to get the edge, or shed defenders with strength.
"What I like about Rykarrian is he can do both," Heard said. "He's that guy who has good vision and a natural ability to make good cuts or spin moves. He has a lot of tricks in the bag, particularly a good stiff arm; we like what he's been able to do."
Minden's ability to run the ball will be key to their district title and state championship hopes going forward, as defenses are likely to be anticipating heavy doses of Kelcey Miller and Tavarius Edwards in the passing game with Antonio Rivette.
"I think it's always important," Heard said. "It's important to what we like to do in the passing game off play action. Being able to run it leads to being more successful in the passing game. When you get linebackers and safeties stepping up, it allows you to take those deep shots. It works well against those teams that like to run a lot of tempo and a lot of plays. Who knows, we may have to go into the mode of a Wing-T team at some point. We like having the ability to do that."
Minden's four-headed monster will be back in action Friday as the Tide look to improve their record to 8-0 against the Northwood Falcons at Jerry Burton Stadium.