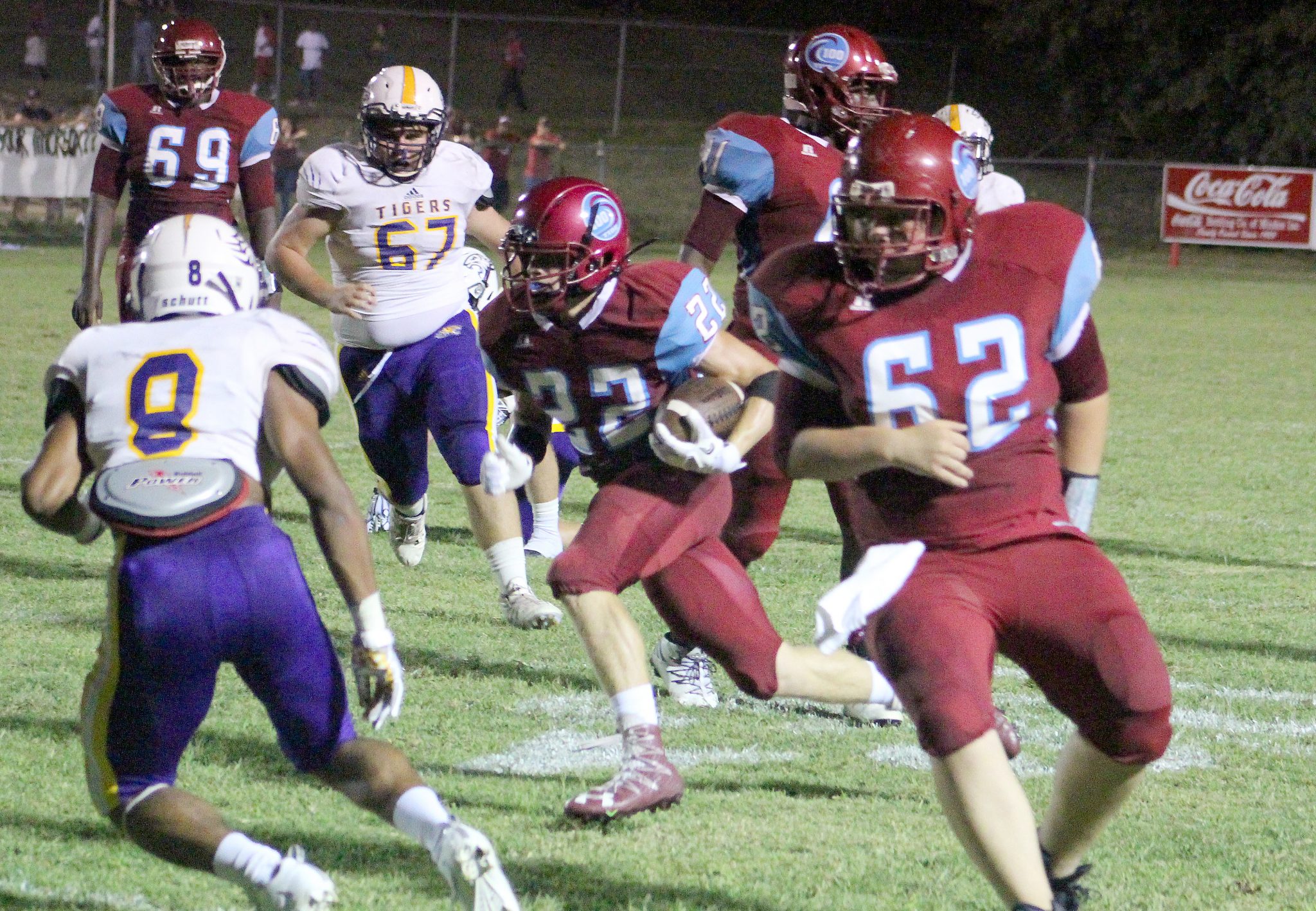 Two young boys, maybe seven years old, rush to Spencer Heard as he finishes addressing his team following what has to be his most important win yet as head coach of the Crimson Tide.
They look up to him starry-eyed and tell him they want to grow up and be Crimson Tiders. Heard can only smile as the little boys give way to a slew of reporters who want a word with the victorious fourth-year coach of the Tide.
This city's love-affair with this team couldn't be stronger than it is right now.
Minden overcame three first-half interceptions and a furious third-quarter rally from Benton to win 42-28, improve their record to 6-0 and sieze control of their own destiny in district 1-4A.
"We had three picks in the first half, but we had the resiliency to stay in there and not get down about that," Heard said. "We made a few adjustments at halftime to our blocking scheme; I'm just extremely proud of these guys for the effort they had tonight."
The matchup everyone was talking about was the high-powered Benton offense working against the stifling Minden defense.
The Tide D held every time they had to, most notably on a fourth-and-5 from 13-yard line when the Tigers had a chance to tie the game near the end of the third quarter. Right before halftime, Minden was able to erase another promising Benton drive when Kelcey Miller, playing his first defensive snaps of the regular season, went up and took a jump ball from the 6-foot-5 John Westmoreland at the goal line and returned the interception 90 yards to set up a short Rivette touchdown run.
Rivette and Benton signal-caller Garrett Hable combined for 5 interceptions in the first half, but it was Minden that made the most of their takeaways.
"It was huge," Heard said. "We had too many turnovers ourselves, but our guys were able to capitalize on the interception that Kelcey had. That was a huge momentum shift for us. Things like that are what you expect out of a senior-laden team."
The Tide won the toss and deferred to the second half. Minden forced a Benton 3-and-out on the game's opening possession, allowing Rivette and Co. to go to work with good field position.
Minden struck first on a 36-yard pass from Rivette to Tavarius Edwards, capping a 7 -play, 75-yard drive to take a 6-0 lead after a missed extra point.
Benton answered with a Doyle Adams touchdown reception from Hable to start the second quarter, but it didn't take Minden long to regain the lead on a 34-yard Patrick Heard touchdown run down the visiting sideline.
After the Tigers tied the game at 14-14, Rivette went back to work, finding Edwards for a 50-yard completion. A pair of quarterback keepers later, Rivette found the end zone to give Minden a 20-14 lead. Miller's interception set up Rivette's second rushing score of the half to give Minden a 28-14 lead at intermission.
A Hable 9-yard touchdown run brought Benton within one possession at 28-21. Minden didn't respond well, going 3-and-out and putting a tired defense back on the field. Hable led a methodical drive down inside the Minden red zone near the end of the third quarter, but the Minden defense stood tall, stopping Benton on back-to-back pass attempts on third and fourth down to get the ball back on downs and keep the lead.
Facing a third-and-19 from their own 5-yard line, Rivette dropped back and found a small window to Patrick Heard who reeled in the catch, took a hard, low hit and held on for the first down.
On the next play, Patrick Heard took a sweep going left, made a beautiful cut back to the middle of the field and left everyone in the dust for 68-yard score that broke the Tigers' spirit.
Minden would add another score on the ground with Rykarrion Robinson to extend the lead and send home fans into a tizzy.
Robinson's touchdown capped a long drive where Minden flexed their muscles in the trenches, showing once again they can finish teams with their physical running game.
"That's why I say I'll never give up on going under center," Heard said. "When I get into times like that we want to grind on somebody. I thought our fullbacks and O-Line did a fantastic job blocking and holding on to the ball. We imposed our will their at the end."
Patrick Heard's performance was the key for Minden, as the electric junior speedster continues his climb towards being an elite player. He finished the game with 9 carries for 151 yards and two scores, good for 16.8 yards per carry. He added 2 catches for 30 yards, including the third-down conversion.
"We just came out here and played hard," Patrick Heard said. "It moves us up in the power rankings, keeps us undefeated in district; just a great win."
Rivette finished the game 9-of-21 for 157 yards with 1 touchdown and 3 interception through the air, but he ran for 64 yards and two more scores in a solid outing. Edwards eclipsed the 100-yard mark, finishing with 4 catches for 104 yards and 1 score. Robinson finished with 39 yards and a touchdown, while Jamin Oliver pounded out 37 hard-fought yards.
Next up for the Tide is a homecoming contest with the Bossier Bearkats in The Pit.