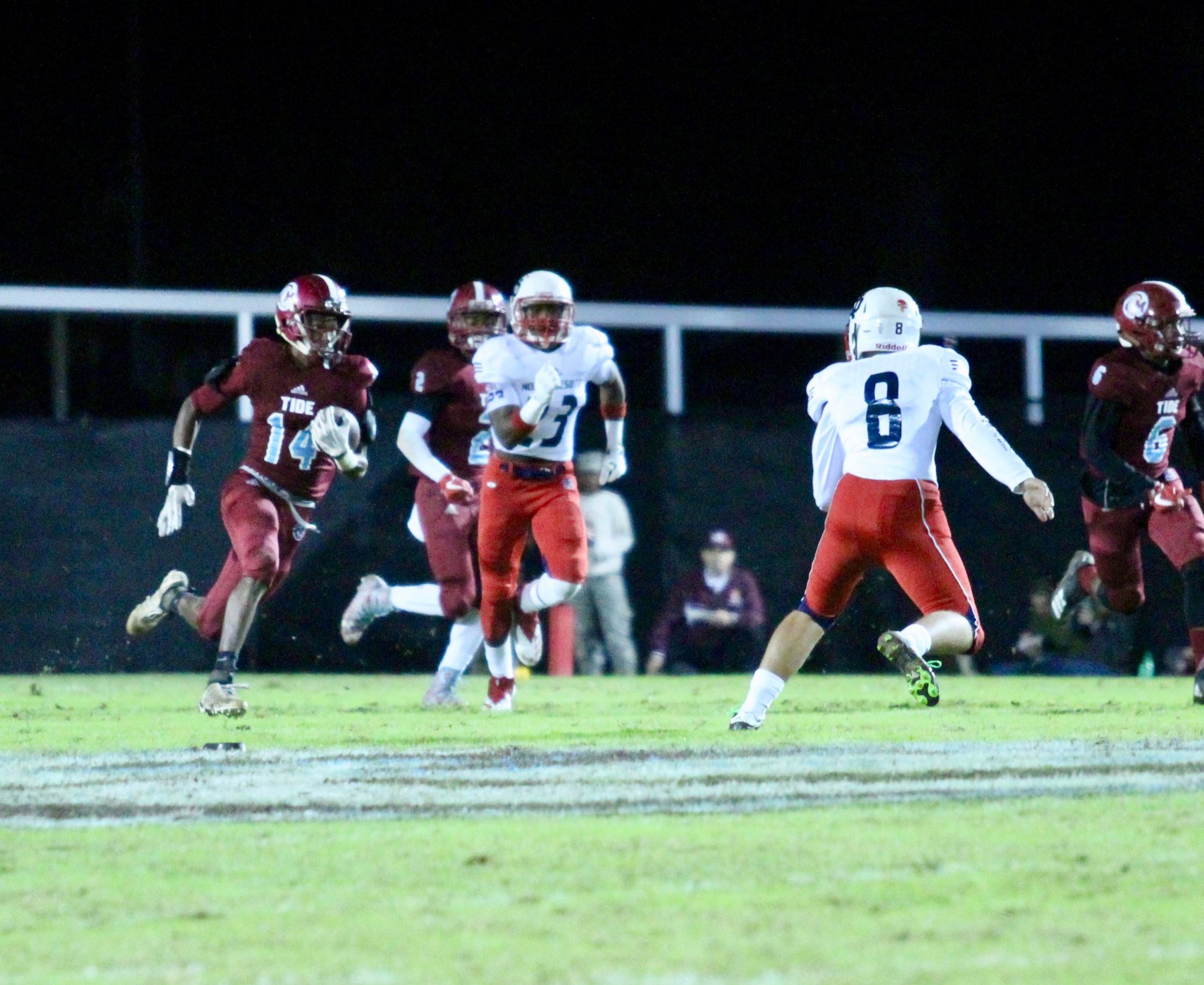 The Tide lost another heartbreaker at The Pit, this time falling 35-28 in overtime to North DeSoto.
"Overall I thought our team played pretty well," Minden head coach Spencer Heard said. "I thought we fought hard and battled the whole game. North DeSoto is a good opponent. Probably the best offensive line we have played all year."
Even with the loss, Minden managed to squeeze into the playoffs through a number of fortunate circumstances. Finally, in a season littered with tough breaks, Minden finally caught one.
"All of our non-district opponents won their games," Heard said. "The funny thing is, even if we would have won that game, we probably would have only moved up to number 31."
The Tide will travel to New Orleans to play #1-seed Edna Karr. Karr has yet to lose a game this season, though their last match against Warren Easton came down to the wire in a one-point victory for the Cougars.
"We're going to approach it just like any other game," Heard said. "We've played 10-0 teams (Northwood), 8-2 North DeSoto and we've played with all of them. We're just going to put a game plan together and go try to get a win."
Minden's game against North DeSoto was a microcosm of their season: the Tide came back from behind, overcame obstacles and rallied together around their defense and playmakers only to fall short in overtime.
The Tide fell behind 28-14 in the second half after North DeSoto stud running back Rykendrick Simpson ran for a 35-yard touchdown to put the Griffins up 14.
The Tide stormed back. Quarterback Trent McLaughlin found Jacareon Lathan for a 17-yard touchdown pass that brought Minden back in the game.
Both teams traded field position before the Tide finally got the ball back with two minutes left in regulation. McLaughlin started looking for Seth Johnson and found him on a slant route with 1:40 left in the game for a 30-yard gain.
With one minute left, McLaughlin looked deep in the end zone for Johnson. The ball hung in the air for what seemed like an eternity before Johnson grabbed the ball over his shoulder in the end zone, mimicking Hank Aaron's historic blindfolded catch, that tied the game and sent it to overtime.
"It was a good throw and an awesome catch, a really difficult catch over the top of his head really," Heard said. "He had great spacial awareness to come down with it."
Simpson scored on the first play of overtime on a ten-yard rushing touchdown to give the Griffins the lead.
"Braxton [Jackson] had him in the backfield I thought," Heard said. "He just broke free, I'm not sure what happened. From a defensive standpoint, I thought we should have had a tackle for a loss."
As a fight broke out in the stands between Minden and North DeSoto fans, the Tide offense stalled through two downs in their possession of overtime. On third down, McLaughlin was intercepted and the game was over.
"We were trying to hit a slant and their safety cheated over late and made a play on the ball," Heard said. "I thought the throw was fine, their kid just made a great play."
North DeSoto improves to 8-2 this season. Minden falls to 3-7 and finishes district play at 3-4.