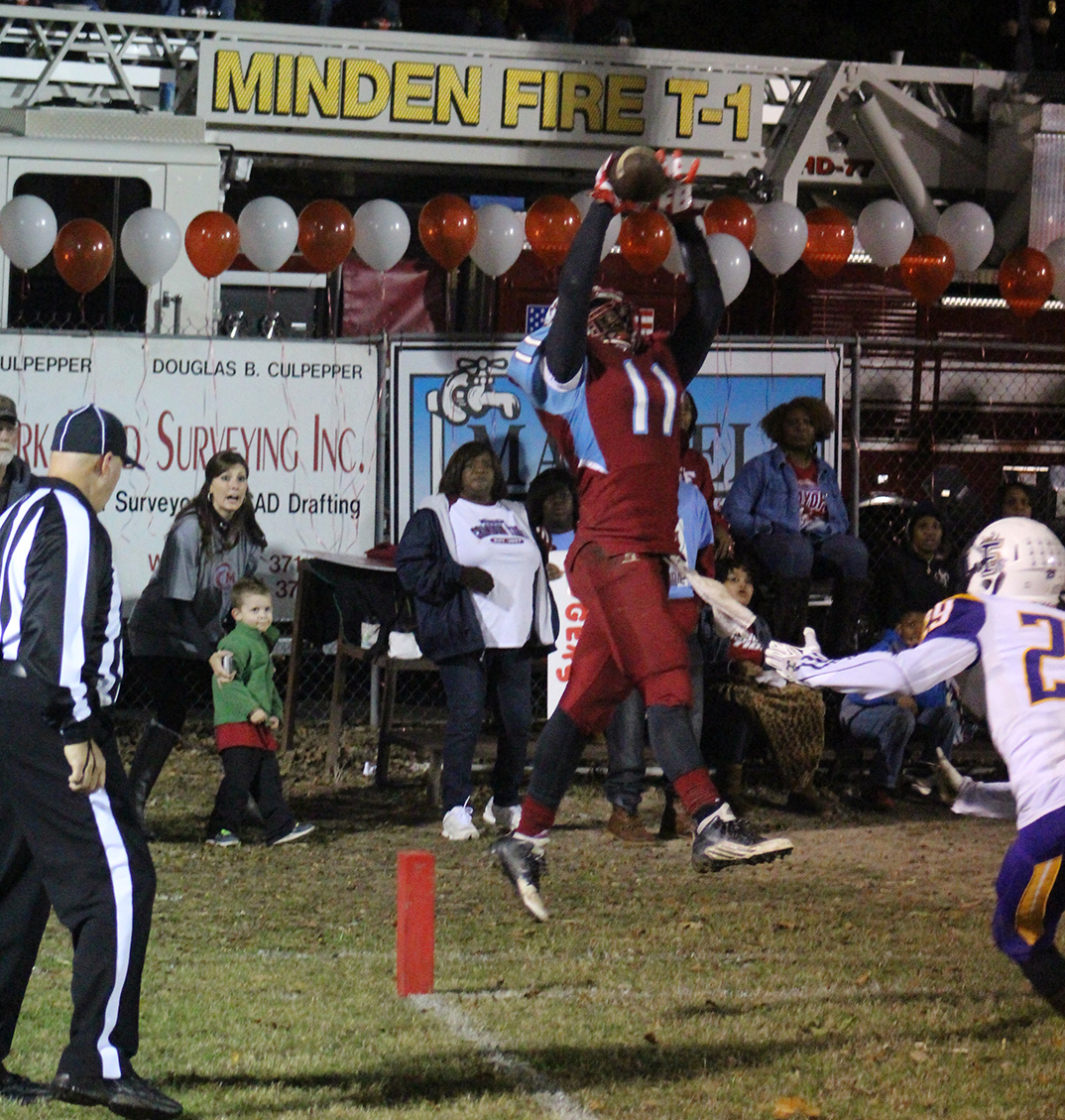 After four hard-fought quarters of awe-inspiring playoff football, the Crimson Tide came up one point short of keeping their dream season alive, falling to Franklinton, 35-34.
At one point, The Tide (9-3, 6-1) fought back from a 27-21 fourth-quarter deficit to take the lead at 28-27 with 7:47 to play.
Then, in the game's final minute, trailing 35-28, the Tide mounted a desparation touchdown drive to make the score 35-34 and seemingly escape elimination.
But in a cruel twist of fate, the extra-point to tie the game was blocked by the Demons.
After the ensuing onside kick was unsuccessful, reality and tears began to set in, as everyone was forced to accept that a truly special team would see its' season end without a trip to the Dome.
"I told our guys it would come down to just a few plays," Minden head coach Spencer Heard said. "It's a game of inches and seconds. Our players fought til the last tick of the clock. It's always tough, but we can go with the satisfaction of knowing we left it all on the field."
Franklinton got on the board first with a long touchdown drive on their first possession, ending with a Renaz Wilson touchdown run from five yards out.
Minden countered with 8:10 left in the second quarter when Antonio Rivette found L'Jarius Sneed on a well-executed screen play that went 50-yards to the house and tied the game at 7-7.
The Demons regained the lead with 2:11 left in the second quarter, but the Tide responded with a touchdown drive that covered just 42 seconds. Tavarius Edwards started the drive with a double pass to Sneed, followed by a 31-yard Rivette completion to Edwards and finally capped by a one-yard Rivette touchdown run.
"We had to go to some trick plays," Heard said. "That was a really good defense we were going against. It was really tough sledding inside in the running game."
At the half, the two teams were tied, 14-14.
Minden began the second half on fire. Rivette got completions to Sneed, Edwards and Kelcey Miller to move the Tide inside the 10-yard line. From the 8-yard line, Rivette rolled left and put up a prayer to the back-left corner of the end zone that looked uncatchable. However, Kelcey Miller went up high and made an outstanding catch, even having the awareness to toe-tap his foot inbounds and secure the Tide's third touchdown.
Franklinton took the lead after back-to-back touchdowns from Wilson and Tahj Magee to make the score 27-21. That's when Heard called the same screen play that sprung Sneed earlier. It worked again, this time for a 55-yard touchdown to put Minden ahead, 28-27.
Minden forced a Franklinton punt with 4:41 to play and had the ball with a chance to potentially run out the clock. Facing a fourth-and-5 from the Franklinton 19, disaster struck.
Rivette rolled right looking for a completion that would have iced the game, but was hit as he threw, forcing the ball to come out wrong. The pass floated in the air, landing in the hands of a Franklinton defender who then returned it 85 yards for a touchdown.
A stunned silence consumed The Pit, but the Tide answered quickly with a gutsy touchdown drive. Minden needed just the extra-point to send an already wild game into overtime, but the kick came off low and the Demons came up with the game-saving block.
"Sometimes it's like that," Heard said. "It was a tough game, and a really well-played game on both sides."
Rivette gave a superb effort, finishing with 279 yards and four touchdowns, adding 40 yards and another touchdown on the ground.
L'Jarius Sneed ended his career for the Tide in style, hauling in eight catches for 250 yards and a pair of scores.
"He had a great game," Heard said. "He has a bright future ahead of him. I told him after the game that I was most proud of being able to watch him grow as a person and mature right in front of my eyes. We'll miss his abilities and all those seniors abilities."
Edwards had six catches for 62 yards and completed two passes for 87 yards. Kelcey Miller came up big with five catches for 54 yards and two touchdowns.
Minden finishes their season with nine wins, the most since 2006's 13-1 campaign.
"We have a lot of guys coming back," Heard said. "You can see it in their eyes they're ready to get back in the weight room. It's a process in terms of building a program. This next group is excited and we will have some great senior leadership next year to keep guiding us in the right direction."
Stats courtesy of Mark Chreene at KASO/KBEF Radio