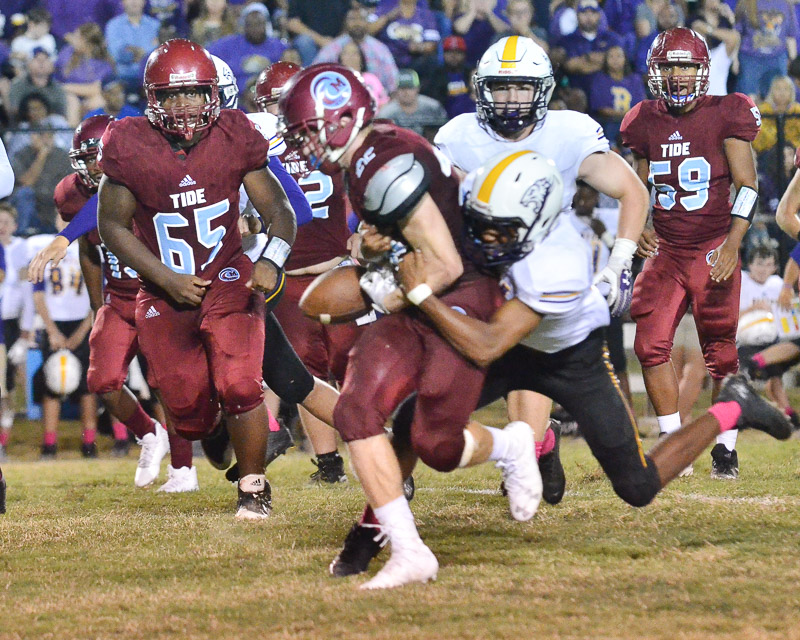 Early in third quarter action, it looked like Minden was primed for an upset.
Playing against the second-ranked team in the Class 4A power ratings, the Crimson Tide (4-2, 2-1) had just trimmed the Tigers' lead to 16-14 with Decoriun Brim's second long touchdown catch of the evening. Then, Benton fumbled, placing the ball and momentum on Minden's side.
But not for long.
The Tigers stripped the ball from Patrick Heard moving left on a running play to regain possession. Two plays later, Benton's four-year starter at quarterback Garrett Hable delivered a dime to Doyle Adams Jr. for a 57-yard touchdown.
Minden's next possession was a 3-and-out and the ensuing punt was blocked and recovered at the Tide 2-yard line. The Tigers punched it in to make the score 30-14 and never looked back, leaving the Tide in their dust en route to a 43-21 win.
The final score won't reflect how competitive the first three quarters and change of this ball game looked to spectators. Minden's defense hung tough with one of the state's best offenses, while the Tide offense made explosive plays of their own.
Eventually, inexperience in big games reared its head, but among the adjectives to describe this loss, disappointing does not seem fitting. The Crimson Tide dug themselves out of a 16-point hole, cutting the lead to 16-7 at the 8:37 mark of the second quarter when Seth Tyler found Brim on a middle screen for 72 yards and a score.
Brim scored on what looked like the exact same play on Minden's first possession of the third quarter, this time going 66 yards to the end zone to cut Benton's lead to two points.
But, as veteran teams tend to do, Benton kept their cool.
Hable finished the game with a modest passing line, 6-of-14 for 160 yards and one score. The Tigers didn't particularly need him to be his usual self with Jermaine Newton and Keldrick Moody running the way they did.
Newton finished with 23 carries for 156 yards and a touchdown, while Moody carried 16 times for 132 yards and a pair of rushing touchdowns. Hable did cash in on a pair of rushing scores himself, giving him 3 total TDs on the night.
Minden's running game was shut down, finishing with only 18 rushing yards for the game, however Tyler had his best game of the season throwing, completing 7-of-13 passes for 181 yards and two scores.
Brim finished with 4 catches for 151 yards and the two receiving scores. Patrick Heard was held to just 36 total yards on 13 touches.
Linebacker Jalen Moore put Minden's last score on the board with an 80-yard fumble return with less than 3 minutes to play.
Minden's district title hopes are still alive. The Tide must root for help from team's like Woodlawn and North DeSoto against Benton, while taking care of business on their own schedule, starting with this week's pivotal game against Woodlawn.
The Knights ruined the Tide's perfect season in 2016, and Jerwin Wilson's team should be ready for this week's matchup after letting the lead slip away in last week's 48-47 loss to Northwood.