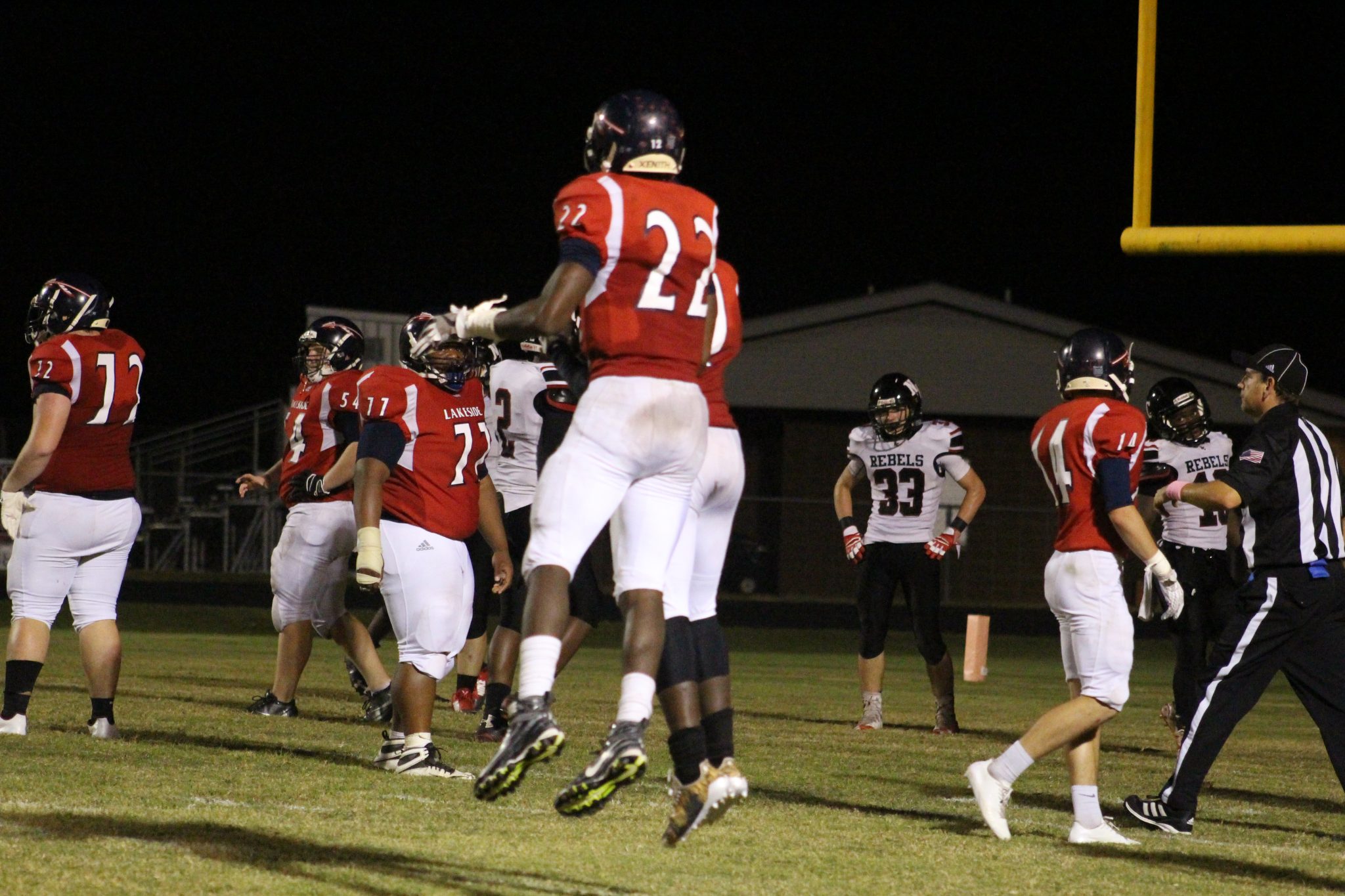 For the first time in four years, the Lakeside Warriors won a football game inside district play. They had to score 60 points to do it. Trailing 28-6 near halftime, it seemed like it just wasn't Lakeside's night, but something clicked in those final minutes of the second quarter.
The Warrior offense would go on a tear, tallying 36 points in the third quarter alone, ending up on the winning side of a 60-55 shootout in Sibley. Depth played a factor in the outcome, as North Caddo's plethora of two-way players began to tire while Lakeside remained fresh.
"We knew if we could get to the second half and just weather any kind of storm that we created in the first half, we would be fine," Lakeside head coach Jason McClendon said.
"I'm not surprised that we were able to wear them out in the second half, not because they're not good, because they are, but just because they don't have our depth." Preuett found Dalton Crumpler for his second touchdown of the night on the opening possession of the second half to trim Lakeside's deficit to 28-24 and called his own number from 4-yards out on the Warriors' next possession to give Lakeside their first lead of the game at 32-28.
The scoring barrage continued with Preuett hitting Gavin Jones and Chase Mitchell for their second receiving touchdowns of the evening. All the while, North Caddo answered with the feet of QB Tyvin Sanders and explosive special teams play as the score climbed to 54-42 entering the fourth quarter. The game's pivotal play came at 7:06 remaining in the fourth quarter when McClendon decided to go for it on 4th-and-1 from his own 24-yard line. Jayke Stewart, Lakeside's short-yardage wildcat QB, entered the game and took the snap going right with a bevy of blockers leading the way. With the Indians' defense selling out on Stewart, the senior handed the ball off to Mitchell heading back left on a reverse. The play fooled the defense and Mitchell raced 76 yards to paydirt to give Lakeside a 60-42 lead that proved enough, even as North Caddo posted a pair of late scores to scare the home side.
Mitchell shook off a trio of drops to finish with 169 all-purpose yards and 3 scores; running back Buffate Coleman played through injury, compiling 166 rushing yards and a touchdown; Gavin Jones continues to make huge plays. He finished with a team-high in catches and yards with 5 grabs for 143 yards and two TDs. Perhaps the biggest boost came from speedy slot man Dalton Crumpler who hauled in 3 passes for 121 yards and two scores. The games most valuable player was the guy calling the shots, Preuett, a strong-armed sophomore, who passed for 372 yards and six touchdowns in a night he won't soon forget. "He had his best game," McClendon said. "We've been working on him just sitting in the pocket and throwing the way he knows to throw it. He lit it up." After the game, a legion of Lakeside fans embraced their team and coaching staff. The program that started this season riding a 23-game losing streak has the best record of any Webster Parish school at 5-1 overall and 1-0 in district 1-2A. "It means a lot," McClendon said. "It's a testament to these kids. They've believed in what we're preaching and what I brought in.
They haven't budged once. I'm so blessed and humbled by the success we've had early on.
There's a lot of people who are really happy and I'm just glad that what we're doing out here has brought joy to so many." Lakeside returns to action on Thursday this week as they travel to Shreveport to take on district frontrunner Calvary Baptist.