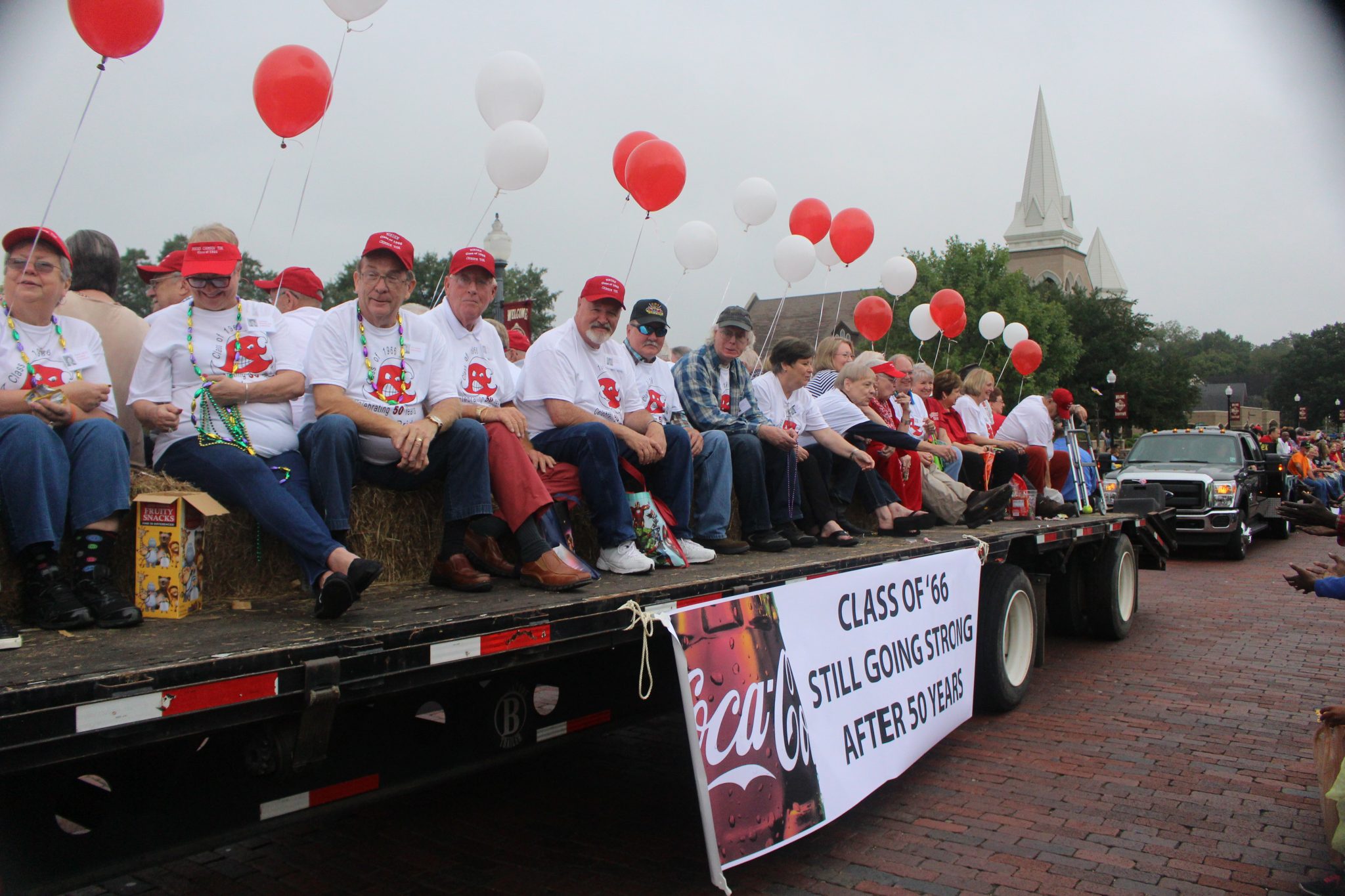 Coming home – that's what Minden High School alumni say they feel when they return to their alma mater.
An alumni tea was held in the auditorium lobby Friday allowing classmates from the classes of 1946, 1956, 1966, 1976, 1986, 1996 and 2006 to gather and reunite.
Linda Gibbs Daniel, class of 1966, says she lives roughly 500 miles away in Missouri, and homecoming is a way to reminisce.
"We have so much fun that we can't not come," she said. "It's a way to relive your past."
Mary Campbell Crutchfield, class of 1966, who lives near Memphis, says she remembers the pep squad, pep rallies and the bonfires the night before the football games. She was also a member of the Tide Talk staff.
"It's a chance to see old friends and family," she said. "We just get real talkative and silly. I have a friend from the class of 1965 and she told me not to miss this. She told me, 'You have to go.' Minden does it right."
Mildred Aarons McMichael, class of 1956, says she comes to all the reunions because it might be her last chance to see everyone.
Now residing in West Monroe, she says she and her eight brothers and sisters (seven girls and two boys), grew up in Minden. Her parents, Hattie and Joe Aarons, raised all nine of their children in Minden and all nine are graduates of MHS.
Her father owned Joe's Fish Market, and her mother was a nurse at Minden Medical Center.
She and her twin sister, Hildred, played basketball together, with her as a guard and Hildred Aarons as a forward.
McMichael talked about the renovation of the school as well, saying she was impressed with the upgrades.
"The renovation is wonderful," she said. "It's fantastic, especially with all the security."
Some of her favorite memories from her senior year, she recalls, are the football games. She was a cheerleader and went to each game.
"We ran this school," she said, laughing. "Going to the football games was wonderful. The band was great, and Hunter's Playhouse was our hangout on Friday nights."
Classmates enjoyed refreshments and a chance to meet with the current students. Alumni were treated to an array of items including stadium seats, photos of the grandstands at The Pit, and other items.
Senior Tijahia Edwards was selling Tider scarves she knitted in an effort to raise money for a member of her church recently diagnosed with breast cancer.
"We've made $240 within 30 minutes," she said. "The money is to help her with her chemotherapy treatments and help her with her expenses."
Alumni were also able to view their class photos set up on easels throughout the lobby. Following the tea, students were let out of school at noon to enjoy the remaining homecoming festivities, with the parade, pregame ceremony and the crowning of this year's homecoming queen, Camryn Banks.