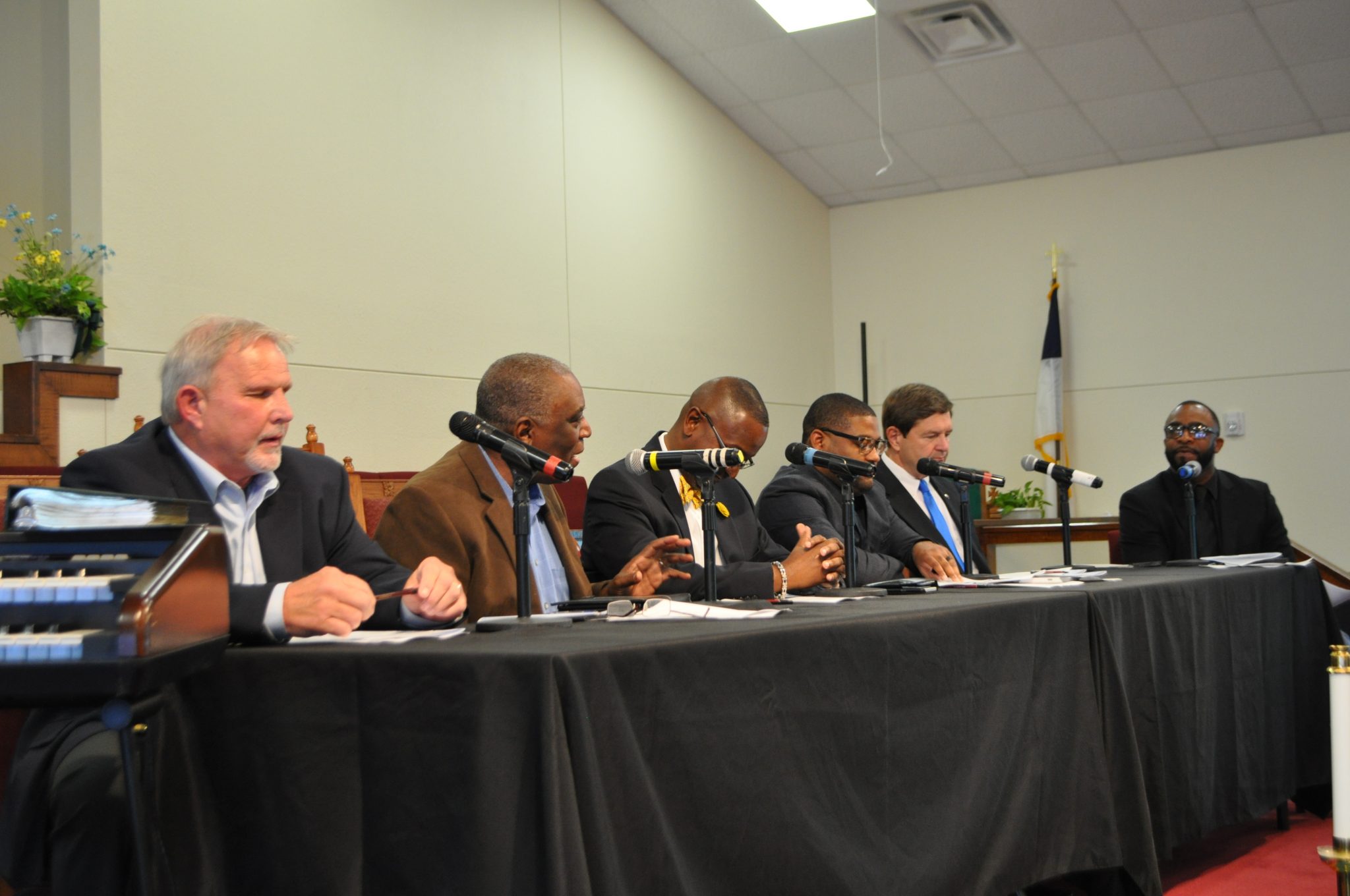 A forum Saturday was the first of what some hope to be many in opening the lines of communication in bringing law enforcement and the community together in common understanding.
The Minden District of the Christian Methodist Episcopal Church and The Watchmen Ministerial Alliance of Minden hosted the forum at Mt. Zion CME Temple to begin discussing what they say is a national conversation on race relations, understanding the issue and finding a solution.
The Rev. Raymond Hampton, moderator of the event, says he feels the forum was a good start.
"What I'm taking away from this dialogue is to continue the conversation by bringing the community together," he said. "That doesn't necessarily mean another forum, but creating an event of a sort where law enforcement and the community can get together."
A panel of five, including Police Chief Steve Cropper, Second Circuit Court of Appeal Judge Jay Carraway, Rep. Patrick Jefferson, District 11, Pastors Royal Scott and Dr. Perrico Robinson, came together to discuss pertinent questions from community members regarding what to do during a traffic stop, the origin of the Black Lives Matter movement and other issues.
Jean Davis, Mt. Zion CME church member, says she was pleased with the outcome of the forum but was concerned about the continued segregation of the community.
"I'm delighted they are working on it," she said. "We talk about people coming together and discussing finding solutions, but you have a black forum and a white forum, and the two never meet. There should be white people here, and young black kids here. They have to learn to know each other."
Robinson explained the origin of the Black Lives Matter movement, which began as a hashtag in the wake of the Trevon Martin shooting.
"It wasn't that black lives matter only, it is that black lives matter too," he said. "That's the idea. The main thing, especially when we see something wrong among us, a human concern, we need to be able to say, 'Yes, this is wrong, and this is happening.' Regardless of whether someone who's been shot is black, white, blue or purple, we need to be able to say this is wrong."
The "All Lives Matter" movement, in response to "Black Lives Matter," Robinson says, was insensitive, even though all lives do matter.
"That's not what was happening," he said. "It's like going to the doctor for a broken arm, and the doctor says, 'Well, all bones matter.' Ok, well let's focus on the bones that are broken. There really is a difference between 'Black Lives Matter' and 'All Lives Matter' in regards to the hashtag."
Caraway says this is a social justice issue facing the entire nation, and the words people use at times have different connotations to different people.
"I fully understand what Bro. Robinson just said in terms of the focus on black lives and their coming into contact with situations where we see people that appear in our nation to have lost their lives in tragic and unjustified circumstances," he said.
Statistics Caraway provided showed that out of 1,500 shootings, and the 500 just this year alone, showed that 100 of those were instances where the victim was unarmed.
The question of technology was also brought to the forefront with the use of body cameras by law enforcement. Panel members said accountability is the main benefit of body cameras. Cropper says while that is its biggest benefit, they are not a "cure-all."
"During a scuffle, it's easily knocked off," he said. "I think something that will take place hopefully in the future is to get something that is not going to be knocked off of an officer's chest. Like everyone has said, it makes you accountable. If that officer knows that camera is on, most of them will try to do the right thing."
Discussion also moved to how law enforcement and the community treat each other and how the other should be treated. Panel members agreed that respect for each other should be paramount during a traffic stop. The chief says two words are important to remember: compliance and respect.
"If an officer does something you feel is wrong, comply anyway, and then come see me," he said.
The chief says he felt the forum was a good beginning and communication is key to bridging the gap in law enforcement and community relationships.
"That's the only way the problem is going to get solved is if people start talking to each other," he said. "It's all about communicating about the issues and finding a solution."