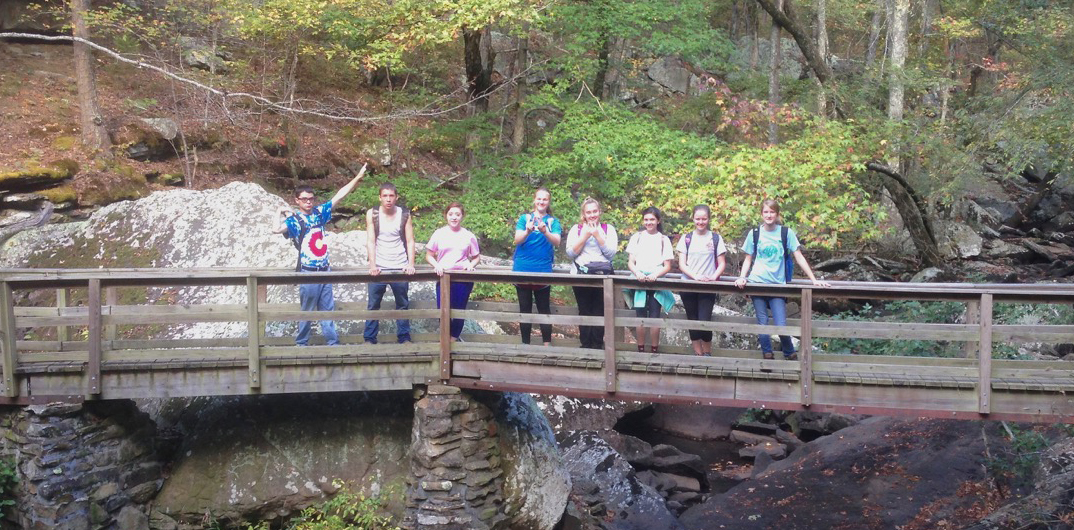 This school year marks the 10th anniversary of the Minden High School Nature Club, currently sponsored by MHS teachers John Dillon and Kim Stanberry. John Dillon and Wendy Dobbins Fields began the club at MHS in 2006, and Stanberry, a math teacher at MHS, began working with Dillon as co-sponsor in 2010.
The most common question asked of club members is, "What do ya'll do?" Over the years, club members have enjoyed hiking and night hikes, fishing, crabbing, canoeing, nature photography, falconry, birding, geocaching, wildlife observation, camping, indoor rock climbing, native plant and tree identification, campus beautification, and bird banding. Each year, the club has eight to 10 events, all outside school hours.
Dillon began the Nature Club in 2006 after driving by the campus of another school that had no trees and no landscaping of any kind. He said he thought about how boring and uninspiring it must be for students to stand around during lunch or recess with no trees or flowers to look at. His next thought was, "Somebody ought to take those kids out in the woods or take them hiking." Dillon says as soon as that thought came, he realized he could do that very thing at MHS. Dillon is an amateur naturalist and an accomplished birder, serving on the Louisiana Bird Records Committee that reviews occurrences of rare bird species in the state and is also a member of Louisiana Ornithological Society.
The club had around 25 members its first year. Since then, it averages around 45 to 50 members each year. Dillon calculates the club has had well over 200 members over its 10 year history. "We can't take that many kids on things like hiking trips, so we have about 10 different events every year to accommodate as many members as we can," Dillon said. Stanberry adds, "It's a lot of work to organize all the travel and lodging and the food and the costs, and we do all this during weekends and holidays – we don't miss a day of school. But our kids are great, and they're respectful and thankful for all the trips. And I have to say it's become one of my favorite things to be involved in since I've been helping with it. It's very rewarding."
Over the years, many of the field trips have become annual events, such as their yearly 3-day trip to Petit Jean State Park in Arkansas during the school's Fall Break each October and their 4-day trip to Southwest Louisiana during Spring Break each year. They also begin each year with a back-to-school BBQ and night hike at Caney Lakes Recreation Area, where Dillon calls in Eastern Screech-Owls and Barred Owls during a hike through the woods at night with no flashlights. The trip to Petit Jean is filled with hiking, bouldering, birding, cookouts, and beautiful scenery, say Dillon and Stanberry. And during the Southwest Louisiana trip, they visit 3 National Wildlife Refuges, a Nature Conservancy site, visit the state's largest indoor rock climbing gym, go to the beach, go crabbing, visit an alligator processor, eat South Louisiana seafood, and stay at state-owned Rockefeller Refuge, the leading site for alligator research in the world.
"Another annual event that the kids love," says Dillon, "is our falconry event. We join local falconers who use their birds to hunt squirrel or rabbit." Dillon says the falconers use Red-tailed Hawks to hunt individually, but the most exciting part is when they use two or three Harris's Hawks at once. Stanberry says, "Those birds go after the squirrels, and each one has a different task. One tears up the nest, and another one chases the squirrel down the tree, and just when the squirrel thinks he's going to make it, another bird comes out of nowhere and pounces on him. Meanwhile, the kids are running through the woods yelling and trying to catch up with the birds and the falconers. It's a lot of excitement." Dillon says Shreveport area falconer Francine Forrester has taken the club hunting several times, and the falconers she hunts with have begun requesting to hunt with the Nature Club because the kids take such an interest in learning about the sport and about the birds. In fact, Dillon says that when they showed up to hunt last year, one of the falconers was MHS alumnus and former Nature Club member, Bobby Brown, now a licensed massage therapist. After being contacted for the article, Brown says that falconry has become a deep passion of his and that it's "all because of Nature Club and the falconry trips we went on with Francie when I was at MHS." He says he still remembers the club as "one of the best decisions of my life." Dillon and Stanberry were both thrilled to see that the former club member has pursued falconry as an adult after being introduced to it through the club.
And Brown isn't the only former member to have been influenced by the club. Class of 2011 club member Charley Savell, now a lease operator for a local oil and gas company, says his time in the club was, "one of the best experiences of my high school life." Johnna Traylor, current internet sales manager of Orr Kia of Bossier and classmate of Savell says, "The Nature Club was my favorite club at MHS. From going on night hikes and calling up owls to the Southwest Louisiana trip, it not only taught us about nature, but I made friends who I'm still close with 5 years out of school. The best times of my high school career were with the Nature Club."
Current member and Senior Honors student BreAnna Downs has been a member since her sophomore year and says, "This is one of the major parts of MHS that I'll miss. It has certainly improved my high school experience more than I ever thought it would. It's shown me to look for beauty and fun in the smallest things, and I'm grateful I've been part of the club during my high school years." Downs' father, David Lisenby often chaperones trips for the club, usually because he asks to join them because he enjoys the outdoor aspects of the club so much. He seems to enjoy it as much as the kids. "Spending time with my daughter on night hikes and watching falconers hunt with hawks are what makes the Nature Club awesome," says Lisenby.
Many other local parents also have been pleased with the Nature Club and the dedication of Dillon and Stanberry. All three daughters of local businessmen Joey Foster and his wife have been members, two of whom are graduates and one who is a junior and Honors student.
When asked about his thoughts on the club, Foster said he is, "grateful for the rare opportunity they've had for a hands-on education outside the classroom" and that Dillon and Stanberry go "above and beyond to provide students with exciting and unique experiences." Foster said the only drawback is that when his entire family goes camping now, his daughters know how to call in owls, and the owls never seem to leave their campsite.
Webster Parish Sheriff's Deputy Scottie Tucker has chaperoned the falconry event because his daughter, Anna, is a member. Tucker says, "I love watching those birds hunt. It's incredible. I've never seen anything else like it. And it's awesome that my daughter gets that kind of opportunity to learn about the outdoors and have fun with her friends and teachers. How many kids can say they get to work with falconers?"
When asked about their favorite memories and aspects of the club, Dillon and Stanberry share the same enthusiasm for traveling with the kids. Dillon says, "The kids see a lot. One year, we went to Southeast Louisiana They went to the National Wetlands Research Center, hiked in Mississippi, saw the Grand Champion Bald Cypress at Cat Island National Wildlife Refuge, worked with bird banders at Bluebonnet Swamp, visited the Myrtles Plantation and Rosedown Plantation, got a private tour of the LSU Museum of Natural Science where they saw the world's largest DNA collection and the world's 3rd largest avian specimen collection, and got to go to a Mardi Gras parade in downtown Baton Rouge – all in 4 days." Stanberry says, "I think my favorite part is cooking for the kids. Whenever we can, I love to cook breakfast for the kids on a trip, and then they we all sit around and eat together like a family, and then they all help clean up. It makes me happy, and it's a great way to start your day."
Dillon and Stanberry have lined up some new trips for the club's 10th anniversary year. They hope to make it all the way up to Eureka Springs, Arkansas in January for some scenic winter hiking and to visit to a big cat sanctuary, an artist colony, and a haunted hotel. They also have plans for an event focused on conservation awareness of the endangered Louisiana Black Bear. After one of the state's bears was trapped by Wildlife and Fisheries in downtown Minden over the summer, Dillon said he thought he might capitalize on the event and spread awareness to members. "I contacted the Director of the Louisiana Black Bear Conservation Coalition, and he said he'd be happy to work with us later in the school year," says Dillon. As always, the Fall Break Petit Jean trip and Spring Break Southwest Louisiana trip are still scheduled.
If your son or daughter is at Minden High School and would like more information about the club or would like to become a member, please tell them to visit Mr. Dillon or Mrs. Stanberry for details.