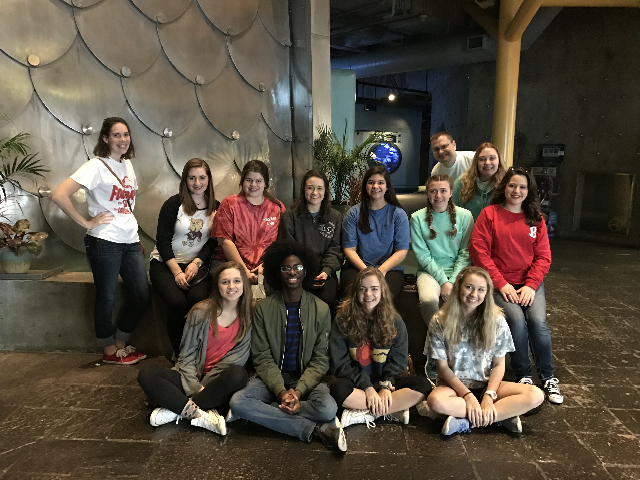 The Minden High School student council came home from the Louisiana Association of Student Councils Convention full of ideas on how they can make their school better.
Although they have not discussed this year's ideas, Student Council President Anna Claire Tucker said they have implemented some great ideas that have boosted the morale of not only the student body but the faculty as well.
"Every student council member is assigned a teacher that will give little random gifts throughout the year," she said. "We did not come up with that idea. We got it from this convention and a summer workshop. Now we're able to take that idea back to these small groups."
Student councils from over 100 schools – roughly 70 high school and approximately 30 junior high student councils – attended the LASC Convention held Jan. 14 through 16, and listened to keynote speakers and participated in workshops which helped them network and bring back ideas for their school.
Mazie Lee and Bailey Stephens led an idea exchange small group workshop over the weekend.
"We share ideas, such as what your school does, how your school or you as a person would handle a situation as a leader," Lee said.
Student state officers are elected during the convention as well, the group said, but it's not about just submitting a name and hoping they win.
The Webster Parish Junior High School student council goes with MHS each year, and Tucker highly praised them for their campaign efforts last year when the MHS council ran for the vice president's office. Without their campaigning efforts while they were in workshops, they would not have gotten as far as they did, she said.
They did not run this year and focused more on the workshops and the sharing of ideas.
"It was cool to sit back and watch them campaign because we knew what they were going through," student council member Merry Ward said. "We know how difficult it is to try to win a state office. I feel like a lot of the votes we got was because we had Webster campaigning for us."
Many in the group have attended the convention before, some as many as six years, beginning in junior high school. Those attending from MHS this year were Tucker, Roman Holliday, Ashton Smith, Piper Mealey, Ward, Lee, Stephens, Jacie Brent, Sarah Day, Juliet Moorman and Madeline Bethea.
This year's theme was "LASC – Your Ticket to Lead." The convention was hosted by Archbishop Hannan High School in Covington.
The state is divided into nine student council districts, and Webster Parish, along with Bossier and Claiborne parishes, make up District 9.
MHS was a recipient of the Gold Honor Award this year, a highly coveted award presented to schools for their community service projects, active membership, school service projects and promoting leadership and school spirit. Those are among several criteria a school must meet in order to qualify for the Honor Award.
MHS was one of 33 schools in the state out of more than 100 that were awarded a gold or silver award. Webster has also been an honor council, Tucker said.
LASC has a signature charity they raise money for each year, Cleft for a Cause. The charity began with two sisters in Covington, one who had several surgeries to correct a bilateral-cleft palate. The mission is to provide necessities, such as help with reconstructive procedures, gas money for travel to their surgery site, outpatient medical supplies and others.
Minden High School, through various fundraisers throughout the school year, raised approximately $100 for the charity. LASC has raised over $73,000 for the organization.
They also had two service projects, Jeans for Teens and Back on the Shelf. The Jeans for Teens is a project where students collect gently used blue jeans for homeless teens in shelters. Students collected new or gently used elementary reading books to restock libraries across the state that were affected by the floods of 2016 in Back on the Shelf project.
"It's such a great experience," Holliday said.