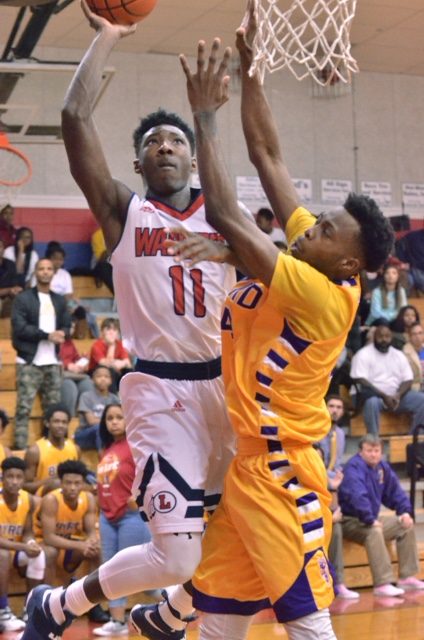 Night one of the Holiday Classic saw the Minden Crimson Tide and Lakeside Warriors earn impressive wins.
Minden took down Doyline in The Palace, while Lakeside handled Northwood at the Minden Rec. Center.
Also in action were the Lakeside Lady Warriors, who dropped a ball game to a solid Camden, Arkansas team.
Minden vs. Doyline (Boys)
The Tide turned a close game at the half into a rout during a second half that saw both teams getting up and down the court in a hurry.
Minden was able to clamp down defensively against Doyline, but head coach Rennie Bailey was disappointed by the end of a comfortable 83-50 win for his team.
"The performance tonight was poor," Bailey said. "When you look at the level of talent they had on the floor tonight, and I say that because Doyline was missing some guys, for us to show up and play the way we did in the first half was unforgiveable. I told them at halftime, if this is what you're going to put on the floor I wouldn't pay one penny to come watch that."
Minden had a bad first half in terms of shooting the ball, but with Jatavion Jackson, Doyline's starting point guard, out with an ankle injury, the Panthers didn't have the firepower or ball-handling to make it hurt.
Doyline was still able to take a lead in the second quarter, but Minden closed the half with a pair of 3-pointers from Jalen Teal to regain the lead.
The Tide would never relenquish that lead, outscoring the Panthers 27-8 in the third quarter to decide the outcome.
Minden had four players in double figures, led by A'Sean Davis with 11, followed by Jordan Becnel, Aaron Moses and Jalen Teal all with 10 points.
"The second half was a little bit better," Bailey said. "But it's about building. We have to be able to string consecutive efforts at a high level. Tonight we didn't do that. I give credit to Doyline's young guys for playing hard."
Minden plays the winner of the Lakeside/Gibsland-Coleman game, Friday night at 8 p.m.
Lakeside vs. Northwood (Boys)
It didn't take Lakeside long to put away their game with Northwood at the Minden Rec. Center.
The Warriors won going away, crushing the overmatched Falcons 78-36.
"It was just one of those nights where everything was going our way," Lakeside head coach Jason Gould said. "We set the tone with good defense and it just seems like everything went right for us and fell apart for Northwood."
The Warriors won the first quarter 18-8 before dominating the second quarter 22-4 for a 40-12 halftime lead. The domination continued in the third quarter before a fourth quarter that saw the reserves finish off the game.
Chase Mitchell had 18 points to lead Lakeside and Jalen Gould added 17 points.
Lakeside's next tournament game will be Thursday against Gibsland-Coleman at 5:20 in The Palace.
Lakeside Lady Warriors vs. Camden (AR)
Head coach Lyndzee McConathy's team was still in it at halftime, but Camden was able to extend their lead in the third quarter and cruise to a 55-40 win.
Jashmine Lewis and Jazzmyn White each had 10 points to lead Lakeside.