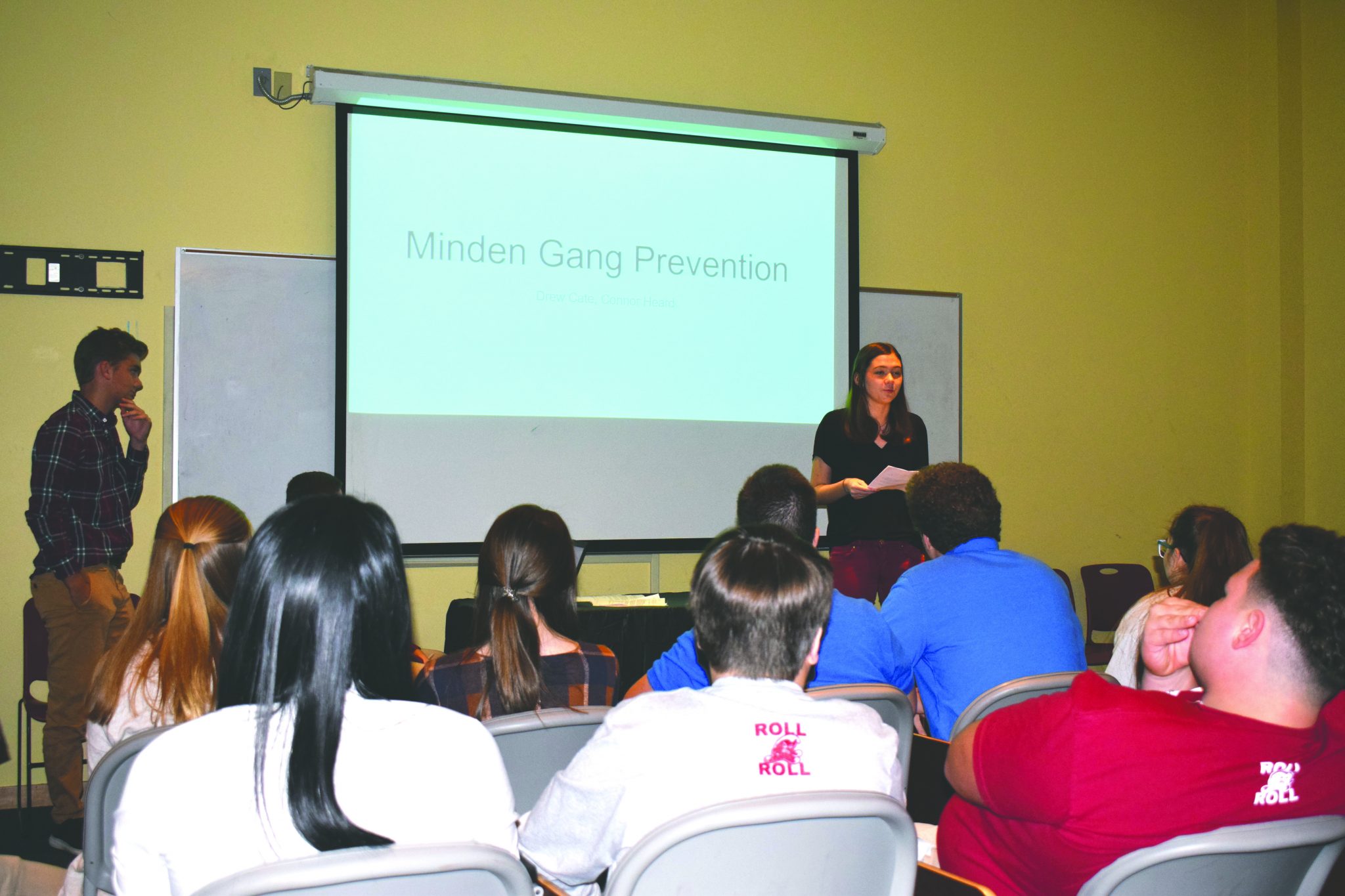 Various community figures such as Mayor Terry Gardner, Police Chief Steve Cropper, School Board Superintendent Johnny Rowland, and countless other School Board Supervisors gathered at Minden High School on Monday morning in order to see what the students of Expanded Horizons put together for their Minden Matters Presentations.
"I am incredibly proud of my students. We began this project in August. Since starting, students have brainstormed, researched, interviewed, and worked together to create a well thought-out plan to aid in and prevent teen violence in our community. Through this process, I've observed these students display a level of maturity and compassion that surpasses their age," said Amanda Greer, Expanded Horizons Teacher.
This project had the students research some of the reasons for teen violence and gang involvement and use creative problem-solving to come up with their own solutions to these issues.
Emma Greer, Connor Heard and Drew Cate gave their ideas on programs to implement in order to enact gang prevention in the local community.
Landon Rotharmel, Casen Talley, Dylan Butler, Gracelyn Pepper, Brelyn Winzer Jackson, and William Davis presented their idea for "The Spot," a place for the youth to meet and spend time with one another while taking part in activities they enjoy.
Anna Grace Harris presented her idea for "The Circle" a group for teens who are at risk that would have mentors who provide support and find alternative ways to spend them their time.
Mallory Pesnell and Carter Barnett focused on prevention by suggesting that "at-risk" students attend a bi-monthly meeting to hold activities that will improve their lives in academia and other areas.
Jesse Webb, Kelsey Waltman, Charlton Kellogg, Jayden Dison, Karley Blackburn, and Zaviera Brown suggested a peer mentorship program, where high school students would go and meet with Jr. High students similar to the Big Brother Big Sister program.
"We are proud that our students are more concerned with actually changing things rather than merely talking about changing things. Our students created multiple viable plans for action in our community. Their goal is to prevent gang involvement by offering their peers other solutions," said Minden High School Principal Becky Wilson.
Some of the solutions that were presented include having places for students to hang out outside of school, starting and volunteering for mentorship programs, group meetings for students going through similar issues, and other such programs.
"These students had great ideas. A lot of their ideas included the city of Minden, so I'm suggesting to them to come to visit with the Mayor and implement some of their programs at our recreation complexes as well as Ewell Park," said Gardner.
After the presentations were said and done, some of those in the audience shared their thoughts on the students' ideas, some even extending a helping hand in order to get these programs started.
Police Chief Steve Cropper, in particular, liked a presentation about starting up a mentorship program for students in Jr. High.
"If you take someone like y'all that can go into a Jr. High school and talk to some of these kids and mentor these kids, that's who they're gonna believe. They're not going to listen to me, they'll take what y'all have to say seriously. I'm very impressed, it thinks it's a great idea what y'all have done, and if I can help in any way, all you gotta do is pick up the phone or come by the office," said Cropper.
"It gives me great pride when I see you guys take initiative like this, and the amount of preparation and thought that you've put into this, I'm just blown away," said Superintendent Johnny Rowland.