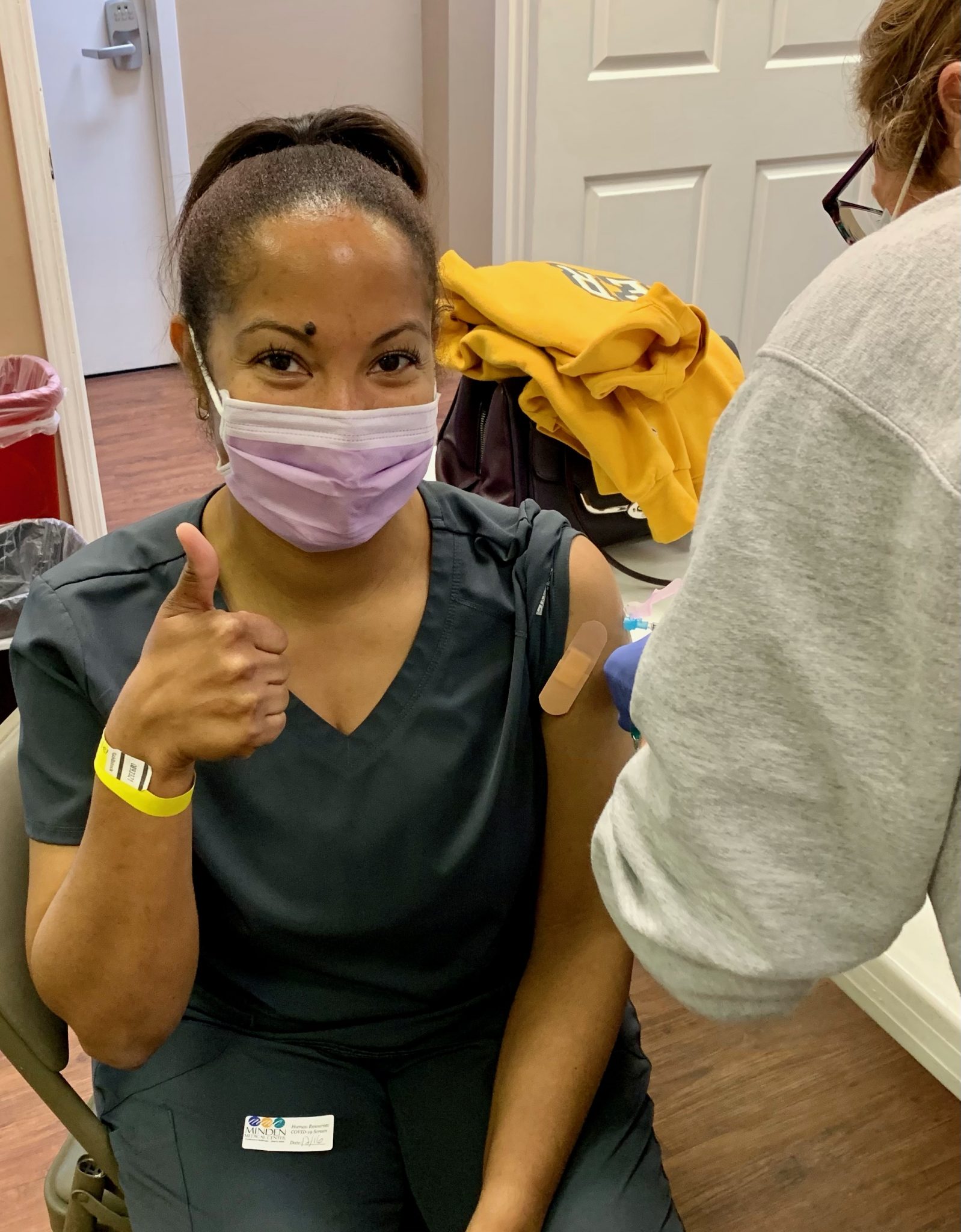 On Tuesday Minden Medical Center health care personnel lined up to be the first in the city receiving the COVID-19 vaccine.
Based on federal guidelines, tier 1 hospital workers are the highest priority for the limited supply of the vaccine currently available. Gov. John Bel Edwards stated earlier this week that he anticipated Louisiana to get 39,000 doses of the Pfizer-BioNtech vaccine this week and roughly 40,000 next week. Long-term care residents and staff and emergency medical drivers are the first priority for the vaccines planned to arrive next week.
Mandi Hardt, MMC Director of Marketing stated, "Healthcare providers risk being exposed to COVID-19 every day, and getting the vaccine is an extra layer of protection for them, their patients, our healthcare capacity, and our community as a whole."
"Per CDC recommendations, initial supplies of the COVID-19 vaccine are being allocated to healthcare personnel who have been working, and who continue to work, on the frontlines of fighting this pandemic. This includes our doctors, nurses, physician and nursing assistants, and supporting staff team members."
On December 11, 2020, the U.S. Food and Drug Administration issued the first emergency use authorization for the vaccine. "The FDA's authorization for emergency use of the first COVID-19 vaccine is a significant milestone in battling this devastating pandemic that has affected so many families in the United States and around the world," said FDA Commissioner Stephen M. Hahn, M.D.
"[This] action follows an open and transparent review process that included input from independent scientific and public health experts and a thorough evaluation by the agency's career scientists to ensure this vaccine met FDA's rigorous, scientific standards for safety, effectiveness, and manufacturing quality needed to support emergency use authorization. The tireless work to develop a new vaccine to prevent this novel, serious, and life-threatening disease in an expedited time frame after its emergence is a true testament to scientific innovation and public-private collaboration worldwide."
Although it is not available for the general public at this time, Minden Medical Center being the first to take the vaccine is emblematic of their willingness to advocate for the treatment they will be recommending to their patients.
"Our providers do thorough research before they participate in or recommend anything to their patients, and initial findings from the COVID-19 vaccine clinical trials have been positive. There are many benefits to vaccination, and the vaccine is making the "light at the end of the tunnel" a little brighter since it is going to be an important tool in helping get many aspects of our lives back to normal. As vaccine availability increases, the CDC will make recommendations to expand the vaccination to additional groups of people to best protect communities."