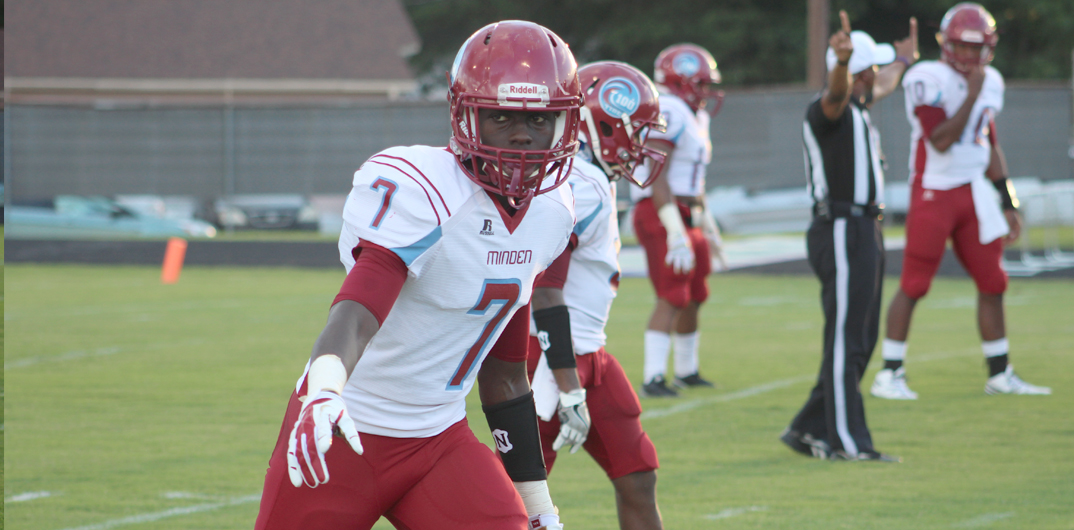 The Minden Crimson Tide stuffed North Webster's Devin White, now at LSU, three times from inside the 5-yard line in last year's 27-20 win at Baucum-Ferrar Stadium. During those final plays, the crowd noise on both sides was deafening; it was everything high school football is supposed to be.
This Friday, the Tide and Knights are set to play their second matchup since the consolidation of schools on the parish's northern end. In the aftermath of last season's clash, fans and sports writers alike began to call the game the Webster Parish Super Bowl; a name derived from hope the two teams are in the first days of a rivalry that will last long into the future.
It will be tough to top the finish from 2015.
"I don't think you can top last year in terms of excitement," Minden head coach Spencer Heard said. "You never know though, this year could be similar or completely different."
Minden faithful are still buzzing about their 23-20 victory against Haughton last week on the road and have the better team this week on paper.
North Webster is in a state of recovery early this season thanks to the loss of White, Jalen Smith, Wesley Franklin and a handful of other three or four-year starters. Talent is still on the Knights' sideline, but it's uncertain if they're ready to go toe-to-toe with a team of the Tide's stature. Last week's 55-7 win over Homer could have been a turning point, but it's more likely that North Webster just outclassed Homer.
Regardless, the Knights have some offensive weapons that the Tide should be aware of.
Junior running back TJ Hawthorne is leading the Knights' rushing and receiving attack in limited action. Hawthorne started the season inured, even missing the Knights jamboree against Lakeside.
He wasn't rushed into action against a physical Haynesville team in week one as North Webster head coach John Ware took a cautious approach, but against Homer Hawthorne was back in the swing of things. So far, on 14 touches, Hawthorne has accounted for 253 total yards and 3 touchdowns.
Kyler Harbour has been a steady hand for the Knights offense with 196 yards and 3 touchdowns through two games and Jaylen Thomas has the most carries of any North Webster running back.
"The Hawthorne kid, No. 29 is a good one," Heard said. "They have some other good backs, and the quarterback is looking more comfortable throwing the ball, too."
At quarterback, the Knights have a senior shouldering the load in Cameron Huff. With Zi'Kerrion Baker and Cameron Morgan leading the front seven, Huff will likely have to beat the Minden secondary with his arm at some point.
Flipping the script, Minden is loaded with offensive weapons with players like Kolby Jackson, Tavarius Edwards, Kelcey Miller and Patrick Heard. Quarterback Antonio Rivette is capable of dispersing the ball to them, but the North Webster defense has veterans throughout the front seven who hope to make plays in the parish's biggest game.
"They have four receivers who can hurt you," Knights head coach John Ware said. "We need our young secondary to play well. We need them to have phenomenal games in order to have a chance."
The leader of the unit is senior Rico Gonzalez, a hybrid linebacker/defensive end who could even drop into coverage if needed. Keither Holmes is a player of a similar mold for the Knights who has already recorded a sack and interception this season to go with his 9.5 tackles. John Hardy, Jaylon Bonton and Hayden Talley are all pivotal players for the Knights who could disrupt Minden's offensive rhythm Friday night, especially Bonton in the middle of the North Webster defensive line.
If either team has a special teams advantage it is probably the Tide.
Patrick Heard nailed a 34-yard field goal in last week's win and the Tide also made big plays on a kickoff return and fake field goal. Return men haven't fared well against the Tide either, with opponents failing to return a kickoff past the 40 through two games. Also, punter Matt Eskew doesn't get enough credit for the job he's done through two games.
All questions will be answered Friday when the game kicks off at 7 p.m. from The Pit, where a seat will be hard to come by.
"I could be wrong," Ware said. "But I expect standing room only. It's another chance for our guys to experience a big-time atmosphere like this and another chance to get better."