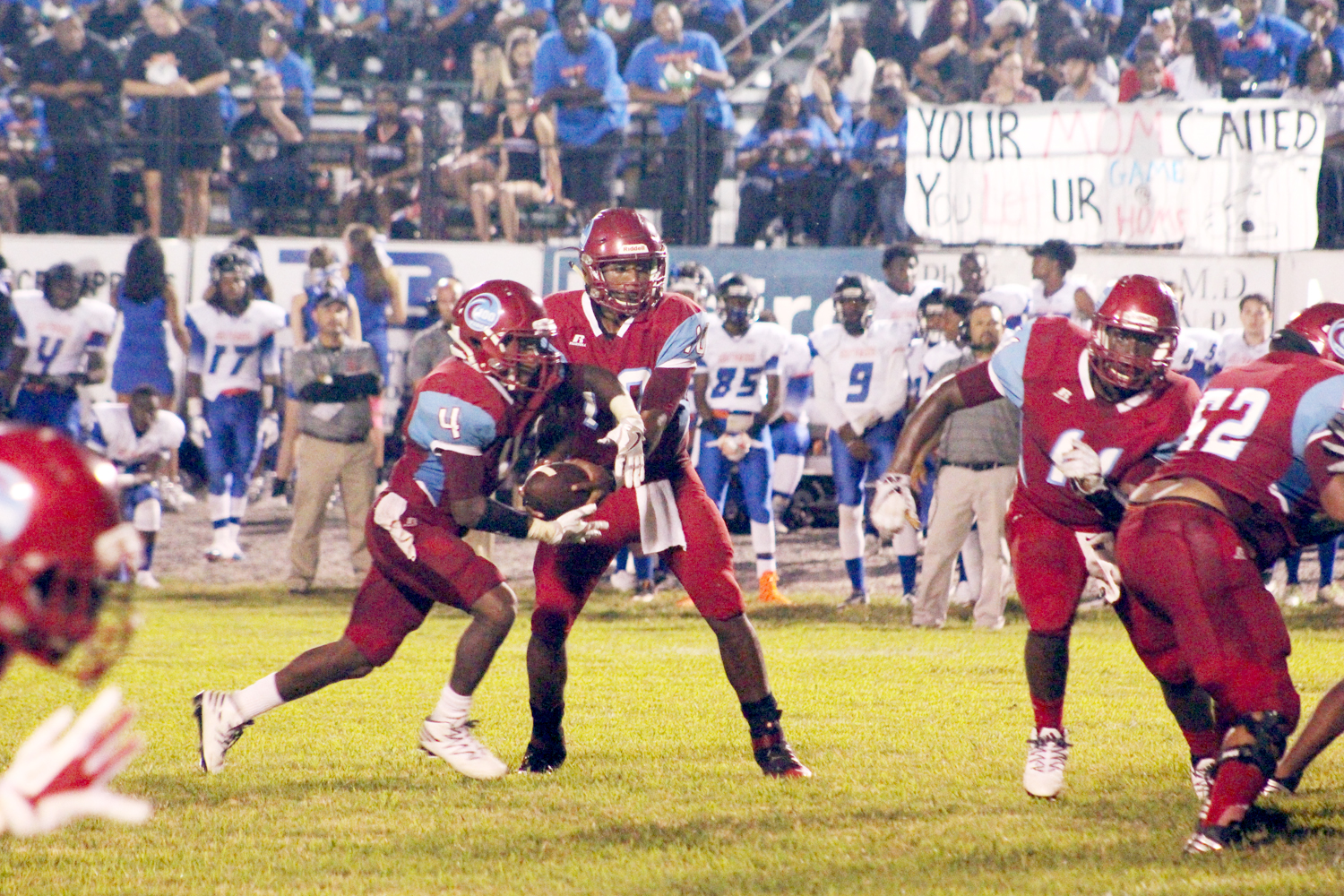 Raise your hand if you had Jwan Pickens scoring the Crimson Tide's first touchdown of the season.
The Minden (1-0) offense was sluggish Friday night in their return to W.W. Williams Stadium, but a dominating defensive effort propelled the Tide to a 27-0 victory over the Southwood Cowboys.
"First of all I thought our defense played very well," Minden head coach Spencer Heard said. "I was pleased with our overall execution on that side of the ball. They were able to get a score for us, and the special teams was good for the most part, forcing a fumble on the kickoff and Leo's return.
The main thing was just how out of sync we were offensively. I think a lot of that can be attributed to being our first game and I think it's going to get better. It has to get better before next week."
The Crimson Swarm defense held Southwood to 89 yards for the night, while the Tide offense racked up 278; modest numbers for a team capable of much more.
"We had way too many penalties," Heard said. "I think we had like nine penalties for 145 yards or something like that. If you tack that on we're close to 500 yards of offense."
"I thought Tony (Rivette) threw the ball really well at times, but he was out of sync on several throws. We need to be much more efficient and work real hard to clean that up this week."
The Crimson Tide forced a fumble on the game's opening kickoff, but a Rivette interception gave the ball back to Southwood. On the Cowboys first offensive possession, the Minden defense forced another fumble and this time it was scooped up by defensive tackle Jwan Pickens who raced 30 yards to the endzone for the Tide's first points of the season.
After another stop, the Tide offense went back to work, with Rivette finding Adrian Flournoy for 18 yards and Kelcey Miller for 19 yards, setting up a 4-yard rushing touchdown from running back Jamin Oliver.
Minden would threaten again before halftime. Rivette dropped back to pass and hit Tavarius Edwards for a big gain, but as Edwards seemed bound for the endzone, a Cowboy defender caught up with him on the sideline and stripped the ball loose for a Southwood recovery, sending the two teams into halftime at 14-0.
It was one of three Tide fumbles on the night.
"I feel like we left a few scores on the field," Heard said.
Minden was able to add a touchdown to start the second half on a drive keyed by Rivette. The senior signal-caller made two nice plays with his feet and capped the drive with a 14-yard rushing score to put the Tide ahead 21-0.
Later in the third quarter, Leonardo McCarter would add Minden's final score with a dazzling 59-yard punt return for touchdown where he made several Cowboys miss on his way to the endzone.
"He's a very important part of what we're doing right now," Heard said. "You saw some of that playmaking ability he has on the punt return and he's a great corner and our holder on extra points. He's got a lot of very important roles this year."
The Crimson Tide offense will be the talking point as the team gets back to practice ahead of a huge road game against the Haughton Buccaneers. The Bucs won 37-0 against Plain Dealing Friday night and have a plethora of offensive and defensive weapons at their disposal.
Penalty yards, turnovers and time of possession will be key in that game.
"Some of those guys on the line haven't played a whole lot," Heard said of his offensive line. "I think it was a combination of first game jitters and fatigue. It needs to get fixed for next week because we've got Haughton."
The other storyline was The Pit.
Fans came out and packed the new home side bleachers for game one. The roll Tide chants were loud and so were the cannon blasts after each Minden score. It's a good sign for things to come as the Tide will host bigger games down the road.
"I thought it was great," Heard said. "Everybody showed up to support the kids and I think everybody saw that this year is going to be okay."
Rivette finished the game 8 of 22 for 133 yards with one interception and a rushing TD. Rivette added 72 yards on the ground. Kolby Jackson carried 5 times for 30 yards, followed by Oliver who had 7 carries for 24 yard and the rushing score. Edwards led the receivers with three snags for 70 yards, followed by Patrick Heard with 3 catches for 26 yards. Miller and Flournoy each finished with 1 catch for 19 and 18 yards respectively.