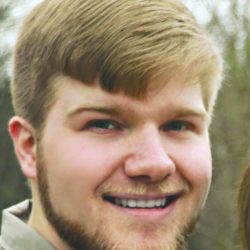 Minden Press-Herald editor and publisher David Specht has named Joshua Specht the newspaper's Managing Editor. Joshua has been the newspaper's production coordinator since 2017.
"Joshua basically grew up in this newspaper," David said. "He worked in the pressroom as a youth, as a news intern at our Bossier newspaper, and most recently, the jack-of-all-trades position of production coordinator."
Joshua has been actively involved in news production, most recently as the lead editor on the Profile 2019 edition.
"Joshua's performance on that project really showed me he was ready to take on the role of managing editor," David said. "I'm excited to see what he does to improve our newspaper moving forward."
Joshua said he anticipates building the news product into something that reaches his generation, while maintaining the excellence current readers have come to expect.
"I am firm believer that local news is important to anyone, regardless of age," Joshua said. "It will be my goal to make sure we reach everyone with the news that matters to them, in the format they choose to consume it."
Joshua follows in the newspaper footsteps of his father, David, his grandfather, David Specht Sr., his great uncle, Bill Specht, his great uncle, Jim Specht, and his great-grandfather, Arthur Specht.
"My family's legacy in this business is not something I take lightly," Joshua said. "They were committed to the communities they served, and so am I."
Joshua is a lifelong resident of Minden and a 2014 graduate of Glenbrook High School. He was recognized as one of the Greater Minden Chamber's 15 Under 40 class of 2018. Joshua and his wife, Sarah, are expecting their first child in August.