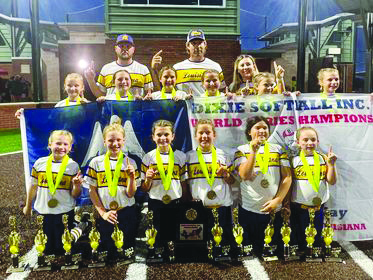 Softball and baseball registration are open at the Minden REC, and Assistant Director Mike Aguilar is hoping that this will be another great season. Last year the Minden girls, known as Team Louisiana, won the Dixie World Series championship in the Angels X-Play division which was held in Alexandria.
"We're really proud of our 9- and 10-year-old World Series Champions that won it and our 11- and 12-year-old girls that were the runner ups," said Aguilar. "And our 11-year-old boys, who are now 12, finished third in the World Series in West Monroe last year. So we had a really good year last year."
In 2022, Minden hosted the 8U AA Coach Pitch District IV Tournament and the 12U O-Zone District IV Tournament. Plans are in the works to secure more tournaments for Minden this year.
"The state tournament director was here last year, and he was thoroughly impressed with the fields and the facilities," Aguilar said. "We did a banquet for the kids. Everybody loved it. We brought in $41,000 in just gate money, approximately, for the city. And that doesn't even count hotels and restaurants, gas and snacks. I don't know what the full economic impact was.
"We are going to be bidding on the 9- and 10-year-old softball Angels division, the 13- and 14-year-old — which is the Belles division. We're also going to bid on the Sweeties, which is the 6-year-old division. For the boys' side, we're going to do the 12U O-Zone division. We're going to go down there and hope for the best."
Team sports have been shown to promote health not only physically, but mentally and emotionally as well. "Being on a team gives kids a sense of belonging," said Event Coordinator Zita Williams.
If you'd like your child or grandchild to participate, but they don't want to play baseball or softball, other sports are available now. Soccer registration is open, and basketball has been going for a few weeks. And there are leagues for the adults too.
"In March we'll start our men's basketball league as well," Aguilar said. "We had about six teams last year, and they're eager to go. And now that we're getting more adults involved, we're planning on having another softball league probably in July or August. It was fun for all of us."
The Minden REC offers a wide variety of activities to help get you moving including hip-hop line dancing (starts in March), yoga, water aerobics, pickleball, and more. The $20 annual membership is all inclusive except for sports leagues.
For more information, check out their website: mindenrec.org.