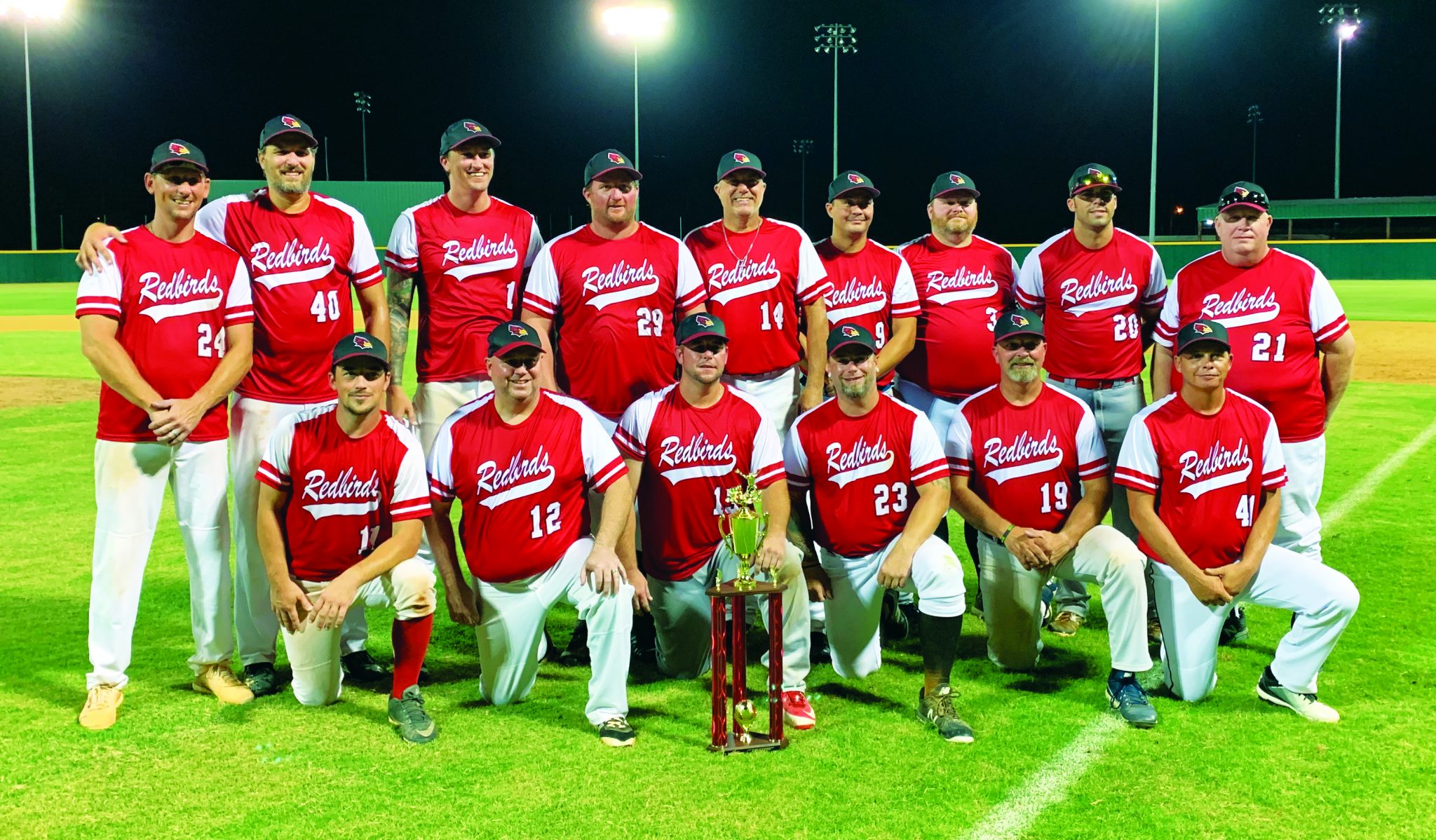 SHREVEPORT, La. – The Minden Redbirds claimed the 2019 Red River Adult Baseball League 30+ Division crown with a resounding 17-5 win over the Bossier City Rats Sunday at LSU Shreveport's Pilots Field.
"We played our best baseball when it mattered the most," said Minden player-manager Charlie Cavell. "We scored 28 runs against the top two teams in the league in back-to-back games. We never took our foot off the gas. We jumped out to a lead, and every time they scored, we answered, and that's what good teams do."
The Redbirds scored 17 runs on 21 hits in the championship game. Seven Minden players had multiple hits in the game, including Chris Fort, Keith Hardin and Thomas McManis, who each collected three hits. McManis, a former Parkway Panther, Bossier Parish Cavalier and LSUS Pilot, went 3-for-3 with a triple, a home run, three RBIs and he scored four runs. Philip Johnson also drove in three runs. Fort, who was named the 2019 Most Valuable Player by a team vote, allowed just four hits and one earned run over seven innings. He walked four and struck out six to earn the win.
"I just tried to throw strikes and let the defense help me," said Fort, who played collegiately at Southern Arkansas University. "For the most part we were able to minimize the damage. I felt good the entire game despite the 100-degree heat."
"It's a tremendous honor to be named the MVP," said Fort. "I'm just happy to still be able to come out every summer and compete. It's a lot of fun when you're surrounded by a group of guys that still have a passion for the game. We had a lot of guys contribute in different ways to get us to the championship, so it was definitely a team effort. I'm already looking forward to next year."
Minden was the No. 3-seed heading into the playoffs, defeated the No. 2-seed Shreveport Storm 11-4 on Saturday behind a strong pitching performance from Ian Doiron. Doiron, a Houma, La. native who played collegiately at LSUS, turned in a four-hit, complete game performance in the semifinals. The hard-throwing righthander did not allow an earned run, and was helped out by a defense that turned three double plays.
"I said it all season long that when we had all of our players we were a darn good baseball team," said Cavell. "I think we validated that statement this weekend. This is a great group of guys who happen to be outstanding ballplayers. I'm just lucky to be a part of it." Cavell thanked Gary Jones at Advanced Ambulance Service of Minden for its support of the team.