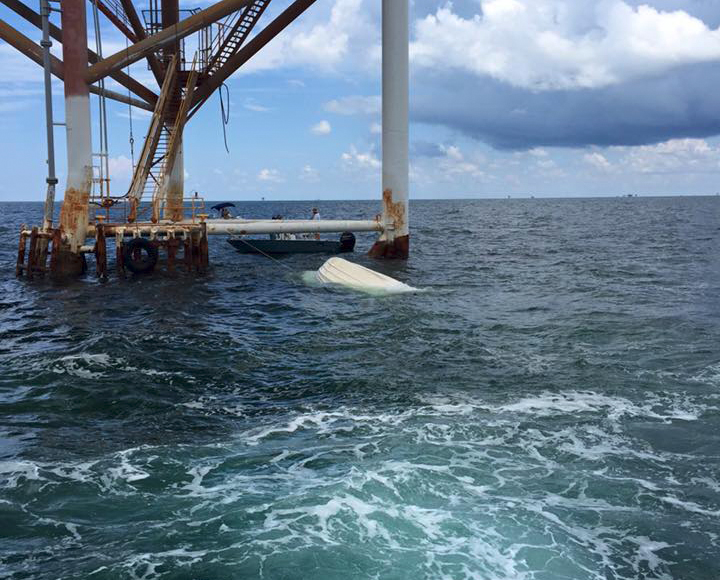 Everyone on board is safe following a harrowing ordeal when their boat sank eight miles off the coast of Alabama.
A group of families from Minden went to Fort Morgan, Alabama, not far from Gulf Shores, for vacation last week, and four men went out to sea to experience some deep-sea fishing.
Hugh Wood, one of the four men aboard, says they'd been fishing for a while when they noticed something wrong.
"This was my first trip deep-sea fishing and (the boat owner) was going to show us the ropes on how to do it," Wood said. "We go about what we thought was about six miles off the coast, and after about an hour or so of fishing, we figure out the boat is taking on water."
At that time, Wood and the others on the boat began taking measures to get the water out of the boat, turning on the bilge pumps. Wood says they thought the measures were taking hold until about 15 minutes later, the boat owner noticed more water underneath in the cabin.
"That's when we abandoned ship," he said. "Luckily, we were tied to an oil rig that had a platform that we could jump to. It had tow ropes that we could grab and pull ourselves to the rig."
Fortunately, a boater close by radioed the U.S. Coast Guard for help as their radio was under water.
"Within about 15 minutes of us getting on the rig, the boat capsized," Wood said. "We were pretty lucky."
They were able to unload most of their belongings on the boat before it capsized, and within about 15 minutes, the Coast Guard had come to their rescue.
"They ended up taking us back, and the tow (company) came back and got the boat," Bo Branch, also a passenger, said. "They pumped it up and got the water out and pulled it back in."
From start to finish, Branch says it took about an hour for the boat to sink.
The two praised the Coast Guard for their quick response and professional manner.
"They were doing a training exercise in the Gulf already, so they were pretty close, so it just worked out to our advantage," Wood said. "They told us we were eight miles out instead of six, and this was the only oil platform around that we were able to get on. All the rest of them were about 20 feet (above sea level) and they have to release a ladder down. So somebody would have to be up there to release the ladder down to you."
Both men say it was a scary moment, but felt fortunate that things happened the way they did.
"We were pretty nervous out there," Wood said. "We really didn't know what was going to happen. We felt pretty comfortable once we knew the Coast Guard was coming and they were all professional."
The important thing, they both say, is that all four men aboard made it back to shore safely and no one was injured.
Wood and Branch both say the boat was towed back to shore and even now, the reason the boat took on water is unknown. Wood says the boat owner is getting the boat checked out this week.
"We really don't know why it took on water," Branch said. "It all happened so fast. We were able to get off, and we were actually tied to the rig when it was sinking so we knew we could get off. We all just kind of sat on the rig and hung out until (the Coast Guard) got there."