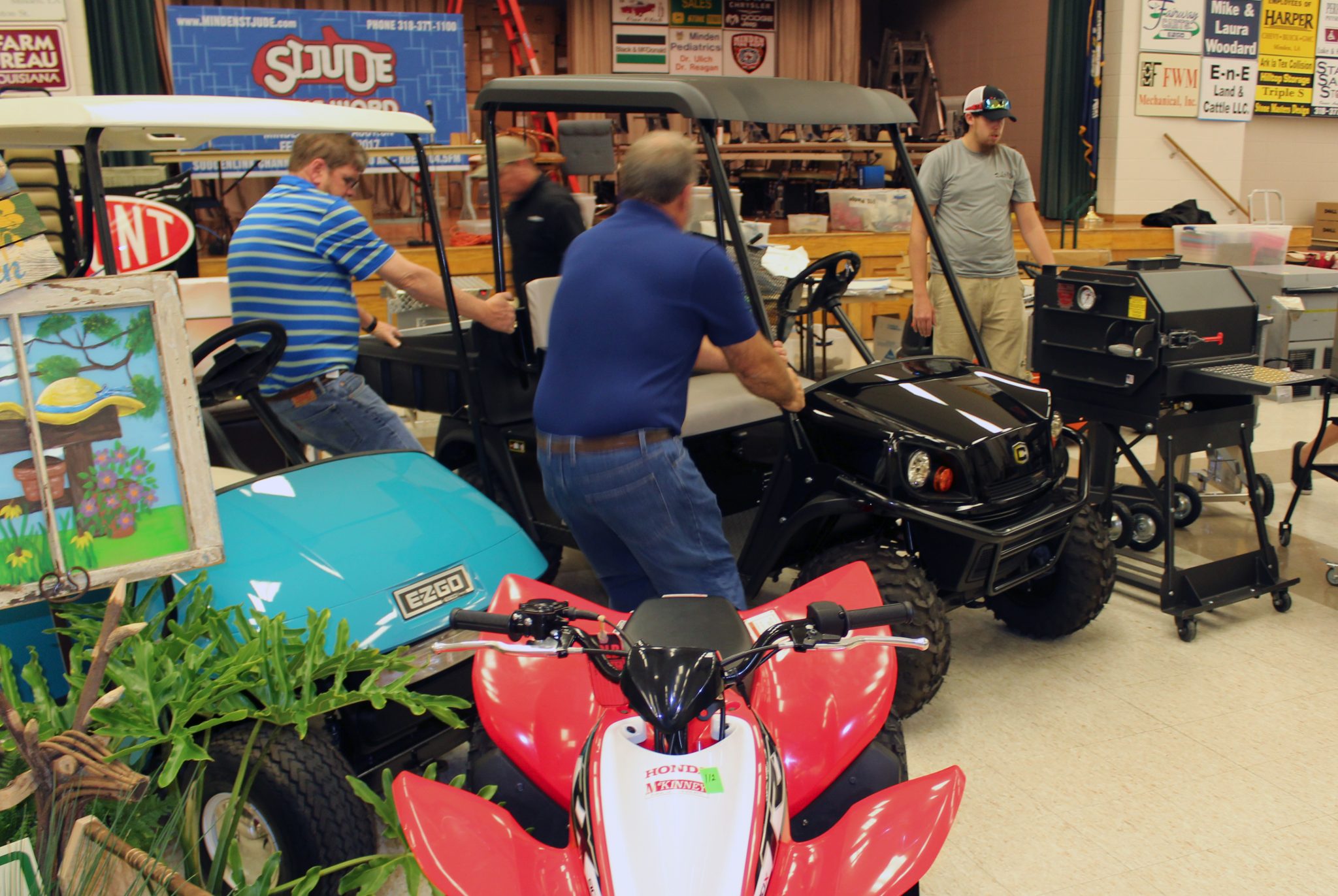 It officially begins today.
After months of planning and a few days of organized chaos, the 41st Annual Minden St. Jude Auction kicked off at noon with the theme St. Jude is the Word, a nod to the 50s movie Grease.
"Everything has been going smooth this year," auction organizer Laura Hollingsworth said Wednesday. "It looks like it's going to be a great auction this year."
The auction will be broadcast on Suddenlink channel 11, KASO AM 1240 and streamed online at www.mindenstjude.com through Sunday.
This year's grand prize is a 2017 GMC Denali from Harper Motors or $50,000 cash. Tickets are $100 each and may be purchased by calling the auction's hotline at 318-377-1100 or on the auction's website.
Auction organizers are urging the public to log onto the auction's website, www.mindenstjude.com, to view all items that will be raffled off this weekend. Raffles for items can also be purchased on the site.
The 2017 auction items have been up for a few weeks online and have raised more than $50,000, Christi Rupple, who oversees the online edition of the raffle items, said.
This year, organizers hope to rev up the auction with an authenticated signed race hood by NASCAR racer Jeff Gordon.
As of press time, it remains unclear if the hood will be a big board item or raffle item because of the high value, Hollingsworth said.
Other items in this year's auction include guns, a boat, drone, a 2017 Heritage Softail Classic Harley-Davidson, Honda Side-by-Side, youth four wheeler, Apple Watches, iPads, computers and a curved TV.
The auction will also feature multiple art pieces that were donated from a private collectors set.
Food Schedule
Thursday
11 a.m. – $5.00 Red Beans and Rice with French Bread or Crackers provided by Bon Temps
5:30 p.m. – $10 Grilled Pork Chop Dinner, Dirty Rice and Au Gratin Potatoes provided by Hugh Wood and Alex Collins
Friday
7 until 9 a.m. – $5.00 Pancake Breakfast provided by Minden Medical Center Breakfast will include pancakes, sausage and orange juice
11 a.m. – $10 Brisket sandwich, beans, chips, cookie provided by Webster District Attorney's Office
5 p.m.– $8.00 Jambalaya Dinner provided by Knights of Columbus
Saturday
8:30 a.m – Beinets for Breakfast
11 a.m. – $5.00 Chili and YumYum Cake provided by Little's Rod and Black Pot and The Minden Main Street Board
5 – 7 p.m. – $10.00 Fried Fish Plates Gary Brown and The Alley Cats
Sunday
11 a.m. – $10.00 Cajun grilled chicken, sausage, baked beans, potato salad provided by Grace Estates
4 p.m. – $8.00 Hamburger, chips and drink provided by Wayne Avery