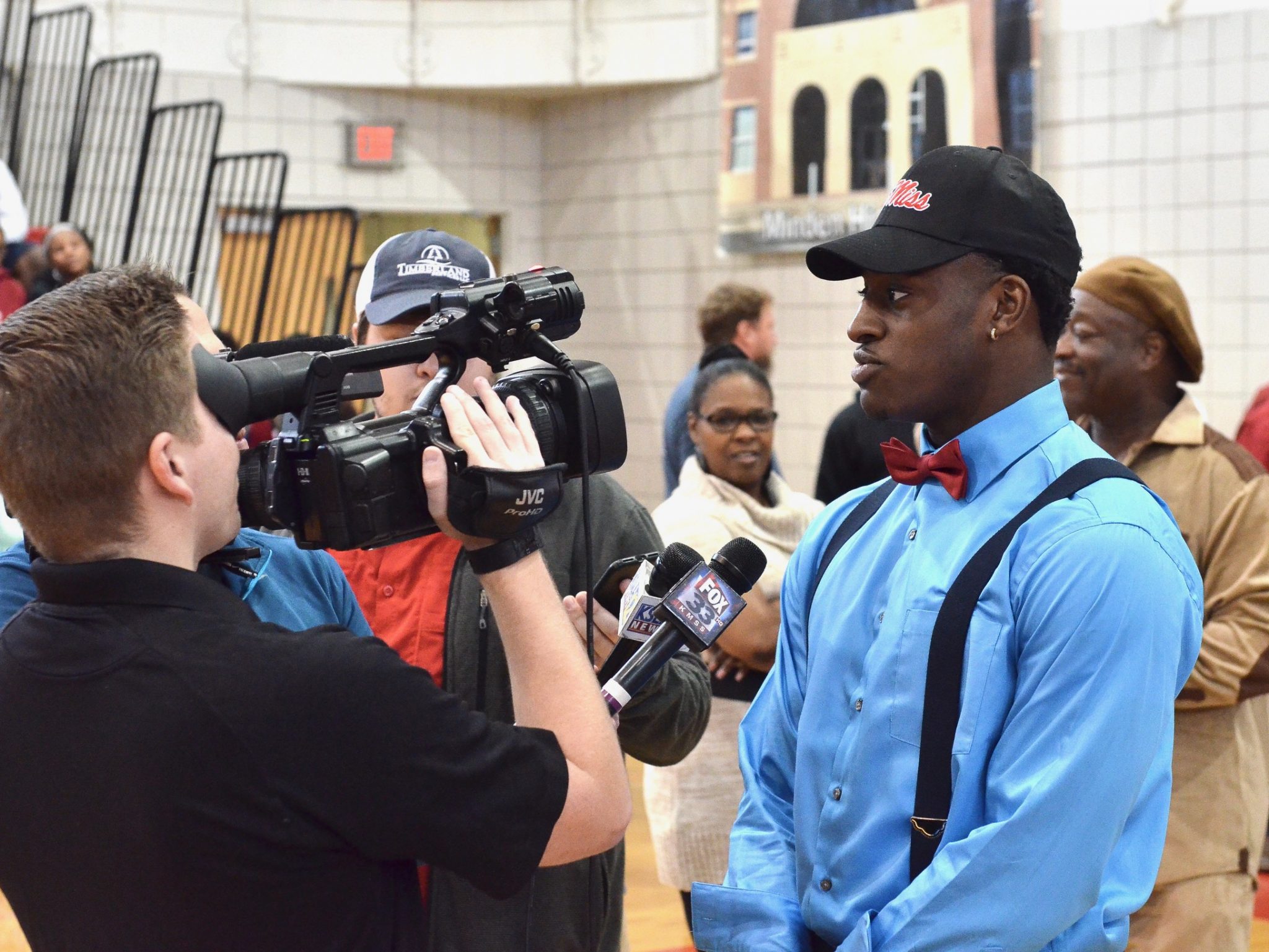 For the second time in as many years, National Signing Day saw a Webster Parish propsect pledge to play in the Southeastern Conference.
That opportunity was too appealing to be ignored by Minden 2017 linebacker Zi'Kerrion Baker.
Baker's prep journey came to a close Wednesday when he signed a Letter of Intent to play football for coach Hugh Freeze and the Ole Miss Rebels.
Baker (6-foot-1, 220 pounds) is the first player from Minden to sign at an SEC school since 1988 when Sammy Seamster and Shannon Cornelius inked with LSU.
Baker chose Ole Miss over offers from Southern Mississippi and Louisiana-Lafayette.
"It felt like I was at home," Baker said. "Ultimately, it was the best fit for me. When I got there on my visit the coaches were amazing; I kind of already had a relationship with coach Peveto from when he was recruiting me at LSU."
A two-time All-Parish and All-State performer on the gridiron, Baker expects to come in and compete for playing time right away.
"I'm a competitor," Baker said. "I feel like I can come in and help them out."
Also signing scholarships from Minden High School were linebacker Cameron Morgan, tight end Kelcey Miller and offensive lineman Darien Mitchell.
Morgan, a 6-foot-1 255 pound manchild, will continue his career at Arkansas-Monticello as a Boll Weevil.
"It feels good to have this over with," Morgan said. "Now I can focus on enjoying the rest of my senior year. I'm just thankful to UAM and I love where I'm going."
Miller, known for his outstanding pair of hands and his toughness, signed to continue his career at Louisiana College, citing the family atmosphere as a reason why.
Mitchell signed with the Boll Weevils of UAM as well. The 6-foot-3 270 pound stud weighed less than 200 pounds his sophomore year before hitting a massive growth spurt. Look for Mitchell to be a quick contributor in Monticello, Arkansas.
Lakeside offensive lineman Jordan Richard was the first player of the day to sign a letter of intent, inking with Louisiana College where he will meet up with Miller in the fall.
On the northern end of the parish, North Webster's Rico Gonzalez will continue his playing days at Ouachita Baptist.
Gonzalez, a 6-foot-1, 205 pound linebacker, was a three-year starter for the Knights and a first-team 3A all-state selection this season.