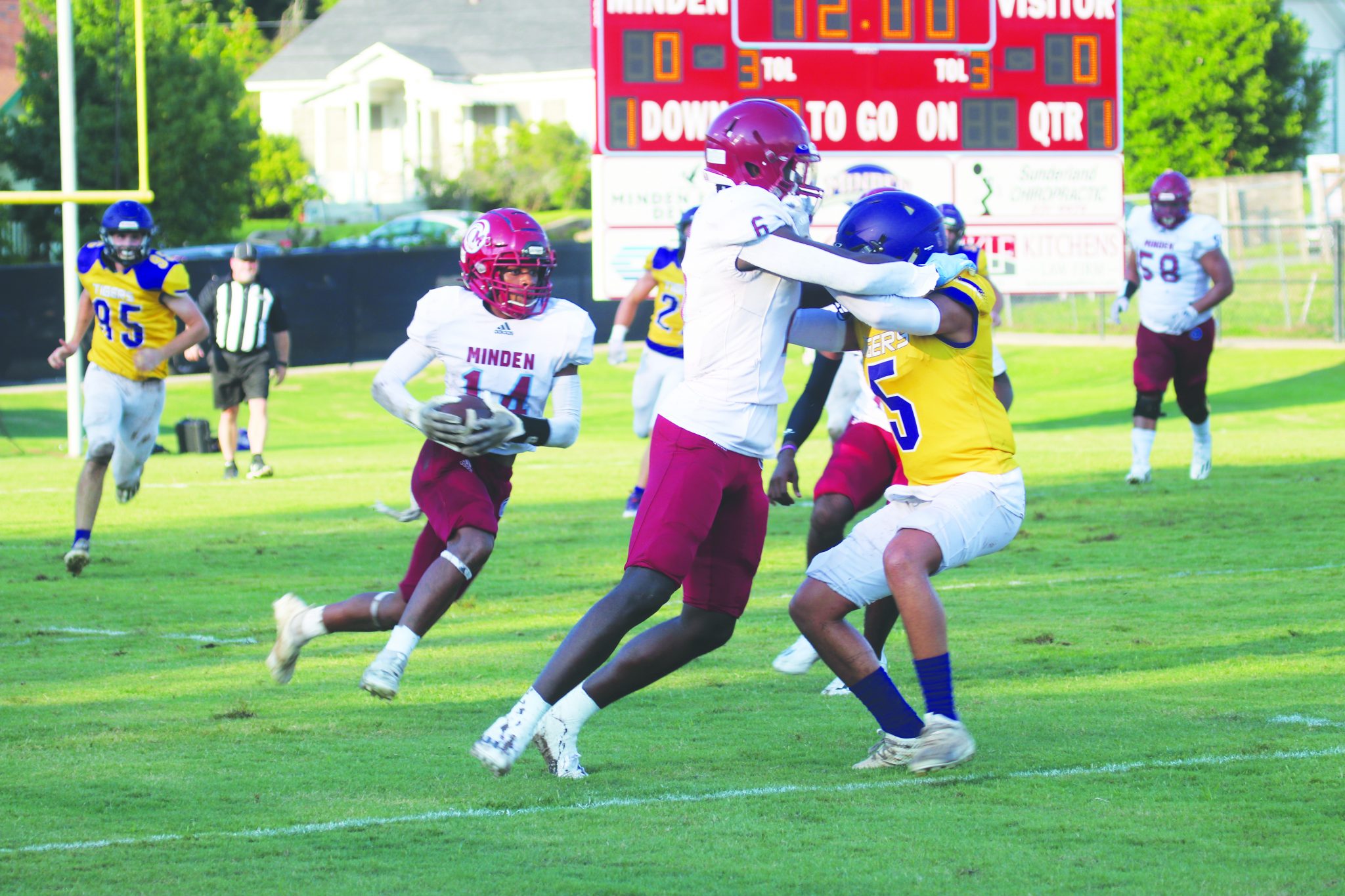 Despite an unexpected early end, Minden High School football coach Spencer Heard saw pretty much what he expected during Friday's shortened home scrimmage against Benton — some good, some bad, and a whole lot to learn from.
"I thought it was a good scrimmage," Heard said of the event, which ended early because of rumors of a possible gun threat. "It was very productive for us, especially against a team like Benton that is also really sound. That kind of team shows you your weaknesses and what you need to work on. From that aspect it was a very good scrimmage.
"We showed some good things, too. We moved the ball and I thought our offensive line played well, especially considering we've got quite a few sophomores up front."
Heard was pleased with the way his new starting quarterback looked running the Crimson Tide offense.
"Jakobe played well," Heard said. "We've got some stuff to clean up but he's a very athletic and intelligent young man and we're looking for some big things from him."
Jackson showed much composure in the face of a Benton defensive line that pressured him throughout the scrimmage.
"We've got to shore up protection to help him," Heard said. "He threw the ball well when he didn't have someone up in his face about to hit him. He was under duress quite a bit."
Minden's offensive star of the scrimmage was junior Cameron Mitchell, who scored on a long pass while adding a long run.
"He's an explosive kid and definitely somebody we want touching the ball," Heard said about Mitchell. "He went long on a pitch and on a catch. He had a good scrimmage and is going to be a good player for us. He showed some of it last year and will get more of a chance — more touches — this year."
Mitchell provides a good complement to Crimson Tide tailback Daylen Robinson, who didn't receive as many touches during the scrimmage in a safety move based on the fact Heard and his staff know what they have in the senior who rushed for 1,007 yards last year.
"He's a load to bring down and as long as he stays healthy he'll be a big part of our offense again this year," Heard said of Robinson.
Heard also singled out Jaylin Williams as a major factor for the Crimson Tide's offense.
"We hit him a couple of times during the scrimmage and is a guy we'll definitely look to target," Heard said. "He's a big kid. A 6-3 receiver is always good to have."
"I think the pieces are there for us to have a good season," Heard said. "We just have to keep on putting it all together."
Defensively, sophomore Demetrius Robinson spent quite a bit of time in the Benton backfield during the scrimmage.
"He played some as a freshman last year," Heard said. "He's got some experience and is a big kid. He's about 6-2 and 265 pounds. He's a strong kid."
Heard said he does want to see some improvement at the linebacker position.
"We have some stuff there to improve on, but that's what we were looking for out of the scrimmage," Heard said. "There's some stuff our linebackers — and the whole team — can learn from all of it."