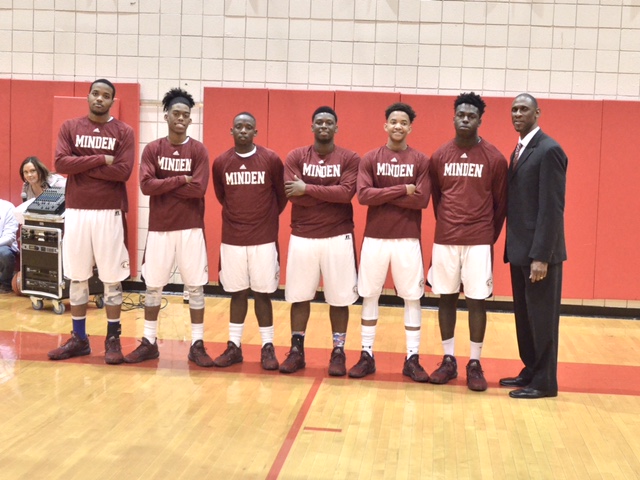 The Minden Crimson Tide were on the brink of an upset to secure their place in the postseason.
Unfortunately, Fair Park displayed the defense that's led them to a top-five ranking in Class 4A over the final few minutes of Friday's matchup and Minden (13-16, 4-5) could not get any of their last-minute shot attempts to fall, as the Indians escaped The Palace with a hard-fought 51-47 win over the Tide.
"Our guys came to compete and that was the difference in this ball game," Bailey said. "I thought it was a great competitive game on both sides. I couldn't ask for a better effort from the guys for 32 minutes; we just fell a little bit short."
Fair Park won the game at the free-throw line (13-15 for the night). The Indians only made one field goal in the fourth quarter.
"They did what they had to do to win the game," Bailey said.
Jalone Branch and Trey Oliver each had 9 points to lead Minden, followed by Zi Crawford with 8 points; Jordan Becnel and Aaron Moses each had 7.
Minden needs a win over Northwood, Tuesday night in The Palace to have a chance at earning a postseason bid.
Minden vs. Fair Park (girls)
In a less-exciting affair, the Minden Lady Tiders dominated the Fair Park Lady Indians 77-31 in their regular season finale Friday night.
"We did a good job of getting the ball into the middle of the paint and playing agressive defense tonight," head coach Jacob Brown said. "We shot the ball well from the perimeter as well. It's good to get back in the win column heading into the playoffs."
Minden (24-5, 7-3) led by 16 points at halftime and went ahead by 30 after three quarters of play. The Lady Tiders got hot from the 3-point line in the fourth quarter to put an exclamation point on the win as they prepare for the Class 4A playoffs.
Destini Powell had 15 points to lead the way, followed by Tayler Banks with 12 and Bre Rodgers with 11.
Lakeside vs. North Caddo (boys)
The Lakeside Warriors went on the road and fell to North Caddo 78-66.
The Warriors and Griffins played a tightly-contested first half, going into the break tied at 25.
The third quarter spelled doom for the visitors though, as North Caddo outscored the Warriors 24-10 to take control for good.
The Rebels hit 11 3-pointers in the game.
Damian Coleman led Lakeside with 23 points on the night, followed by Jalen Gould with 17 points and Tyreke Loftin with 11.