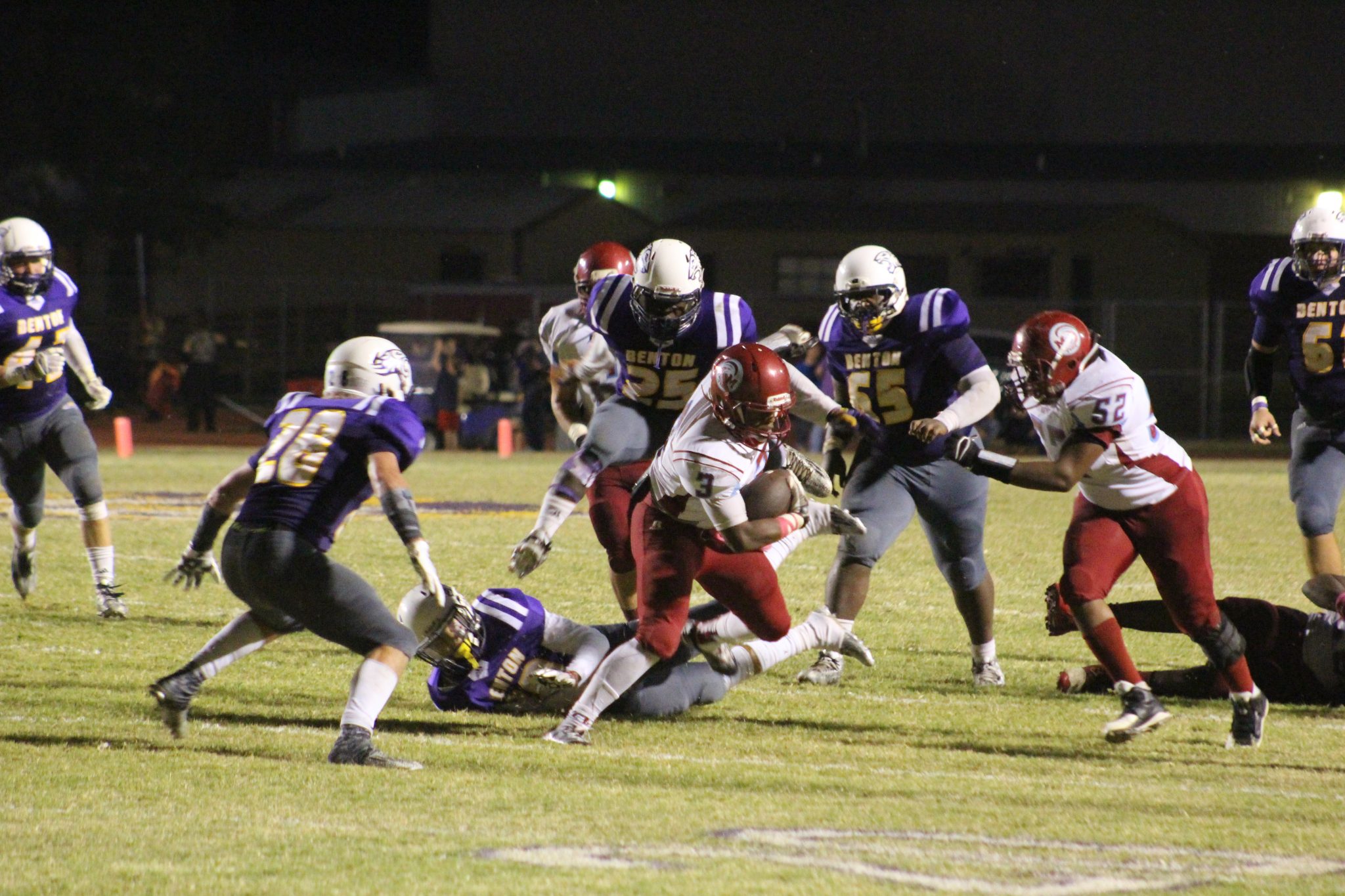 BENTON – In the moments right before Minden's final pass fell short to end an outstanding game, L'Jarius Sneed layed exhausted on the field in cramps.
The senior do-everything athlete put on a dazzling display of aerial abilities, speed, strength and determination in willing his team back from a 27-13 halftime deficit, but following an improbable kickoff return that set the Crimson Tide up with a reasonable look at the end zone, Sneed had nothing left in the tank, and neither did Minden, as they fell to Benton 41-34 in what might go down as the game of the year.
"It was probably the single best individual game for a receiver that I've ever seen," Minden head coach Spencer Heard said. "It was ridiculous what he did tonight. I can't see how big schools across the country are not knocking our door down trying to get him. Everybody played well, but his effort was over the top."
Minden struggled early in the game, despite getting on the board first with a 49-yard touchdown pass from Antonio Rivette to Sneed.
Benton quickly answered with a pair of touchdowns to make it 13-6, and extended that lead to 20-6 early in the second quarter.
Right before the half, it appeared Minden would go to the break only down seven following a beautiful 37-yard touchdown pass from Rivette to Tavarius Edwards. However, the Tide allowed Benton to pick them apart on their way to a 60-yard scoring drive that took just 35 seconds.
Trailing 27-13 the Tide started their comeback with a 25-yard touchdown pass from Rivette to Sneed. The score remained at 27-20 until the 5:34 mark of the fourth quarter. Rivette dropped back to pass and delivered a dime deep downfield that was hauled in by Sneed who shed two Benton tacklers and fell into the end zone for the 78-yard touchdown to tie the game at 27-27.
On the ensuing Benton possession, Minden shot themselves in the foot with back-to-back penalties that set Benton up at the Minden 25-yard line where the Tigers scored on the next play to make it 34-27.
Minden wasn't done though, as the dynamic duo of Rivette and Sneed once again locked eyes on a deep route. Sneed was able to make a twisting grab and break free once again for a wild touchdown run after the catch. The capacity crowd was in a frenzy as Sneed crossed the goal line and tied the game.
On Benton's next possession, Minden forced a punt that gave the Crimson Tide the ball back at their own 20 yard line with one minute to play. Rather than play it safe and head for overtime, the Tide tried to seal the win with a score, but as Rivette dropped back to pass on third down he was hit and fumbled. Benton scooped up the loose ball and went into the end zone for the winning touchdown with just 26 seconds on the clock.
"We could have taken it to overtime," Heard said. "Benton had three timeouts and I was scared if we tried to run out the clock they'd just take their timeouts and get the ball back. I told Tony (Rivette) I was very proud of him. He had the best game he's had since I've been at Minden High School. He's got nothing to hang his head about."
Sneed had one last attempt at making something magical happen, and he nearly did, but his wild kick return came up just short, as an exhausted No. 5 couldn't outrun the last Tiger between he and the end zone. Minden's final heave fell incomplete, and time expired on the Tide.
"We fought to the very end," Heard said. "We just came out on the short end of the stick this time. We have to get over the hurt this weekend and get ready for the next opponent. You can always second guess yourself as a player or coach, but I know these guys played their hearts out."
Rivette set a school record for passing yards with 417 yards and five touchdowns through the air, while Sneed broke a single game record for receiving yards with eight catches for 278 yards and four touchdowns. Tavarius Edwards finished with six catches for 90 yards and a touchdown, followed by Kelcey Miller with two catches for 39 yards. D.J. Elkins led the Tide in rushing with 38 yards and Sneed pitched in 27 yards on the ground for good measure.
A special thanks to Mark Chreene at KASO Radio for statistics. KASO will re-air Thursday's game Saturday morning at 8.