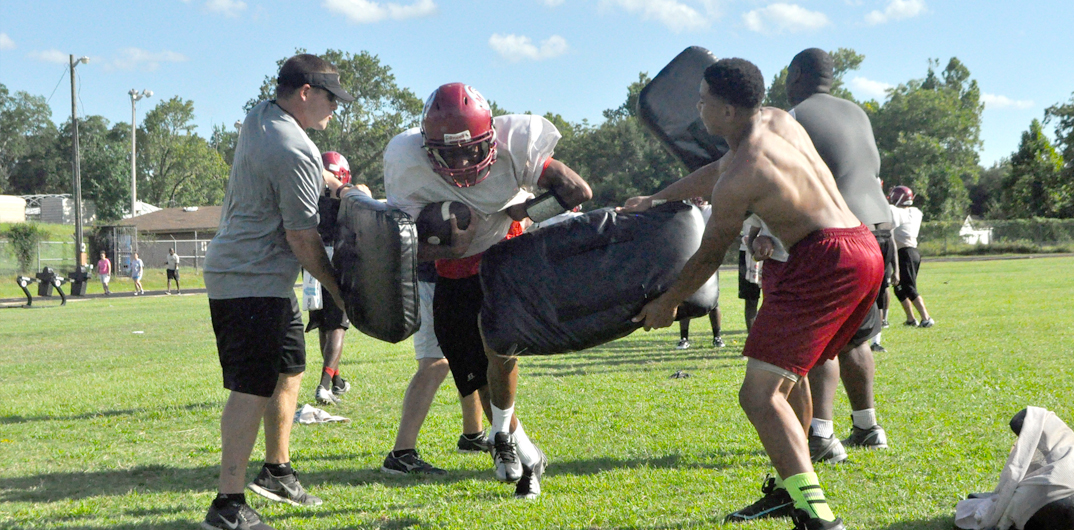 Sports have an inate ability to steal our attention, often used as means to escape our problems.
Such is the case for the Minden Crimson Tide, who open spring practice Monday, April 25.
The Minden community was rocked by the news that The Pit was condemned this week, due to recent flooding shifting the structure of the stadium's grandstands nearly three feet.
The immediate questions surround the school's graduation ceremony, but there is even some uncertainty as to whether the Tide will play any games at The Pit next season.
Minden head coach Spencer Heard believes the start of spring ball should provide a welcomed break from stadium talks.
"When I found out it was just like, 'Wow, this is a reality,'" Heard said. "But I think our players have handled it well. They don't seem phased by it. I think once we get settled in and put the pads back on that will be a good thing. It will let people know some things have changed, but football is still happening."
Heard said he and his staff have been busy moving the locker room to the basement of the old gym, a process that should be complete on Friday, just in time for the Tide to take the field.
"We had, I think, the best offseason we've had since I've been here," Heard said. "We made some really good gains, especially in a lot of the young guys. They're ready to get out there and try to prove themselves, and I think that's one of the main things we try to get out of the Spring, is seeing what these young guys can do."
Minden returns a large portion of its' starting lineup from last season, but there is some notable attrition, mostly in the defensive backfield, where the Tide are replaceing two starters with the departure of Ken Francis and Dekeltric Freelon.
"We lost a little bit there," Heard said. "I tell the guys every spot is open at all times. You can take a spot if you're better. But I think that's one spot we'll definitely have an eye on, as well as a couple of offensive line spots where guys graduated."
Heard said the Tide should be faster and stronger than they were in 2015, a scary thought for opponents. Heard, who will begin his fourth season as head coach of the Tide in 2016, said he no longer has to motivate or hound guys to lift, stating the Tide know what's expected of them in the weight room.
"We have a big board in the weight room," Heard said. "Everyone's weight is up there and you can see where you are in terms of the other guys at your position. I like it because it breeds compeition and that's what we want to do with everything."
Heard said the team maxes out in the wieght room every six weekes and reports 90 percent of the team has went up on their bench and clean numbers at each interval.
"It's been streamlined a bit," Heard said. "The leaders of the team lead the workouts, so as a coach, it's getting easier and easier."
The Crimson Tide finished 9-3 in 2015, with close losses to Haughton, Benton and Franklinton.
The Tide return 16 starters from that team, including Shreveport Times' All-Area Defensive MVP Zi'Kerrion Baker and veteran quarterback Antonio Rivette.
At the conclusion of Spring practice, Minden will play their Spring game May 6, at 6 p.m. on the road against Richwood.