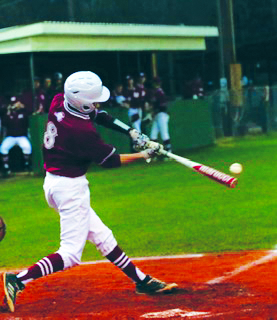 A walk-off walk led Minden past Jefferson High School, 8-7 on Thursday night in the Minden Invitational.
The game was tied at seven with the Crimson tide batting in the bottom of the seventh when Seth Johnson drew a walk with the bases loaded, scoring one run.
There was a total of 17 hits in this offensive showcase between the two squads.
Minden captured the lead in the first inning when Haynes Mandino's sacrifice fly scored one run for the Tide.
Jefferson evened things up at seven in the top of the sixth inning. Trace Smith hit a two-run homer tie the score.
Jefferson scored three runs in the fourth inning. Camden Simpson, Dustin Childress, and Blaze McMullen each drove in runs during the inning.
Trenton Mclaughlin was on the mound for Minden. He went three and a third innings, allowing four runs on three hits and striking out two.
McMullen started the game for Jefferson. He surrendered four runs on four hits over three innings, striking out four. Mason Reeves threw three and two-thirds innings in relief out of the bullpen.
Minden scattered 11 hits in the game. Camron Dollar, Beau Branch, and Austin King all collected multiple hits for the Tide. Dollar went 3-for-4 at the plate to lead Minden in hits.
The Tide improve to 2-0 and play next on Saturday at 2 p.m. against Elysian Fields, Tx.
Loyola 5, North Webster 4
The Flyers nabbed the lead late in the game as they stole a 5-4 victory from the Knights.
Loyola trailed 2-1 in the top of the fifth inning when Luke Hamiter doubled on the first pitch of the at bat, scoring two runs.
The Flyers scored in the second inning on a sac bunt by Matt Ramsey, but the Knights tied up the score on a sac bunt by Jordan Nelson in the bottom of the inning for North Webster.
Jett King picked up the win for the Flyers. Sawyer Howard took the loss for the Knights. He surrendered five runs on eight hits over seven innings with six strikeouts.
Gavin Gillentine went 3-for-4 at the plate to lead North Webster in hits.
Doyline 14,
Jonesboro-Hodge 2
Josh Longstreth picked up six RBIs to lead the Panthers to their third win of the season in the Minden Invitational on Thursday afternoon.
The Panthers play today at 3:00 p.m. against Linden Kildare, Tx. at Minden High School.
Elysian Fields 13,
Lakeside 2
The Texas team used an offensive explosion to get by the Warriors on Thursday in the Minden Invitational.
Elysian Fields scored in every inning en route to a big win.
Nathan Willis had three hits in his second-straight multiple-hit game.
Brian Foster also picked up two hits for Lakeside (1-4).
The Warriors play tonight at 7:30 p.m. against Jefferson High School at Minden High School.