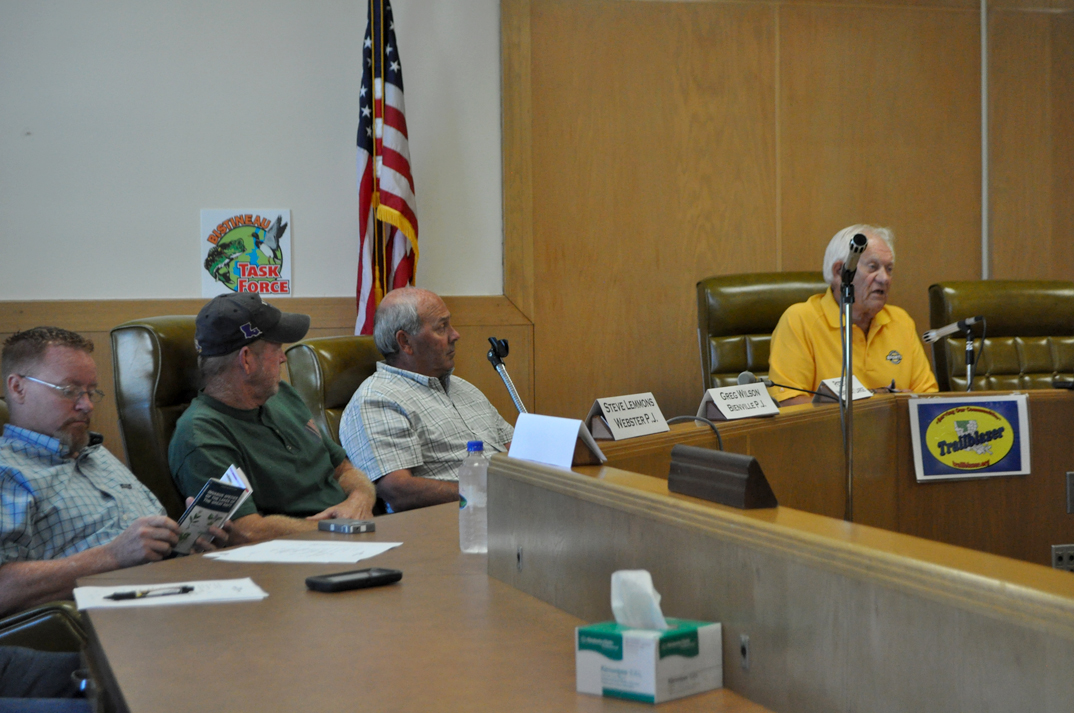 An audience member asked Bistineau Task Force members Thursday if fighting giant salvinia on Lake Bistineau is a losing battle.
The answer in short? No, says Jeff Sibley, Louisiana Department of Wildlife and Fisheries biologist supervisor for inland fisheries district 1. He explained the combination of the different ways of killing the invasive aquatic weed is making it manageable.
One of those ways is through the use of weevils, which are considered the only natural "predator" to the salvinia, Pete Camp, BTF member at large, said. Thanks to the generosity of the Red River Waterway Commission, Camp and several volunteers went to Murco and retrieved about 36,000 weevils and transported them to Lake Bistineau where they were deposited into areas cordoned off with booms.
"The idea for this project is to test the effectiveness of the salvinia weevil in Lake Bistineau during the growing season," according to a Trailblazer news release. "The project team will monitor the release sites on a regular basis; hopefully new colonies will be established in the coming weeks."
As of now, there are three test areas at Camp's Lake Bistineau camp, where weevils were introduced, one with just weevils, one with salvinia, weevils, larvae and eggs and the control group which has no weevils. The test areas are in an infested canal behind Camp's camp.
"The initial point of this project was just to show results, that it works," Camp said. "So while we had it, we said we might as well do a little bit of experimenting."
Camp says they went back and got more weevils and put them on a pond area on private property. The idea, he says, is to make this pond their weevil farm because it's not connected to Lake Bistineau but is thickly blanketed in salvinia.
"We'll eventually try to salvage some of those (in the project test areas) and put them in here," he said of the pond. "We hope to have some survival of weevils this winter. We had some survival of weevils this winter. That salvinia lived through the winter."
Sibley says they are using any number of ways to attack the salvinia, some of it simultaneously – like herbicide spraying and the weevils.
The project is being funded by private donations. Camp says fundraisers will be coming up to help defray the costs of not only the project but the experts who are advising the task force. To donate, send contributions to BTF Action Fund, c/o Trailblazer RC&D, 302 E. Reynolds Dr., Ruston, LA. 71270. Donations may qualify as tax deductible.
The next Bistineau Task Force meeting will be Sept. 17.