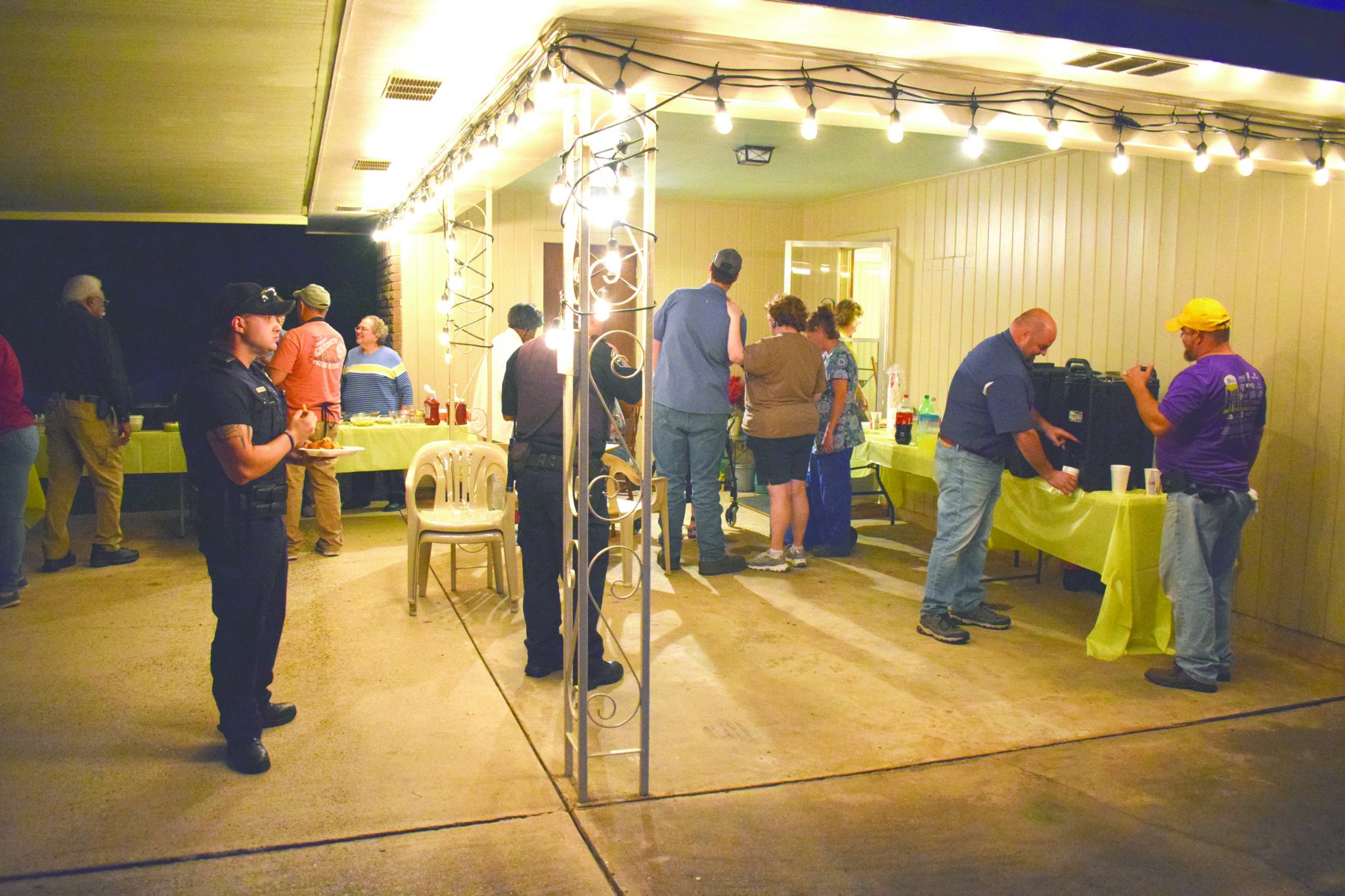 Tuesday evening, neighborhoods across Minden joined together in celebrating National Night Out. Block parties and events were hosted all throughout Minden, with most offering food and fellowship to anyone who decided to come out and take part.
Chairman of Minden's National Night Out campaign Councilman Keith Beard had this to say about the night. "The food was good, the people were friendly and receptive, and there was just a really good atmosphere at all of them. I got some hugs from people I didn't even know and met some people tonight, so it was a good experience for me to get out and do that. It's a great event for Minden and I'm proud to be a part of it. I'm already looking forward to next year's event," he said.
While the parties were generally times for friends and food, some chose to use the opportunity to honor specific members of the community. The Historical Residential Neighbors held their party with the theme "Meet Your Neighbors in the Park" at Academy Park. They chose to recognize one Mr. Bill Green for his contributions to Academy park, given that he's the one that built the gazebo that stands there today, helped install the park's fountain, and even directs the Christmas decorations that are put up every year.
To celebrate his work, they gave Green the honor of cutting the ribbon for the Academy Park Gazebo. Though beforehand, Mayor Terry Gardner made an appearance to share some words about Green and his contributions towards the park.
"Me and Bill, we go way back, probably 30 something years ago when I was just barely living in Minden. Bill used to single handedly, by himself, put up all the Christmas lights. And Bill has OCD really bad, so every light had to be screwed in just right, and every angel had to be facing a certain way. Bill for years, has been dedicated to the City of Minden, and he has been instrumental in the beautification of this park. We owe a lot to Bill for what he's done for us in this area,"said Gardner.
"He watches the park, he takes care of the park, and putting this gazebo together is just one of his ways of showing it. Bill, as the Mayor of Minden, I personally thank you for everything that you've done for the city and know that we're there for you for anything you need," said Mayor Terry Gardner.
Mr. and Mrs. Bill Green took the time after the presentation to share a bit about their personal history with the park and the gazebo itself.
When asked about the origins of the gazebo, Mrs. Green said, "It was originally a kit that had been used in a trade show. It was given to our son and he sent it to Bill, and he built the Gazebo. He finished it in 98. Really, he pretty well built it by himself. After he built the Gazebo, they just made him 'Mayor of Academy Park.' He had a sign but he took it down. He was tired of all the publicity. He's pretty well looked after the park and did the Christmas decorations every Christmas."
Whether it was meeting people, new and old, at academy park, stomping out drugs at the Town & Country, or catching up with your neighbors at block parties like at Annie Bell Walker's home, everywhere in Minden had a little celebration going on.
"All the National Night Out parties tonight were amazing. It just goes to show you that the community can come together, work together, and play together. It was a fun-filled night for everybody, and there was a lot of excitement in the air about the city and comradely among people," said Gardner.