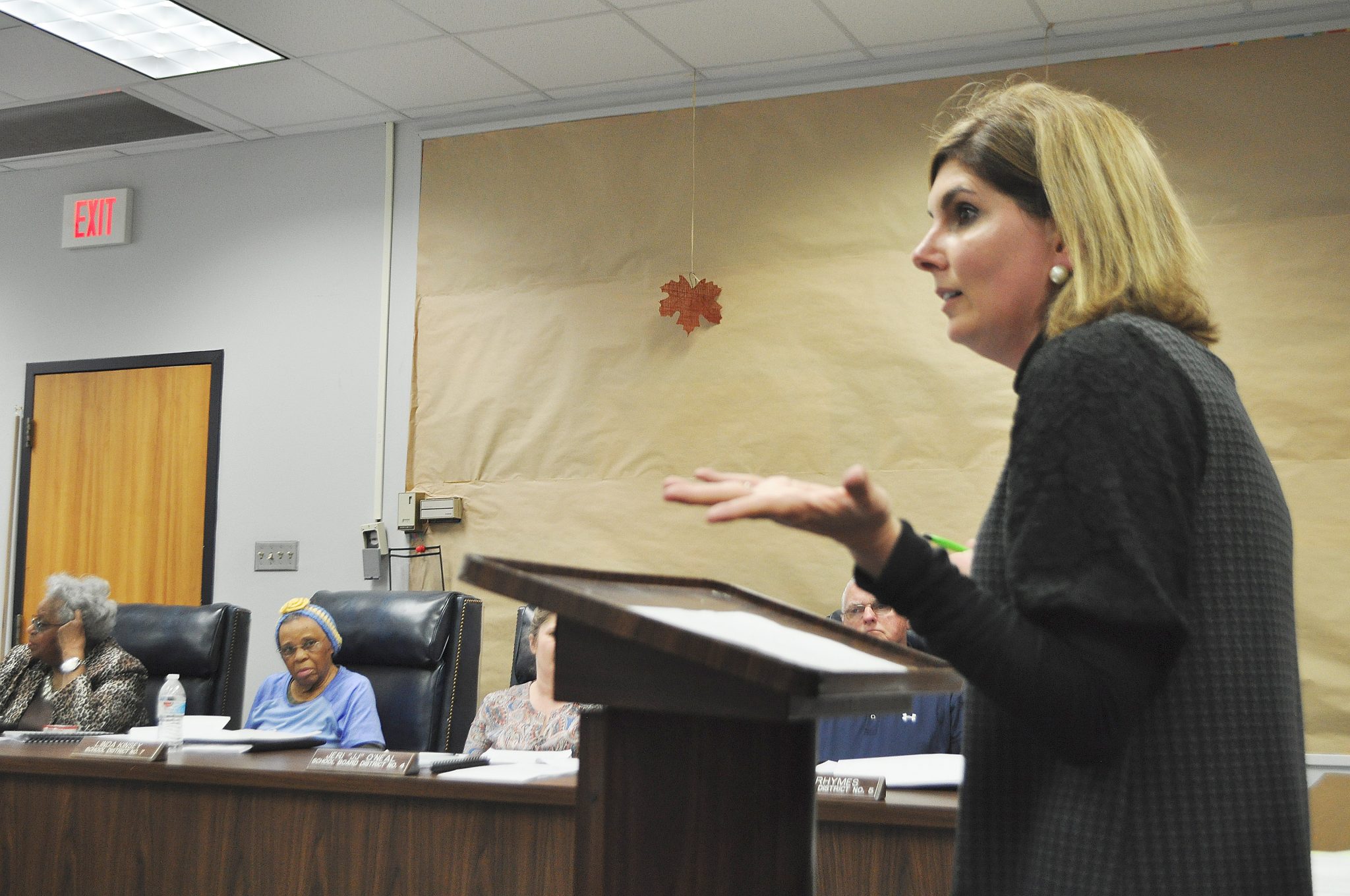 The new visitor policy that went into effect in January has hit home with some parents.
In January, the Webster Parish School Board approved a revision to its visitors policy that no longer allows personal service providers, such as counselors and psychiatrists, to conduct services on school grounds. Kristi Mayfield, a licensed professional counselor, has been working with Webster Parish students for many years, and when the policy revision went into effect, it excluded her from working with students at Central Elementary School, or any school in the parish.
Parents and grandparents of Central students gave emotional accounts of how Mayfield has helped their children. Melba Morgan, a retired Webster Parish teacher, spoke on her behalf.
"We are blessed to have had her for the time we had her," she said. "I'm here to support her."
Morgan's grandchildren are students at Central, and she explained the family circumstances leading to them needing Mayfield's services.
"My grandson would get off the bus and look so depressed at the beginning of the year," she said. "He went to Ms. Kristi, never opened up to anybody, and opened up and talked to her with no problem. She has a way of getting into the heart and soul of every student. Please don't overlook the need of having Kristi Mayfield at Central Elementary."
Others gave emotional testimonies as to how Mayfield has helped their children, asking the school board to change the policy and allow Mayfield to return to school. Caitlyn Jones, a Central parent, said her daughter's grades began dropping when she learned Mayfield was not returning to school.
"When I found out about Kristi, my daughter's grades came up and she wasn't worried about bullying," she said, tearfully. "What she has done for my daughter, I'll appreciate for the rest of my life. I'm beyond grateful."
There was no notice of Mayfield not being allowed on campus, she said.
Superintendent of Schools Dr. Dan Rawls said this is an issue they encounter, because the policy weeds out "the bad," but also takes away the good. He commended Mayfield for the job she has done, saying her services were never in question. It is the simple fact that personal service providers cannot be allowed on to school grounds.
"The problem you run into is you have people demanding one student be pulled out of class, and we've never seen that person before," he said. "Or a counselor might not be able to make it that day and they send another counselor in their place, and the student has never seen that person before."
Central has two counselors on staff, he added. Supervisor of Child Welfare Kevin Washington explained when Hurricane Katrina hit, central and north Louisiana had a large influx of students, and as a way to offer help to these students, grants were awarded to school systems to offer counseling. Those services included third-party counseling services.
However, when the grant money ran out, the services continued, allowing several different third party providers on campus
at one time.
Mayfield offered an alternative that would weed out 80 percent of those who do not need to be on campus. She passed out memorandums of understanding Ouachita Parish uses, which only allows licensed professional counselors or licensed social workers on school grounds.
"We don't have a policy or procedure for weeding out the bad," she said. "Nearly every single parish in the state allows providers into their schools. Most every parish did this in 2015, but what really changed was the state and insurance.
They allowed providers to bill insurance for our children, called the Louisiana Behavioral Health Partnership. It's a collaboration between the Department of Education and the Department of Health and Hospitals."
She said it could work in Webster Parish as well.
Rawls said he would have their attorney Jon Guice speak to the board about the legalities of the policy. Guice is also the board attorney for Ouachita Parish schools. The board tasked Rawls with looking into what the other parishes are doing and report his findings next month.
In other school board news, board members approved the 2016 audit. Auditor Cindy Thompson said the board received an unmodified opinion, which means a clean audit, and all financial statements were presented fairly.
Thompson gave the board an overview of the district's financial health, saying the school board has about $80 million in capital assets and $49 million in cash and cash equivalents.
Their largest liability is health insurance and retirement benefits, she said. Bonded debt comes in as the next largest liability.
There is about $5.9 million in the general fund, and of that, $4.8 million is unrestricted, adding that $157,000 is not spendable and $800,000 is restricted, which goes towards salaries, benefits and compensation.
She said legislative auditors recommends the board have about two months of operating expenses in reserve, but right now, Webster only has 1.2 months, she said. With an increase of about $1 million in the general fund, that could apply towards reserves, she added.
"You are making improvements in building up that fund balance," she said. "I estimate it needs to be about $3.8 million per month. You have a ways to go, but you increased your fund balance last year by $1 million, so you are going towards meeting that goal."
They had three instances of findings, one dealing with the 5 percent budget variance, another instance dealing with the public bid law and the other dealing with the student activity fund.
A separate audit was filed regarding the student activity fund.