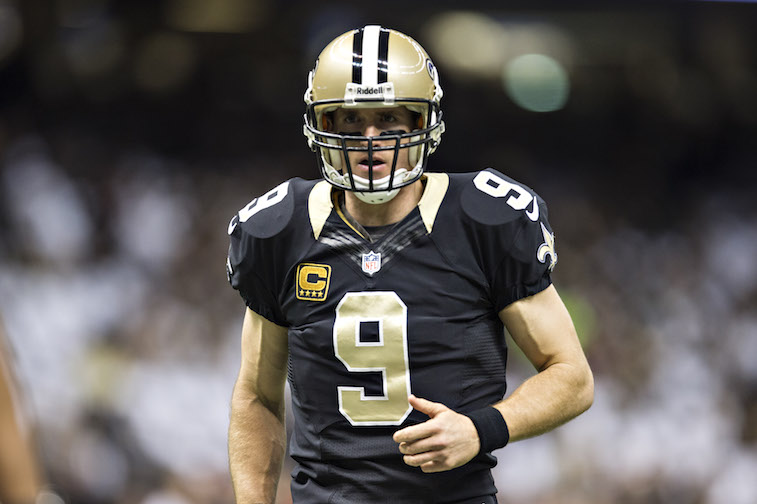 By Aaron S. Lee
Dez, or no Dez, it didn't really matter to Drew Brees during the New Orleans Saints (8-1) 51-14 dismantling of the Cincinnati Bengals (5-4) in Ohio on Sunday.
After a highly publicised acquisition that saw the former Dallas Cowboys (4-5) wide-out that fell flat fast when Dez Bryant blew out his Achilles tendon on the final play of practice last week, the Saints were forced to play with its fifth receiver sitting on injured reserve this season, including Ted Ginn Jr., who Bryant was tasked to replace.
But the NFL's all-time leading passer did what he did best and directed the Bengals secondary using the remnants of a receding corps that consisted of eight receptions from wide-out Michael Thomas (70 yards, 2 TDs), and three to Mark Ingram II for 58 yards — and a touchdown — and four to fellow tailback Alvin Kamara for 46.
The victory marked the second game this season where the Saints went without the use of punter Thomas Morstead, who only saw action as the placeholder after the team scored on nine of 10 possessions.
In fact, Morstead has only had to punt eight times during six games of the Saints current eight-game win streak following their season-opening loss (48-40) to NFC South rival Tampa Bay (3-6).
The seemingly ageless Brees, 39, who surpassed both Brett Favre (71,838) and Peyton Manning (71,940) last month on a Monday night 43-19 home-stand throttling of the Washington Redskins, continues to stake his claim for league MVP — apologies to Kansas City Chiefs (9-1) second-year signal-caller Patrick Mahomes II from Texas Tech.
But the 18-year veteran from Purdue, is currently enjoying one of his best seasons to date — and that's saying a lot — with a quarterback rating of 123.8 thanks to a 77.3 completion percentage, 2,601 yards, 21 touchdowns and just one interception in the first nine games of the season. To put it in perspective, Brees earned a 109.6 rating 70.6 4,388 yards, 34 td 9 picks in 15 games played during the team's 2009 season Super Bowl run.
This week's Sports Illustrated cover model Mahomes currently owns an equally respectable rating for 117.4 with a 67.0 completion percentage, 3,150 yards, 31 TDs and seven INTs. While the 23-year-old Tyler-native is on track for an MVP season in his own right, Brees is simply proving he is the arguably the best to ever play the game — this season or any other.
Brees has passed for over 73,046 yards — or 41.5 miles — in his career. NFL Hall-of-famers Dan Marino (61,361), John Elway (51,475), Warren Moon (49,325), Fran Tarkenton (47,003), Joe Montana (40,551) and Johnny Unitas (40,239) have all owned the all-time league passing record, but all of their stats pale in comparison.
Shreveport native and former Pittsburgh Steeler Terry Bradshaw is 58th all time with 27,989, while the Dallas Cowboys are represented by Tony Romo (34,183), Troy Aikman (32,942) and Roger Staubach (22,700) at 32nd, 38th and 90th respectively in the rankings.
The New England Patriots' Tom Brady is the closest active threat with 67,418. Brees also sits second on all-time regular season touchdown passes at 509 — 10 more than last month when he still trialed Brady (505) and Favre (508). Only Manning has more (539), and with Brees under contract through the 2019 season one can expect that record to fall as well as a chance to surpass 80,000 yards.
His career stats are as good — if not better — than any other except for his number of Super Bowl victories.
But stay tuned, as he's doggedly working on adding to that stat, too.