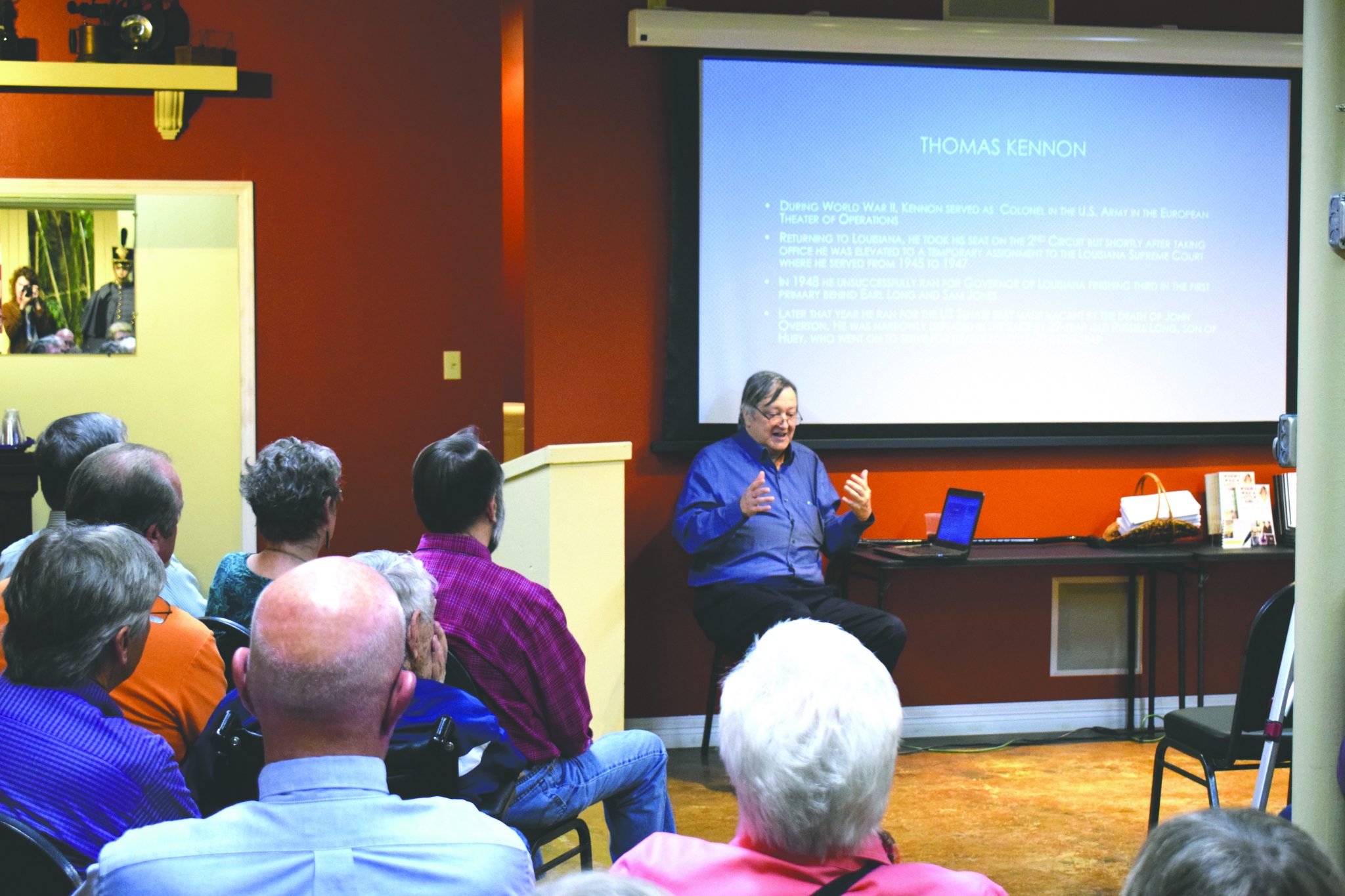 Will Phillips
Minden Press-Herald
John Agan was the speaker at the Dorcheat Historical Museum's 67th Night at the Museum Monday night. Agan discussed the lives of those buried at the Old Minden Cemetery who either themselves or their descendents rose to some sort of political influence at the local and/or state level.
Three individuals and their families were the subject of Agan's presentation, starting with Thomas Kennon.
What's interesting about Thomas isn't so much himself as it is his family tree. To get to the meat of the bloodline, one has to climb down that family tree a bit. Thomas had a son named Edward John, who had a son named Floyd, who had a son named Robert.
Robert graduated from Minden High School in 1919 and later went on to graduate from LSU Law School. "Somebody must have been looking at his place in the yearbook when they made up the term 'Big Man On Campus,'" said Agan.
His political career includes becoming the Mayor of Minden at 23, the youngest in America at that time, District Attorney, Justice of the 2nd Circuit Court of Appeal and shortly after being elevated to a temporary assignment to the Louisiana Supreme Court.
He was elected Governor in 1952 and appointed his father to the Webster Parish Police Jury. Kennon did make other attempts at the Governor's seat later in his career, but his last attempt contained a major setback in the form of a poorly timed newspaper ad.
"Bob Kennon put a huge chunk of his campaign budget into a full-page ad in every major newspaper in the state of Louisiana. He picked Saturday, November 23, 1963, to run his ad, saying everything awful he could about John F. Kennedy, who had an, 'unfortunate accident' in Dallas the day before," said Agan.
The last person Agan spoke of was John Langdon Lewis, who found himself in the position of Solicitor General of Muscogee County in Georgia. His story gets interesting when during his service in 1942, there was a bank robbery, and the robbers were sent to a prison that John had supervision over.
"One night, he ordered those four bank robbers, who hadn't been tried yet, to be released. Funny thing is John Lewis left town that night too. It never went back to court, but everyone is pretty clear that with these four bank robbers, Lewis got a fifth of the take," said Agan.
John would later move to Minden, buying all the property in his wife's name. Interestingly enough, his past of allegedly conspiring with bank robbers didn't affect his political career too much.
When he was appointed Judge of Claiborne Parish by Governor Henry Clay Warmoth, his past in Georgia did come back to bite him, but surprisingly enough it wasn't due to the bank robbery.
Instead, a young Minden newspaper editor took Lewis' past to the floor of Legislature, citing a law that forbade anyone who had held a public office prior to the war and then joined the Confederacy from holding public office. Due to this, Lewis was removed from the bench.
Interestingly enough Lewis' son Robert would go on to duel this editor and severely wounded him, offering up his mattress in order for him to be taken to his home. Although he seemed to recover from the wound, Pratt died from unexplained causes less than a year later at the age of 27.
Agan was the 67th speaker for Night at the Museum. Many of his books are on sale there now and the proceeds go towards helping fund the museum, which is in its 11th year of operation.