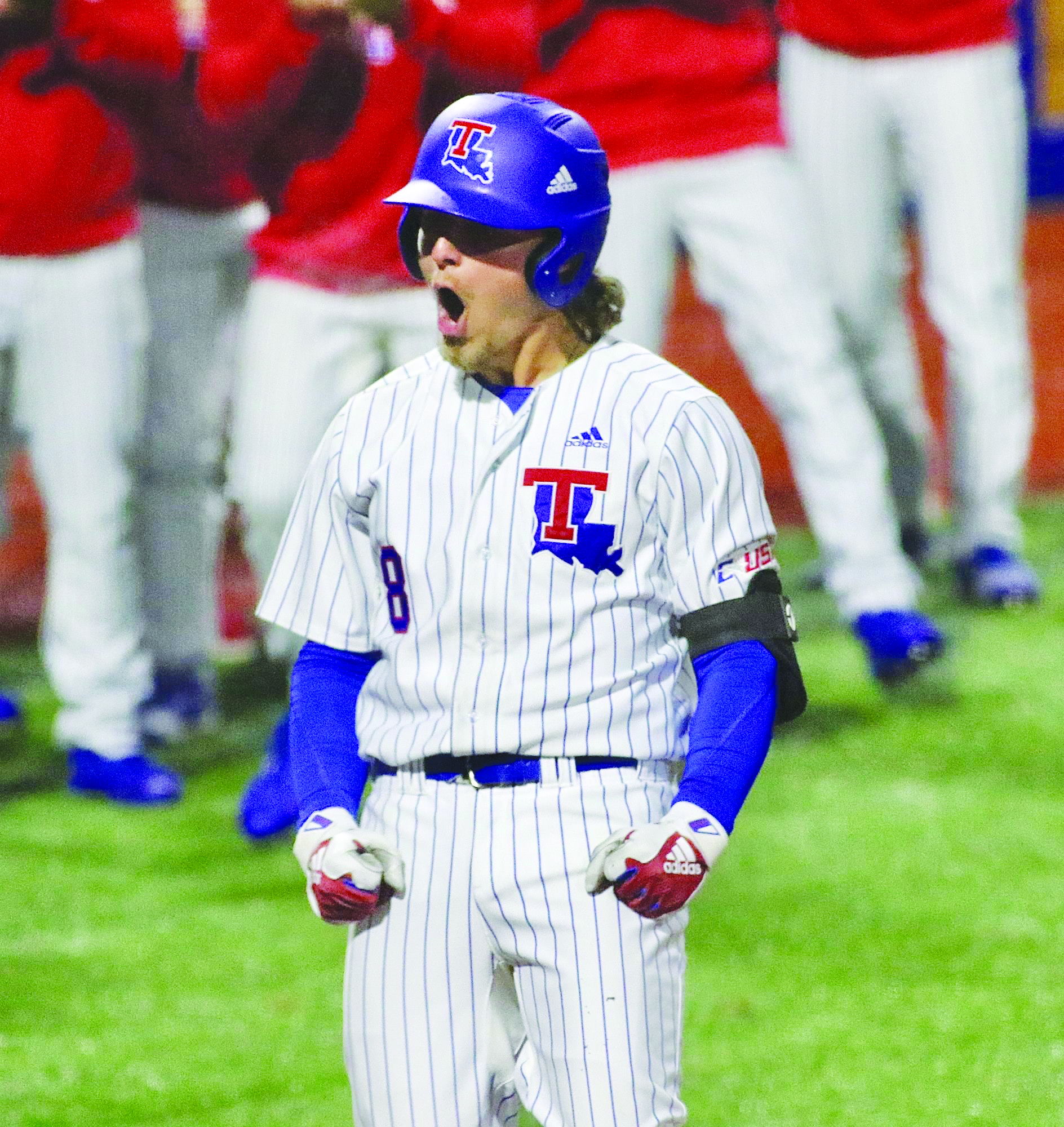 RUSTON — No. 15 Louisiana Tech captured a statement win against No. 2 LSU 11-6 Wednesday night at J.C. Love Field at Pat Patterson Park.
Tech's Cade Gibson stole the show on the mound earning his first win of the 2022 season.
It was the Bulldogs' fourth straight win to start its season.
LA Tech (4-0) starter, Cade Gibson, dominated in his five innings of work Wednesday night. Gibson set a tone for the entire Bulldog squad by striking out eight Tiger batters, only one walk and just three hits.
"Despite the bad conditions we had people out here at 3:30 getting ready and it was just electric. We always have a good crowd and are always supportive. I love them to death," Gibson said.
"They (LSU) have great hitters. Coach Fouts had a great game plan going in. We were going to cross count with a bunch of stuff. If they were ahead, we were going to try to go offspeed and mix it up a lot so we couldn't show any patterns."
The Bulldog bullpen also played a key role. Ryan Jennings, Greg Martinez, and Kyle Crigger all contributed with crucial pitches to collect big outs late in the game.
LSU's (3-1) pitching struggled early on allowing five runs through the first three innings. The offense could not string any big innings together to mount a comeback. Gavin Dugas led the Tiger bats going 2-for-3 at the plate, homering and bringing in three runs on the night.
The Tigers committed five errors in the field leading to many more opportunities for the Bulldog offense.
Tech's one-two punch leading off the Bulldog lineup has been strong to start the 2022 season. Taylor Young (.571) was a triple shy of the cycle going 3-for-4 with four runs batted in while Philip Matulia (.438) was 2-for-4 with three RBIs.
In the bottom of the third innings, Steele Netterville launched a leadoff solo home run for his first of the year.
Tech third baseman Logan McLeod also had a strong night at the plate and in the field with the sliding play. McLeod went 2-for-4 at the plate with two runs scored.
While the Bulldogs were strong, Tech head coach Lane Burroughs also credited a home crowd that braves cold and wet weather for doing their part in the win.
"I don't know if I would have stayed out here the whole time if I wasn't invested," Burroughs said. "Our fans came out, and not only did they show up, but they stayed the whole game. I can't say enough about them."
LA Tech next hosts Tulane for a three-game game set at J.C. Love Field starting at 6 p.m. Friday night.