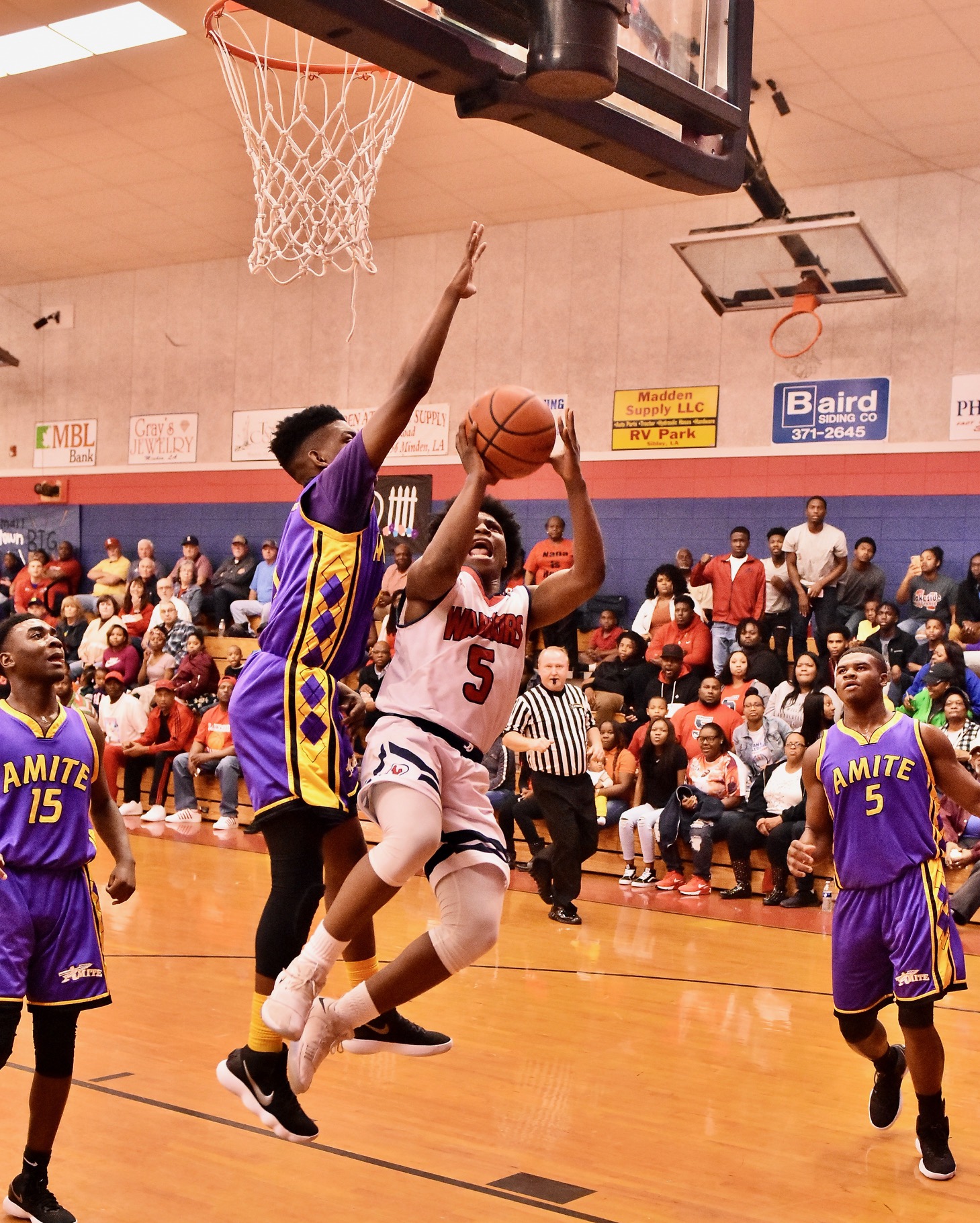 SIBLEY – The Lakeside Warriors became the story of Class 2A Tuesday night at Warrior Gymnasium, proving to the state that their first-round upset of No. 5 Lake Arthur was no fluke, and reinforcing the fact that no lead is safe in Sibley.
The Warriors (17-15) erased a 10-point deficit in the final two minutes of Tuesday's second-round playoff game to down No. 12 Amite 60-55 and clinch a spot in the Class 2A quarterfinals.
I'm almost speechless," Lakeside head coach Marlon McDaniel said. "These guys have displayed what it means to be Warriors. This was just a great basketball game."
Lakeside will travel to Coushatta Friday for a 6:30 p.m. tip against No. 4 Red River. The winner moves on to the semifinals and spot in the state tournament.
Tuesday's affair was nip-and-tuck throughout, as the two teams traded buckets and leads early and often.
It wasn't until midway through the fourth quarter that Amite was able to gain some separation, pulling ahead by 10 points with just over two minutes to play.
That's when Lakeside's Aldravion Taylor decided to turn up, knocking down a pair of quick 3-pointers and converting a layup off a steal for a personal 8-0 run. Damion Coleman knocked down a pair of critical free throws to tie the game, followed by another Taylor bucket and two Tra Sanders free throws to give Lakeside the lead for good.
Taylor scored 10 of his team-high 15 points in money time during the fourth quarter when his team needed him, and because of that, Lakeside will play on.
Sanders, only a freshman, added 13 points in a big night for the youngster in only his second playoff game.
"Travion Sanders really showcased himself tonight," McDaniel said. "He's special."
Coleman finished with 9 points and Branthony Brown added 7 for Lakeside.
Lakeside and Red River met just under two weeks ago in the regular season finale. The Bulldogs beat the Warriors by 22 points that night, however it would be foolish to count out McDaniel and the Cinderella story Lakeside is living at this moment.