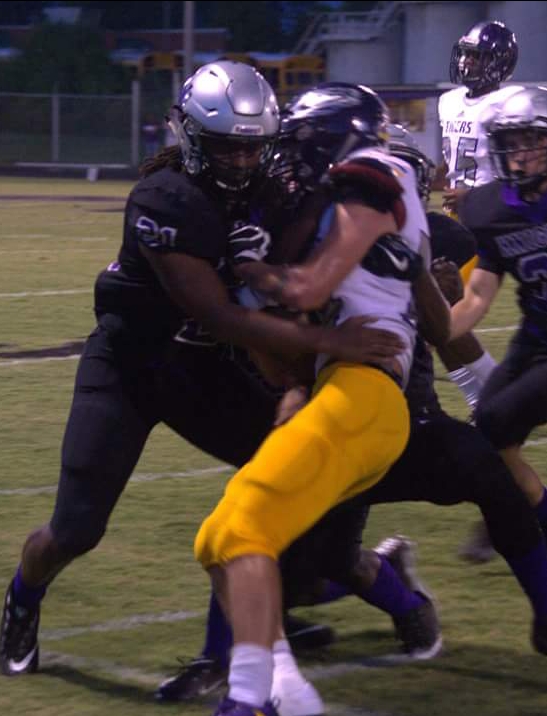 North Webster dug themselves a hole by allowing 22 first quarter points en route to a 34-14 home loss to undefeated Logansport.
"They are a very good team," North Webster coach John Ware said. "They had a few big plays that really hurt us. We gave up a lot of points in the first quarter but they didn't score again until the fourth.
Despite allowing early points, the Knights kept pace with the Tigers. Tyrell Markray found Eddie Rollen for a 33-yard touchdown pass that brought the score to 7-6.
After a Logansport touchdown, Rollen scored again on a 12-yard run to tie the score.
The Tigers scored again just before the end of the first to give Logansport a 22-14 lead.
"They hit a few big plays but it wasn't a total disaster," Ware said. "They caught us a few times when we had a blitz on and they just had the right play call. That's just part of the game."
Ware knew going into the game that Logansport wanted to air the ball out. What may have caught the Knights off guard was the Tigers' athleticism.
"They had the athletes to bust those big plays open," Ware said. "It was a huge game for us but it just didn't go our way. That happens in football."
The Knights fall to 3-3 this season.
"Teams like that, they are playing against teams that aren't very good, they don't have to show everything to their opponents each week," Ware said. "With our schedule, we're trying to score every play and showing everything we have each week. They might have had a little better idea of what we wanted to do."
Markray was 11-for-26 for 150 yards and one touchdown for the Knights offensively.
"We had a few good things go for us on offense," Ware said. "We had opportunities to score but we just didn't make the plays."
North Webster had a few opportunities to score but failed to deliver.
"We had the ball on the one-yard line down 22-14 in the second half," Ware said. "We came out and got a holding call on us the next play that pushed us back. Then we dropped a touchdown pass in the end zone. Just didn't finish.
"We had another possession where we got it down inside their ten-yard line and didn't score," Ware said.
Rollen led the Knights with 75 yards receiving, while Lorenzo Johnson had 70 yards of total offense.
The schedule will not get any kinder to North Webster as they travel to Bossier this Thursday for a game against Airline.
"They might be struggling with their record, but they're struggling against great competition," Ware said. "That's a school with 1800 students, so we are a little bit behind the 8-ball there. They have been in most of their games.
"It's going to be a war and a grind, but we're going to head over there and play our way. Hope that gives us a good chance to be in the game in the fourth quarter."
Airline is 1-5 on the season and 1-2 in district 1-5A.