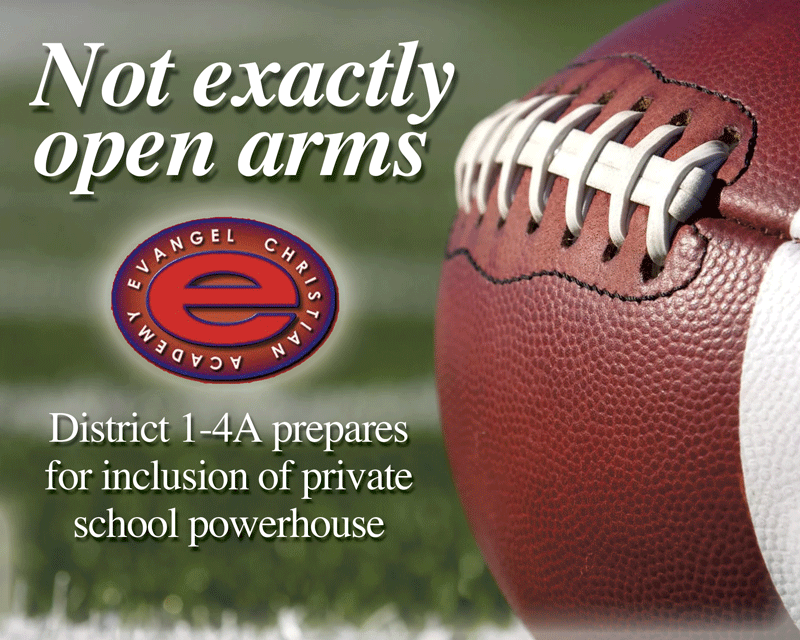 By Aaron S. Lee
Special to the Press-Herald
The recent announcement that Shreveport's Evangel Christian Academy would drop to class 4A is a worse-case scenario for manyLouisiana High School Athletic Association football-playing schools — especially those in District 1.
Known more for competitive play within its ranks rather than fielding state championship-quality teams, the inclusion of the Eagles, which has accumulated 14 state football titles in school history, could spell doom to its soon-to-be district rivals — minus Benton which is heading in the opposite direction next season when it reportedly moves to 5A.
Evangel (6-3, 6-0) is currently undefeated in District 1-5A, with its three non-district losses earlier in the season all coming from out-of-state schools, including Arkansas No.1 North Little Rock (10-0) and Texas No.5 Duncanville (8-0). In district play, the Eagles have hung 234 points in five games, including 49 against nearest competitive rival Haughton (8-2, 4-2), compared to 68 against — 19 of which came against the Buccaneers.
The move to 4A is Evangel's fifth and final classification since having previously participated in 1A, 2A, 3A and 5A — earning championships in each.
"Numbers are very, very important," ECA Chancellor Pastor Denny Duron told KTBS last month. "We have a large senior class and we want to make sure that we're putting our kids in the very best position to compete.
"Our most enjoyable experience playing football was in 3A," he continued. "When you would go into these little towns, everybody in town was there. Some of those teams are now 4A teams. I love the excitement and the commitment of a lot of the schools at that level as well. We want to try it."
North DeSoto's Scott Abernathy welcomes Evangel despite offering what appeared to be a slight dig at the select school oft-rumored to recruit its players.
"We have no idea why a school of 300 that's been playing in 5A football would want to drop down to 4," explained the Griffins head coach. "It doesn't really matter. We welcome them to our district.
"Obviously, we'd like to welcome back the five or six transfers that left North DeSoto and went to Evangel. That's a nice little homecoming whenever we play them in a home game."
But according to Crimson Tide head coach James Heard, the LHSAA's playoff separation from select (private) and non-select (public) schools — which essentially separates the haves from the have-nots —  still gives the other district schools playoff hopes despite the hurdle the Eagles present toward district title success.
"If that's what they chose to do, the way the LHSAA is set up now, they can pretty much move around where they want to," Heard told Specht Newspapers. "It is what it is and we will line up and play them on Friday nights.
"They are a well-coached team with good players, but Evangel join gin our district doesn't really affect our playoff goals," he continued. "A loss to Evangel in district play is just one game. I don't think any of us will approach the game any differently. It is not something I will think about until the week we play them."
Former Minden defensive guard Rodger Anderson, who played for the 1963 Crimson Tide state championship team — one of five state titles won by Minden with the last coming in 1980 — did not mince his words when asked about the future of Evangel's new opponents.
"Well, it's going to be rough on 4A," admitted Anderson, who went on to play for Northeast Louisiana University (now UL-Monroe). "Hard to beat a school that recruits and even though they deny it — they recruit.
"They're a powerhouse and they've won at every class they've played in," he continued. "It's going to be tough and they are just going to walk away with District 1-4A."
Specht Newspapers also contacted the Bossier Bearkats (1-9, 0-7) coaching staff for comment on Evangel's potential effect on the district."
"Since Bossier is moving down to 3A, Evangel moving to 4A doesn't affect Bossier High School," explained Bossier co-athletic director Christa Denney. "Bossier has played Evangel — about six years ago when Bossier and Evangel were 3A."
As for Minden (3-7, 3-4), there are no thoughts of next season as the immediate future is now with an opening round playoff game against Edna Karr in New Orleans, Friday, Nov. 9.