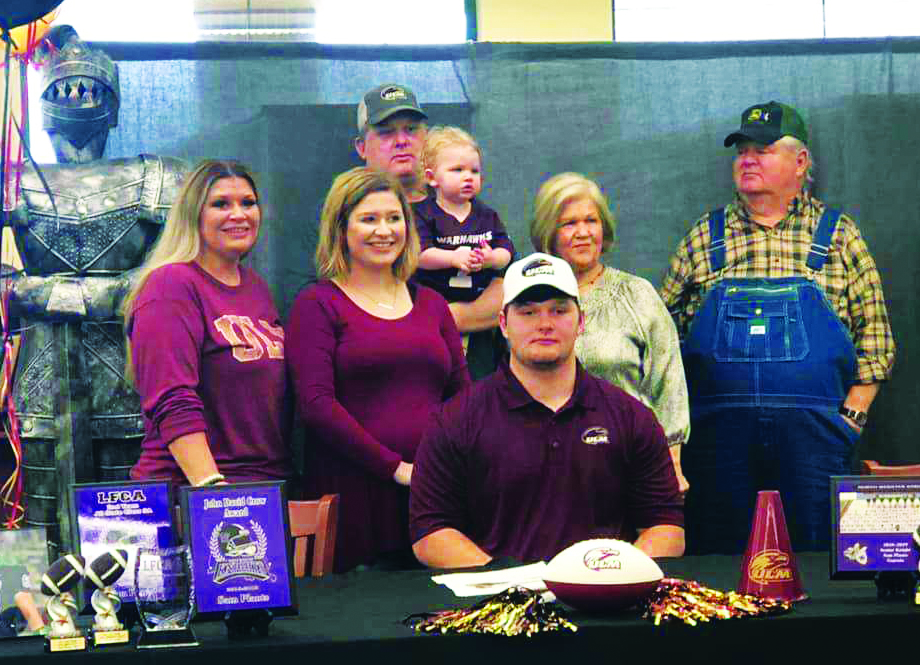 The entire North Webster varsity football team entered the library on Wednesday as I wrapped up my conversation with Sam Plants, Jr., the All-District, All-Parish, All-State defensive line man who helped lead the Knights to the state quarterfinals in 2018.
It's signing day, and Plants is coming to terms with the biggest decision of his life thus far.
"I wanted to play D-1," Plants told me. "That was really the difference."
He had offers from a number of smaller schools for a full ride. Word was that Plants was ready to head to one of those colleges.
That is, before Friday happened.
"Last Friday early morning the ULM coaching staff came in and made an offer," Plants said.
ULM defensive coordinator Mike Collins came in at the last minute and swept the Plants family off their feet with an offer to make Plants a preferred walk-on and stay close to home.
"I'll be playing in Death Valley my junior year," Plants said. "And my senior year, I'll play in Tuscaloosa."
Plants is a soft-spoken, kind, well-mannered young man. His excitement and giddiness over signing day stood in contrast to his stoic demeanor.
His teammates' excitement for him fills the North Webster High School library with a buzz.
Head coach John Ware makes a short speech about the Plants family's financial commitment to send their son to a D-1 school when he could have taken a scholarship elsewhere.
Plants signed on the dotted line, and will become a Warhawk next season.
"They told me they want me to stay at defensive line," Plants said. "I think they'll want to put some more weight on me."
Plants' mother has turned the occasion into a celebration, decorating the library and preparing cake and snacks.
As it should be.
North Webster was the best team in the area this season. Plants led a defense that was the Knights' calling card.
This is why signing day is so much fun: seeing our favorite student-athletes live out their dreams and be rewarded for their hard work.