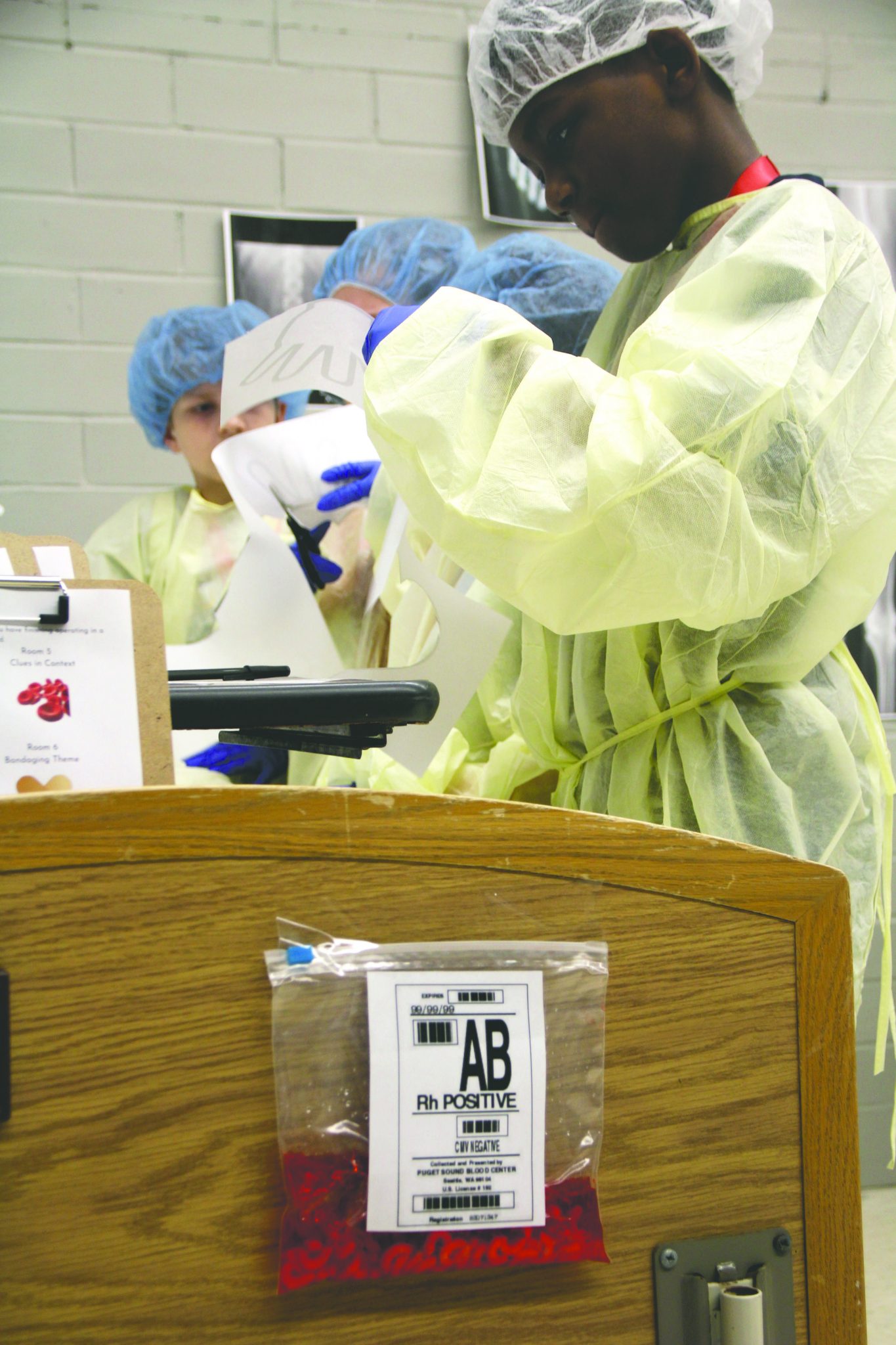 E.S. Richardson students became surgeons Wednesday in a classroom transformation with supplies provided by Minden Medical Center.
The classroom was transformed into a surgical center complete with a hospital bed and surgical caps and gowns for each student. There were plastic dividers hung from the ceiling and bags of "blood" at each table. Students used surgical tools such as tweezers to place their work in the right places for their projects. The fourth grade students reviewed their English Language Arts (ELA) unit by performing "surgery" on character traits. Others performed "reconstructive surgery" on essays, having to place sentences in the right order to build an essay.
"His eyes represent his perspective of the world and his heart is what motivates him," student, Kaycee Cottle explained.
"They are taking our curriculum and making it into real life experiences," fourth grade teacher Stephanie Joslin said, "We'd come to the end of our unit and so I thought what is a better way to review everything we've done than with having a room transformation?"
Members of the staff of E.S. Richardson visited Ron Clark Academy in Atlanta, Georgia this summer where they gained the inspiration to incorporate classroom transformations into students' learning experience. Students are not aware of what the transformation will be until they arrive in the classroom that day.
"We have planned to do four classroom transformations and this is our third one. We plan to do one more before the end of the year," principal, Michelle Finley explained.
The first transformation was a sports theme, the second was a bistro with book tastings. The fourth and final transformation will be another surprise for students.
"We're using their required Tier 1 curriculum, Learnzillion. Mrs. Joslin has actually taken this ELA lesson and broken it down so that they're still studying the same book, "The Lightning Thief." They're still doing the same required questions, the same required reading, but with a medical twist. It makes it more fun and more engaging," Finley said.
Students around the classroom were on task and working toward specific goals in small groups.
Members of the Minden Medical Center staff came to see the students learning with the donation of supplies from the Medical Center.
"Obviously it's a great program. We want to take advantage of any opportunity like this to educate and hopefully make health care workers in the future," CEO of Minden Medical Center, Greg Pearson said.