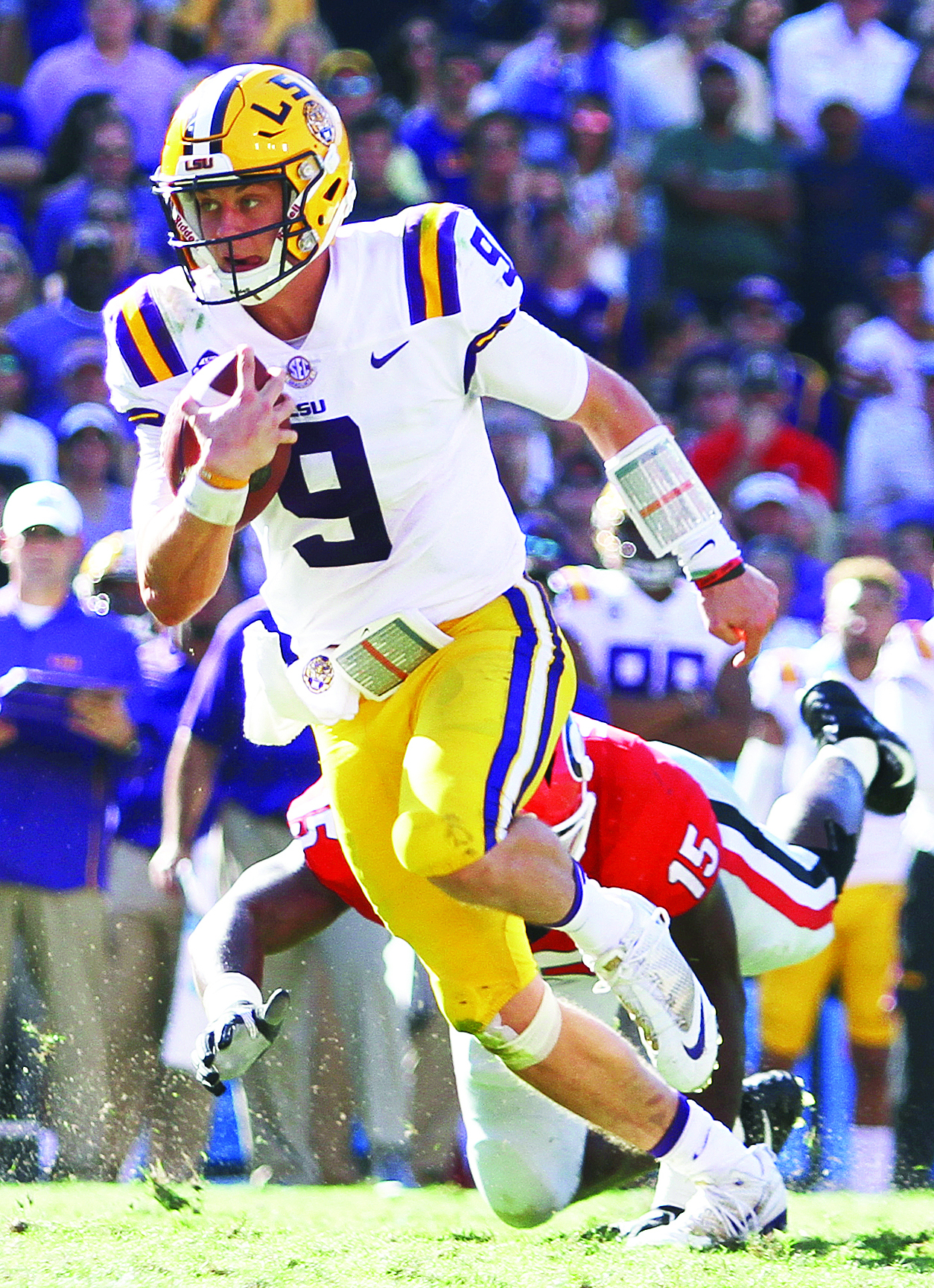 By Matthew Marshall
Special to the Press-Herald
The LSU Tigers have gotten off to a roaring start to the 2019 campaign, going 6-0 through the first seven weeks of the season in a very un-LSU type way.
These Tigers are not only putting up more points than their opponents, they are putting up more points than anyone in the NATION. This type of sustained success on the offensive side of the ball is a major surprise to anyone watching college football this year, and probably to most Tiger fans.
2019 has been circled for a while by those in LSU circles as a year where they would make some noise, just not in this manner.
It's refreshing to watch for those in purple and gold who have been waiting and hoping to catch up to others around the nation when it came to their offense.
We've always heard about how much talent LSU has on the offensive side of the ball, but we were never sure how they would pan out in Baton Rouge.
Sure, they would come in as five-star products, but never seemed to produce as they should. This year's squad is just different. They have wide-outs who know they are good, and know they have a guy who will get the ball in their hands quickly and effectively. Justin Jefferson, Ja'Marr Chase and Terrance Marshall Jr. have been monsters this year, all snagging six or more touchdowns in six games. All three are match-up problems for opposing defenses.
Just ask Florida, who ranked among the nation's best defenses by most metrics.
The Gators got torched by Burrow and Co. for 60 minutes last Saturday in one of the most impressive wins for any team this year in college football.
In our season primer, we stated that the Tigers will go as far as Joe Burrow takes them, and that's exactly what's happening. Burrow has put the offense on his back through the first seven weeks, and has been nothing less than spectacular.
This is how he ranks statistically for quarterbacks in the country: second in passing yards (2,157), second in touchdowns thrown (25), second in yards per attempt (11.6), first in completion percentage (an absurd 79.6%), and first in overall QB rating (218.1).
To put it succinctly – just brilliant. Let's do some bad math…if he throws that ball 10 times, 8 get caught and they go for around 110 yards. It's one thing to throw a lot of touchdowns (see Washington State every year), a lot of yards (again Washington State or any team coached by June Jones), completion percentage (short throws in a less risky offense, ala Texas Tech), but he's doing all of those things while throwing the ball downfield and in tight windows.
When you pull all of it together it's mind-boggling.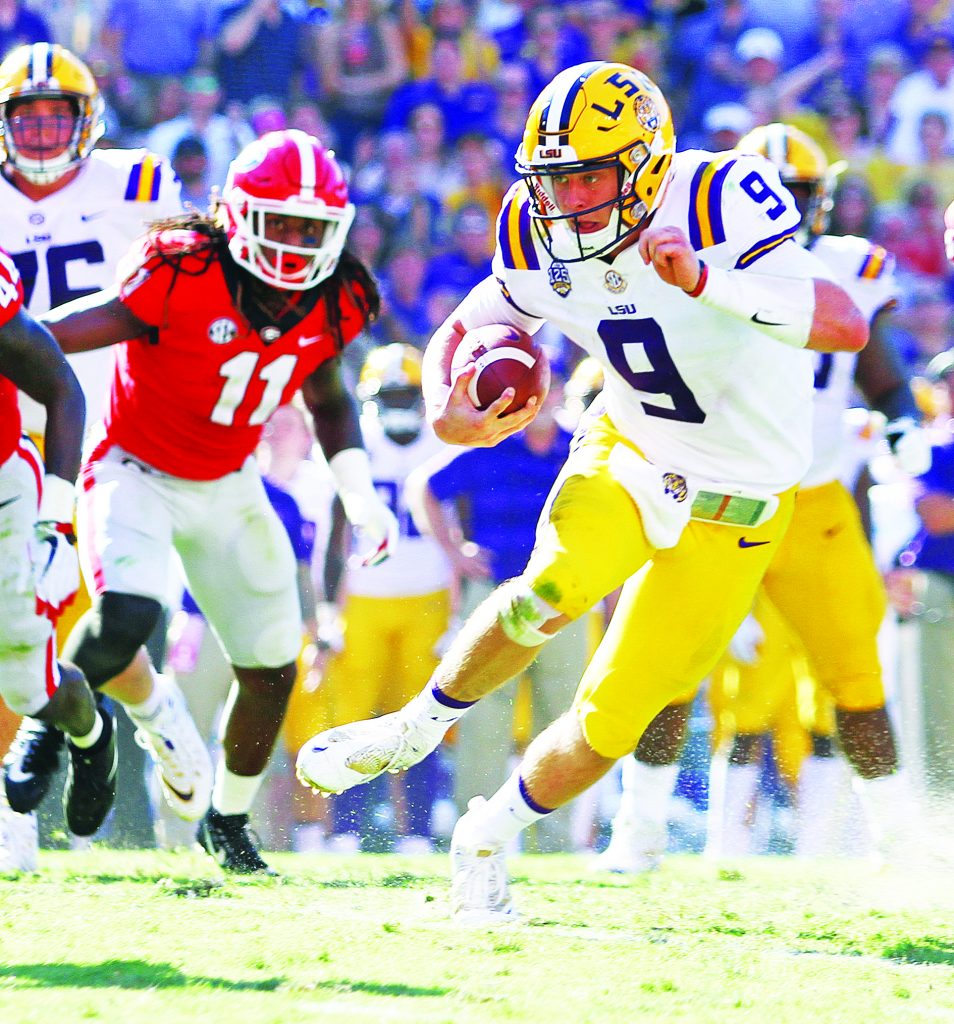 Burrow has been the best player in the nation this year, and it's a shock to anyone outside of the quarterback room in Baton Rouge.
I'd be remiss if I didn't talk about what an outstanding hire Joe Brady was this offseason.
I remarked that there wasn't a "sexy" hire this offseason in our season preview, and was flat out wrong.
Now, Brady didn't come with the accolades or profile as other hires, but he's been a revelation down in Baton Rouge.
I should've known better, as anyone who gets to pick Sean Payton and Drew Brees' brain for a year would know how to maximize talent and find matchups that favor this offense.
Esminger has done a wonderful job setting his offense up for success, but his success has been directly tied to Brady and what he's been able to do in a short, short time.
The rest of the season will be challenging with Auburn and Alabama still lurking, but with this revamped offense and a defense that's still improving, look for the Tigers to stay near the top of the SEC and the rest of the college football world.
"They still have another level to get to before they are truly unstoppable"
As impressive as they have been in the first half of the season, they still have another level to get to before they are truly unstoppable.
Good thing for Tiger fans is that this show doesn't show signs of slowing down yet.
We will know a lot more over the next 4 weeks.
Even with one loss, LSU has put themselves in a great position for the College Football Playoff due to the work they did in the first half of the season.
This isn't a one-trick pony offense that opposing coaches figured out. LSU can now do it all on offense. They have Brady and Burrow to thank for that.