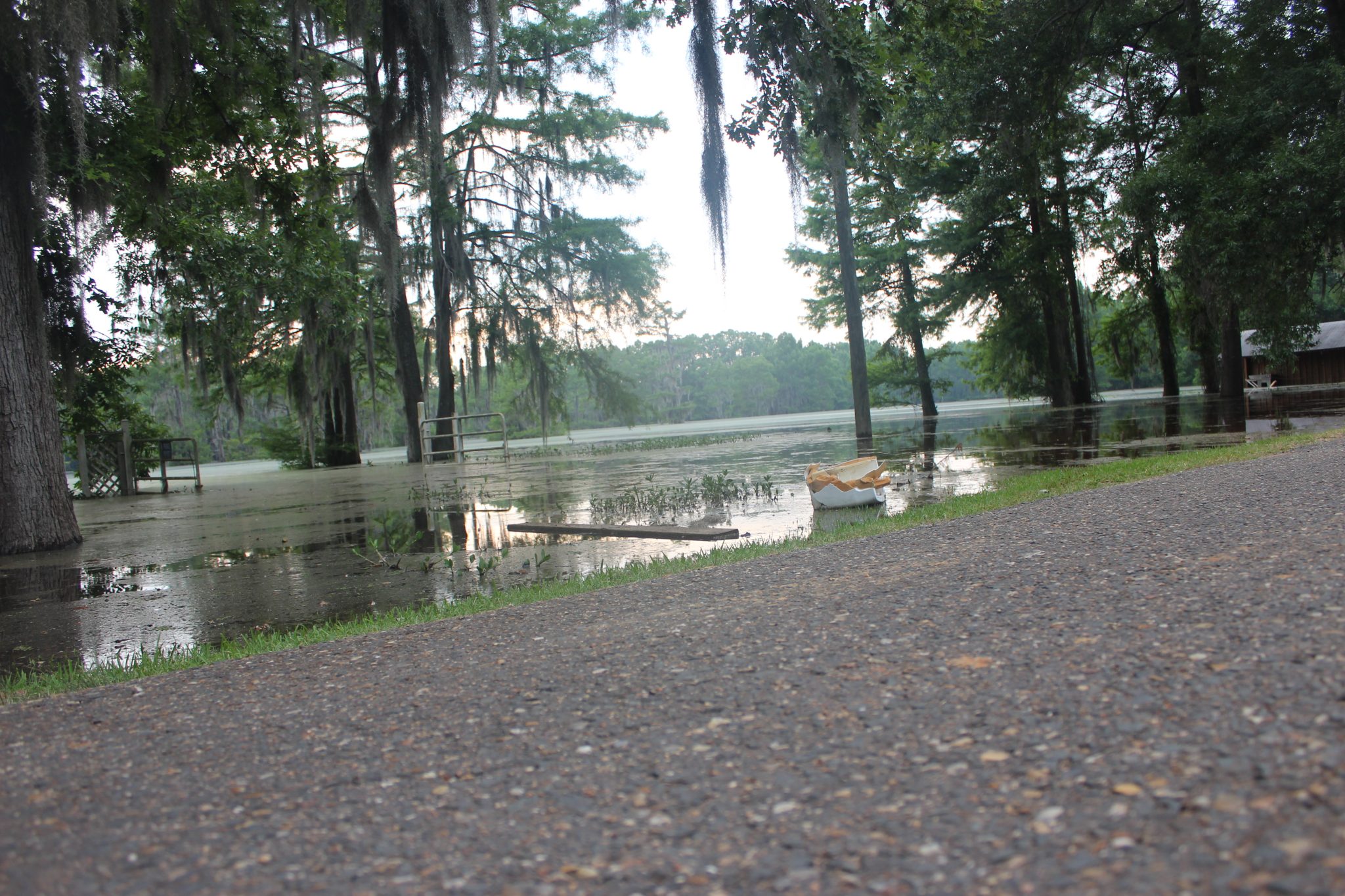 Webster Parish Homeland Security director John Stanley is telling citizens who live on Lake Bistineau or have camps there to prepare for flooding as the waters from the Red River continue to rise in the south.
As of Tuesday at 8 a.m., the Red River was at 36.98 feet, according to the National Weather Service. Flood stage is 30 feet. Bayou Dorcheat at Lake Bistineau is currently at 144.65 feet. Flood stage is 142.5 feet.
The Webster Parish Police Jury, along with the Webster Parish Sheriff's Office and Webster's Homeland Security are making sand bags available to people to protect their homes. They are at the fire station in Doyline and at the Shell station just south of Lakeside Jr./Sr. High School.
"We have them on both sides of the lake, so help yourself," he said. "When the trailer gets empty, we'll take them back and fill them again."
He says a "sandbagging operation" is being run at Camp Minden using labor from inmates at Bayou Dorcheat Correctional Center and from the Claiborne Parish Detention Center.
They are filling sand bags and transporting them to the Red River and making some available to Webster citizens at Lake Bistineau.
He says water has been flowing over the spillway at Lake Bistineau, but the speed of the outward flow has reduced, which means it's running into the high water at the Red River.
"What we fear is that the Red will get so high that it will push back over the spillway back into the lake," he said. "And when it does that, with that water coming in and the water still coming in from the north, the lake will rise much faster than it would normally. It may not, but I hear that it's possible."
The water from the Red River is what's causing the problem, Stanley says.
"Most of it is coming out of Texas and Oklahoma," he said. "The Red River starts up near Amarillo, Texas, and it's the border between Texas and Oklahoma. Then it comes down through the corner of Arkansas and everything else around here goes into it. Most of it flows into the lake down here and goes all the way through Loggy Bayou. It doesn't try to get into the Red River until it almost gets to Alexandria."
The level will continue to rise for days, he says, achieving the highest level in Shreveport hopefully before or by Tuesday morning. He says Lake Bistineau, when it floods, floods about the same rate on all sides.
Stanley explained when it peaks, it will hold steady for a couple of days and then slowly recede. Everything will probably remain above flood stage for two or three weeks, he says.
"If you've been flooded before, be prepared," he said. "If it comes up quickly, it could get into several camps that it's flooded previously."
He offered a few tips for homeowners to prepare for flooding. He says homeowners need to raise their furniture up the best they can and make sure their refrigerated items are put up as well.
"Be prepared for it to achieve the levels that it has in the past," Stanley warned. "If you've flooded before, there's a good chance you will again."