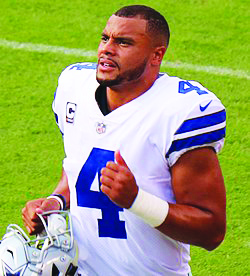 By Aaron Lee
With or without Drew Brees, New Orleans (3-1) handed the then-undefeated Dallas (3-1) its first loss of the season. Coming in as a slight favorite (2.5 points) and as the 'Belle of the Ball' in the NFC, the lackluster Cowboys appeared clueless collecting six penalties for 64 yards and submitting three very untimely turnovers in a 12-10 loss to the Saints in the increasingly rabid 'Battle on the Bayou' rivalry.

While the Cowboys were favored, few shed a light on the fact that Dallas' 3-0 start came at the expense of opponents with a combined record of 2-10 as of game time on Sunday, including New York (2-2) cannibalizing NFC rival Washington (0-4), 24-3, just hours earlier.

The key to the Saints' win was limiting Ezekiel Elliot's impact on the ground — oh, and they did just that. The 24-year-old, two-time Pro Bowl, one-time All-Pro running back gained a paltry 35 yards on 18 carries for the game's lone touchdown.

All this in front of a record audience for NBC (24.7 million viewers) on week 4 — and the New York-based network's most watched game period since 2016. If there was ever a case for Dallas team owner Jerry Jones to throw in the towel on former team quarterback and current head coach Jason Garrett for Sean Payton, perhaps it's now.
After all, rumours of Jones' infatuation with the Saints' HC continued to swirl until Payton agreed to a five-year extension with New Orleans last month.
"
Obviously we're very disappointed … let's give them some credit," Jones told The Athletic. "Their defense was the biggest concern for me coming in. They did a great job. They won a hard fought game. But they won it with a good scheme, good coaching."

Hmmm?!

Signs of dissension? Lack of trust?
Let's face it, the Cowboys will only go as far as Garrett's decision-making and perhaps Dak Prescott's arm, which is surprising weak given his 6-foot-2, 230-pound frame. After all, most of his long throws last season came off the fleet feet of Amari Cooper, and when Dallas needed a cannon the most inside the closing minute in the Superdome, once again the Haughton native and former Mississippi State Bulldog came up far short.

Sure, Prescott has 14 fourth-quarter winning comebacks, but with when the Cowboys need it the most, they faltered. It was a chance for Dallas to finally separate itself from the NFC pretenders, it's first since the era of Aikman, Smith and Irvin.

Legitimate title contenders do not squander such opportunities.
With 12 games remaining, there is still plenty of time for Dallas to lick their wounds, learn from their mistakes and realize the potential of the best team Jones' money can buy.

In the meantime, the Saints have gone 2-0 since the untimely departure of all-world quarterback Drew Brees and the team's subsequent loss to last year's NFC champion, Los Angeles Rams.

With four weeks remaining until the NFL's all-time leading passer (74,845) is expected to return, the Big Easy is resting — well, easy — and looks to be in the driver's seat for a trip to Miami even if the road to Super Bowl LIV still probably goes through Dallas.

But then again, it's just the first week in October!