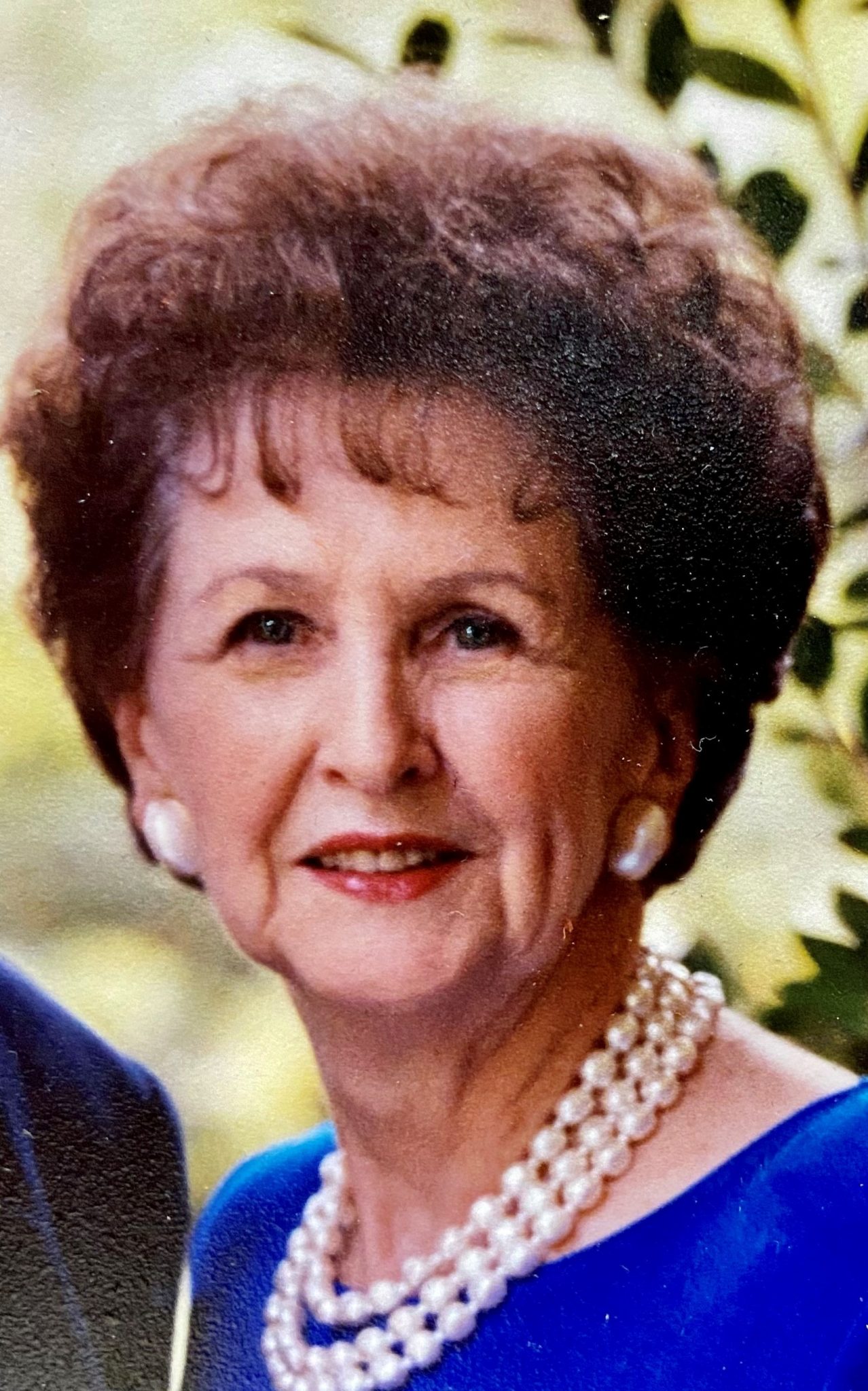 Patricia Lee Catron de Pingre, passed away on October 2, 2021, in Irving, Texas. Pat was born in Forest, Louisiana to Alonzo and Luta Catron. She attended Louisiana College and after graduation, she met and married Major de Pingre. They moved to Minden, Louisiana where Pat served as a Home Demonstration Agent for the L. S. U. Agricultural and Extension Department in Webster Parish. She later joined her husband in business at Major Office Supply, where she was a commercial designer. Pat was an active member of the First Baptist Church serving as a Sunday School Teacher, President of the Woman's Missionary Union, choir member, and numerous committee roles.
Pat also served as President of the Women's Department Club and was very involved in the community and in fundraising for charitable causes including the American Cancer Society, Cystic Fibrosis Foundation, March of DImes, American Red Cross, Salvation Army, , and United Fund. Pat was also named Minden's Woman of the Year.
She was a member of the Minden Beautification Council, American Legion Auxiliary, and the Minden Chamber of Commerce. Pat lived her life doing countless acts of kindness for others in the community including serving as a patient volunteer at Minden Medical Center, always with a beautiful smile, a kind word, and a big heart.
Pat is preceded in death by her husband, Major Louis de Pingre, her parents, Alonza and Luta Catron, her brother, Benny Catron, her sister, Jerry Catron Ichter, her brother-in-law, WIlliam Ichter, her grandson, John Major de Pingre, and her son-in-law, James Thomas Willis.  Pat is survived by her children Benny de Pingre and, Margaret de Pingre Willis, and grandchildren, Kara and husband Jordan Northcutt, Lauren and husband Joseph Traba, III, Matthew and wife Chistina WIllis. 
In lieu of flowers, the family asks that you please make a contribution in her memory to the First Baptist Church, 301 Pennsylvania Ave., Minden, LA, 71055, the Cystic Fibrosis Foundation, or the charity of your choice.
A chapel service will be held at the First Baptist Church West Chapel in Minden, LA, on Monday, October 11, 2021, at 1:00 p.m. with Bro. Steve Gilley officiating. Interment will follow at Gardens of Memory Cemetery in Minden, Louisiana under the direction of Rose-Neath Funeral Home in Minden.
Rose-Neath Funeral Home
211 Murrell Street
Minden, Louisiana 71055
(318) 377-3412