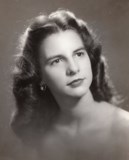 October 8, 1927 – September 30, 2021
Melba Jean Wroten McFadden passed in her sleep from the embrace of her children to that of her Lord at her home in Mobile, Alabama, on September 30, at the age of 93.
She was preceded in death by her parents, Stella Mae and Clarence Edgar Wroten, her sister and brother-in-law, Dorothy Carrie and James Skaggs, and her husband, Edward James McFadden.
She is survived by her five children, Kathleen McFadden, Michael McFadden (Lisa), Sean McFadden, Anna Marie McFadden Mouton (Larry), and Patrick McFadden (Hallie); eight grandchildren, Ian Ellis, Colin Ellis, Edward McFadden (Brittany), Abigail McFadden Waldron (Shawn), Katie Mouton Anderson (Kenny), Marc Mouton, Sheehan McFadden, and Eamon McFadden; and four great-grandchildren, Aria Ellis, Henry Anderson, Eloise Anderson, and Liam Waldron.
Born and raised in Minden, Louisiana, Jean moved to New Orleans where she studied and became an X-ray technician. After moving to Dallas, Texas, she met and married Edward. The couple ultimately settled in Louisiana where they raised their five children.
A long-time member of the Our Lady of Fatima parish in Monroe, Louisiana, Jean was an active parent at Our Lady of Fatima Catholic School, being elected and serving as the first female president of the PTO. As her children grew, she also became an involved supporter of St. Frederick High School. After retiring from the News Star newspaper, she ultimately moved to Mobile, Alabama, in 2000, and became a devoted member of the Holy Family parish.
Visitation will be from 6 to 8 pm on Monday, October 4, at the Radney Funeral Home in Mobile; a rosary will be said at 7 pm. A funeral mass will be said at Holy Family Catholic Church in Mobile on Tuesday, October 5 at 2 pm. Interment will be at Hill Crest Memorial Funeral Home & Park in Haughton, Louisiana, on Friday, October 8 at 1 pm.