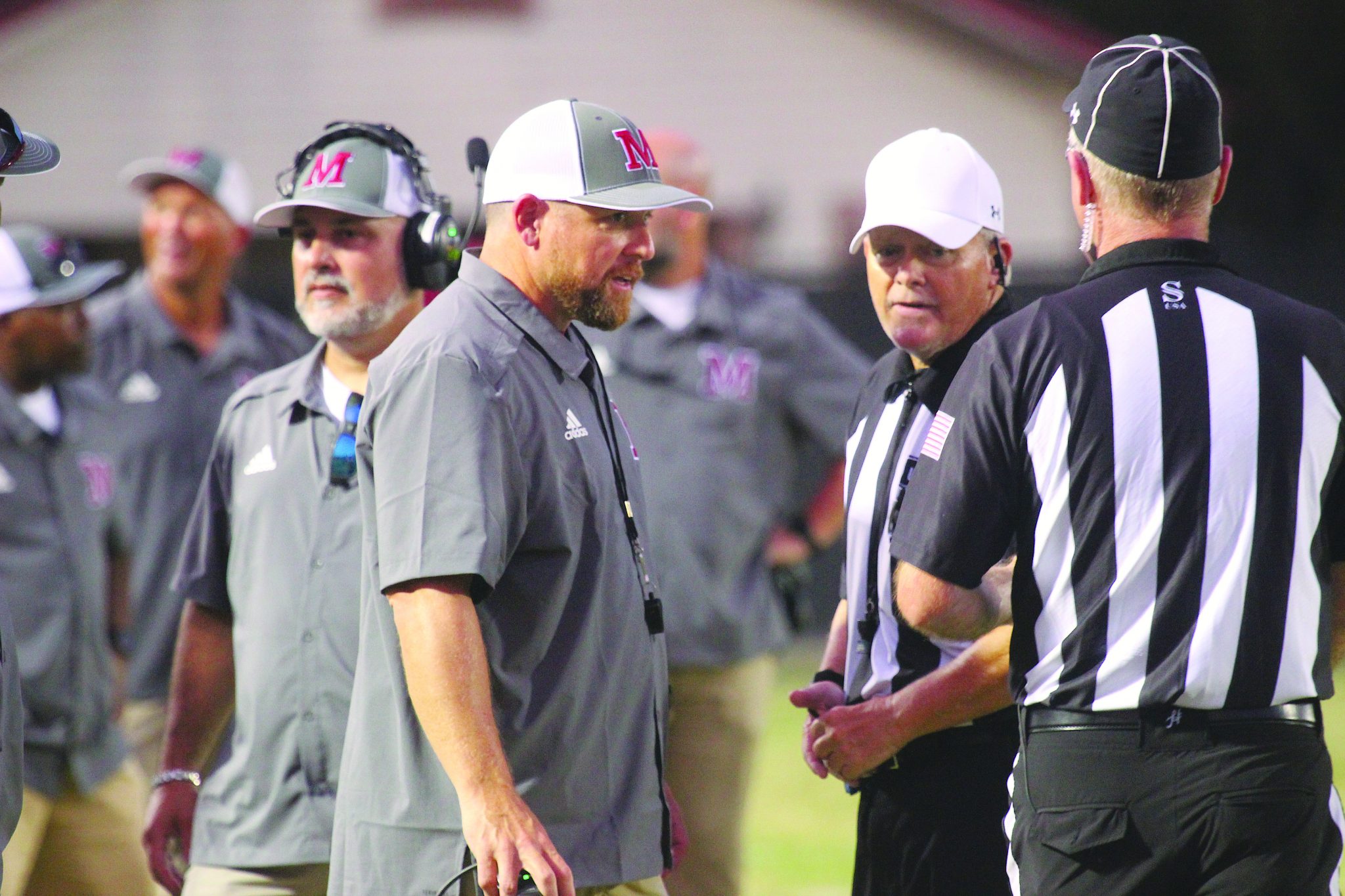 Defense has played a big role for the Minden Crimson Tide football team all season long.
And it did so again Friday night, as Isaiah Thornton's 99-yard "Pick Six" interception return followed by Cole Barnett's extra point kick with 5:29 remaining proved to be the difference as Minden earned a 35-34 victory at Franklin Parish.
The Crimson Tide finished the regular season at 4-6 and will learn its postseason fate when the Louisiana High School Athletic Association announces its 2021 playoff brackets on Sunday.
Running back Daylen Robinson played his usual big role in the Minden, rushing for 96 yards and three scores on 26 carries, including a two-yard scoring scamper that gave the Crimson Tide an early 7-0 lead at the 5:50 mark of the opening stanza.
But Franklin Parish countered by scoring three touchdowns over a 2:02 span shortly after to build a big lead of its own.
The Patriots went on top 8-7 on a one-yard run by Jacob Caldwell followed by a successful two-point conversion pass with 1:50 left in the first quarter before Franklin Parish's Josh Caldwell returned a fumble 45 yards for a score that put FPHS up 14-7 with 22 seconds left in the opening period.
After forcing a quick Minden punt on the ensuing series, Franklin Parish's Chris Baker broke loose on a 54-yard dash to paydirt that pushed the Patriots' lead to 20-7 at the 11:48 mark of the second quarter.
But the Tide rolled back, scoring on a six-yard run by Robinson before Minden quarterback Andrew Cooper fired a 10-yard scoring strike to Cameron Mitchell to knot things up at 20-20 (after missing the first extra point kick attempt) with 1:30 left in the first half.
Franklin Parish battled back and took a 28-20 halftime lead after quarterback Bryce Curtis hit Marshawn Whitley on an 11-yard touchdown pass followed by a two-point conversion pass to Eli Foster with 19 seconds remaining before intermission.
The back-and-forth scoring see-saw continued in the second half as Minden tied things up again at 28-28 as Daylen Robinson scored on a four-yard run before running in for the two-point conversion at the 6:10 mark of the third quarter.
Franklin Parish didn't waste any time regaining a lead as Curtis hit Javion White on a 77-yard bomb that put the Patriots back on top 34-28 5:19 left in the third period before Thornton's fourth-quarter heroics gave the Tide the comeback win.