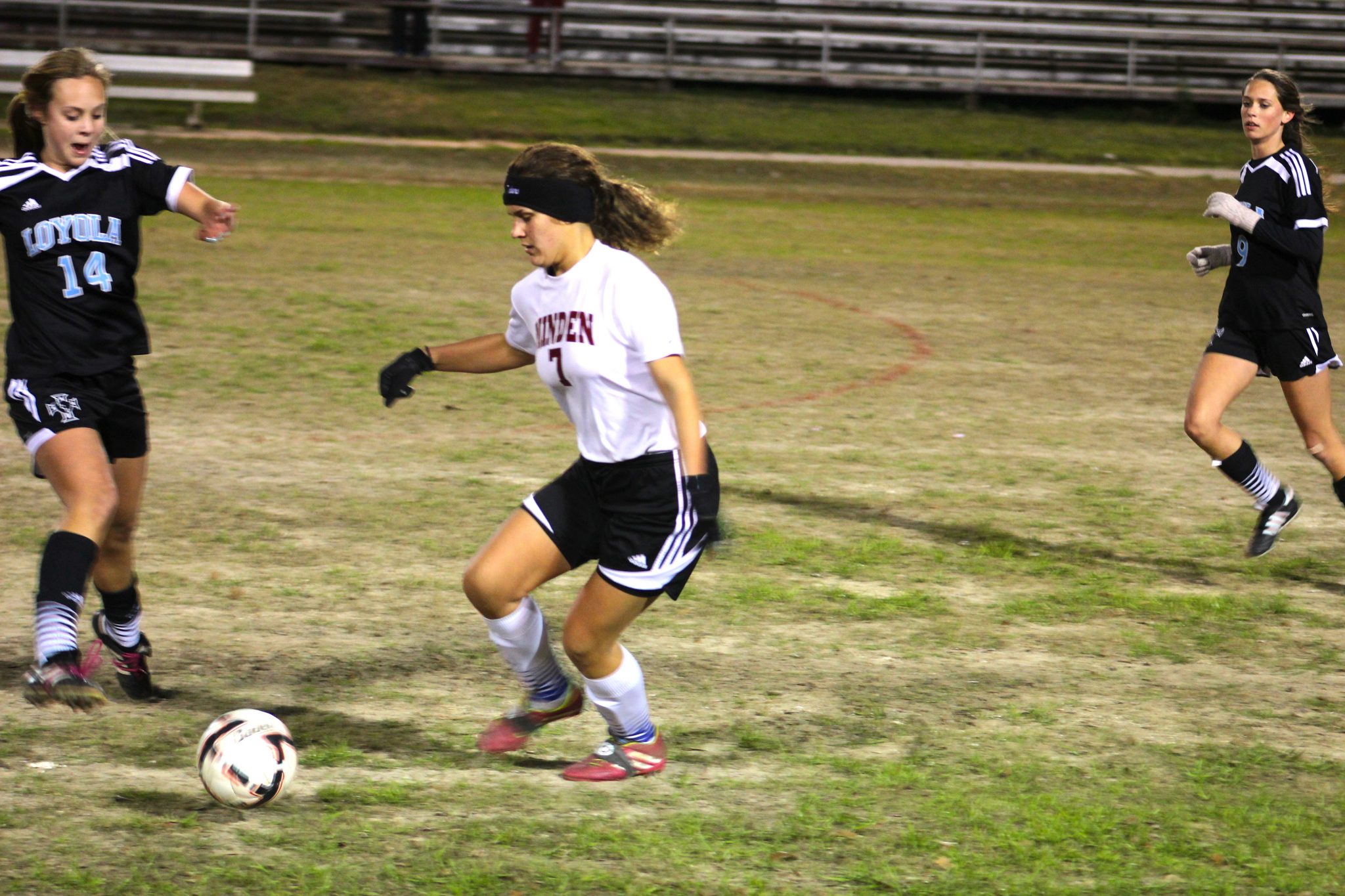 With a program as rich in tradition as Minden football, it's hard to believe their's any history left to be made.
However, when senior Emily Frye bursts through the banner tomorrow night for the Minden Crimson Tide, historic will be the only effective way of describing the moment.
In the 100th season of football at Minden, it's only right that senior night takes on added significance with Frye, a star for the Minden girls' soccer team, set to break the school's gender barrier between ladies and the football field.
"Coach Heard asked coach Tracy Lee if he knew of any good kickers," Frye said of finding out her services were in demand by the reigning Class 4A Coach of the Year. "(Lee) asked me if I wanted to go out there and I thought that would be fun, so I did it."
Frye has been playing soccer since she was 5 years old, but said she didn't begin to blossom on the pitch until she reached the high school ranks.
"It became so much more competitive," Frye said. "I had a goal of making the most goals every year. Having the chance to be competitive made me a better player and made me work harder for what I wanted."
In the short time she's spent on the football field, Frye said she notices plenty of differences between scoring goals and hitting field goals; some are pretty obvious.
"First off, the ball is a different shape," Frye said. "When you kick a soccer ball you want to be low to the ground and swing your leg across your body, and when I kick the football I'm more straight up, trying not to put as much force into it and I swing my leg comes more straight in front of my body; it's totally opposite."
Frye's father Cale coaches Emily and the rest of the Minden girls' soccer team and knows his daughter's skills are special on the pitch. Knowing the competitive side of Emily, the elder Frye put up no fight, and also made sure to remind her there was no pressure to do anything if she wasn't 100 percent sure.
They weren't surprised," Frye said. "They knew I was going to do it, because I've always told them that I wanted to play football since I was little. They were more excited for me than anything, but they told me if I didn't want to do it I didn't have to."
Heard will be cautious with his historic place-kicker, making sure she's not thrown into a pressure situation with it being a district game during a currently undefeated season.
With that said, Frye confidently says she thinks she'll get to see the field Friday night against the North DeSoto Griffins (5-3, 3-2).
"I'm pretty sure I'm going to get in," she said. "Everyday we have a contest to see who makes the most out of five field goals, and I've pretty much got it down. I'm beating the boys."
Whether she gets a chance at a live extra point or field goal is unknown, but the certainty is this: Frye will always be the first female to step foot on the hallowed grounds of W.W. Williams Stadium as a member of the Minden football team, and no one can ever take that away from her.
"It's going to be weird, but it's crazy," she said. "I don't know, it's just awesome."