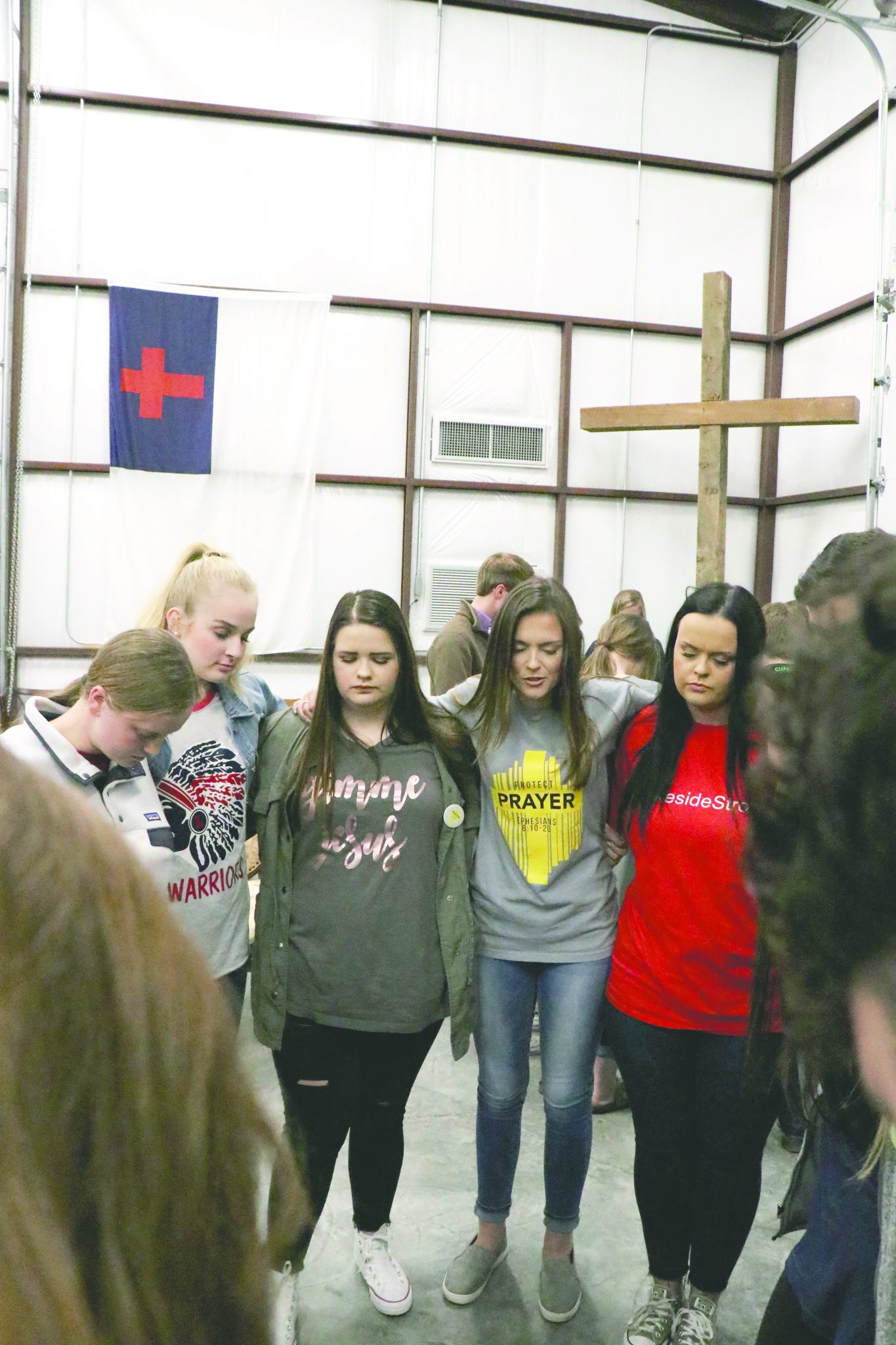 Protect Prayer sweeps Webster, Bossier parishes as students respond to school lawsuits
First in a series

In the past three months, lawsuits filed against the Webster and Bossier Parish school systems for allegedly promoting Christianity in schools have made waves across the predominately Christian communities in the area. In that time, Christian students at the schools in question have not been silent. In fact, they are more outspoken about their faith than ever before.
Several student-led movements, events, and activities have come about in response to changes in school policies in the wake of these lawsuits. This series in the Press-Herald will feature just a few of the things local students are doing to share their faith in constitutionally protected ways.
Perhaps the largest student response is Protect Prayer, a movement across both parishes that began with Katherine Gatti, a senior at Airline High School in Bossier Parish.
"The purpose of Protect Prayer is to educate students on their rights and then equip them with ways to use those rights," Gatti said. "It came about because of the lawsuits filed against Bossier Parish and Webster Parish [school boards]. It just encouraged a lot of Christian students to come together to stand for our beliefs publicly and try to make a difference."
Protect Prayer accomplishes these goals through student-led prayer and leadership rallies, as well as a website and Facebook page that has accrued more than four thousand likes in a matter of weeks. The first of these rallies was held Feb. 22 in Bossier City, away from campus and after school hours.
"Our goal is just to encourage students to stand out in their faith in whatever way we can," Gatti said. "We want to let them know that even though we're young we don't have to let our parents and politicians speak for us. We have a voice, and we have power and freedoms through Christ and under the law."
As Protect Prayer began, Gatti reached out to Makenzie Swilley, a junior at Lakeside High School in Sibley, to help spread the word. Today, there are Protect Prayer leadership teams at five area high schools. The Lakeside leadership team has organized a time of prayer every Monday morning before school at the Lakeside flagpole.
"Protect Prayer is by students and for students," Swilley said. "It's time for our voices to be heard. We want everyone to know that this is completely student-led, and no one can interfere with that."
Lakeside, the focal point of the original lawsuit, discontinued the practice of broadcasting prayer over the intercom every morning, opting to replace it with a "moment of silence." Swilley said Lakeside students have been especially affected by the accusations and ensuing changes to the school system.
"We were one of the only schools left in Webster or Bossier parishes that stil said a prayer over the intercom in the mornings," she said. "That's one reason this lawsuit touched our hearts, because we were heartbroken when we found out that we could not pray over the intercom anymore. That time is where some of the lost and broken kids find hope."
This change prompted Swilley and others to carry on the mission of Protect Prayer when Gatti opened the door.
Hayden Finley, a junior at Lakeside and another member of the leadership team, said an eventual goal of the group is to bring about the reinstatement of morning prayer at Lakeside. They hope to accomplish this through something called a prayer waiver.
"The prayer waivers are papers the parents sign off on to say that they wish for the child to be prayed for in school," Finley said. "It gives the teachers the legal right to pray with the child. It's like a permission slip."
The Protect Prayer movement has businesses cards leaders frequently pass out, and on the back are listed "10 ways to #protectprayer during non-instructional time." The Lakeside leaders referred to these as "ten rights" that students can exercise within the law. These include "attend and invite other students to religious clubs," "freely share and speak of your faith," and "volunteer to lead prayer in assemblies."
The group has coined the #protectprayer moniker on social media. The Protect Prayer Facebook page features dozens of testimonial statements from elementary, middle school, and high school students sharing what God has done in their lives and what prayer in school means to them.
Finley and the other Lakeside leaders claim everything about their school mentioned in the lawsuit is either untrue or not against the law.
"Everything at our school has always been voluntary and student-led, including the prayer over the intercom," Finley said. "They have always made sure of that because they knew the dangers of a teacher or administrator doing that."
While the student leaders maintain that the claims of the lawsuit are baseless, they do believe some of the negative response since the lawsuit's filing has been inappropriate. Caden Hedrick, a senior at Lakeside, said the student whose mother filed the lawsuit has received hate that no person deserves.
"I've heard a lot of people on the Christian side of it who want to persecute her and put her down, and as Christians that's not what we're supposed to do," he said. "We're supposed to lift her up."
Swilley said even in the midst of standing up for their beliefs, the Protect Prayer movement is a message of love, never intolerance or hate.
"If another student from another religion wanted to stand up and say their prayer out loud, we would not care," she said. "It's one of those things where you love others no matter what they believe."
As the movement's founder, Gatti echoed this idea.
"I know I've never talked about my faith with the purpose of ostracizing or offending anyone at all," she said. "In fact, one of my closest friends is Hindu, and she is loved by every student and teacher on campus. I have conversations [of a religious nature] with her all the time that are very civil and calm, and we genuinely care about each other even though we have different beliefs. I know that if what I'm saying about my Christian faith offends someone, I don't push it if I know they're resisting it."
The Lakeside leaders said that despite their origin, recent events have emboldened students of faith and drawn them closer together rather than silencing them.
"Before the lawsuit, we had all grown comfortable with our faith and the situation we were in," Finley said. "This brought us out of our comfort zone, and now we are standing up and doing things we should have been doing all along."
Swilley said this movement accentuates what was already great about Lakeside.
"This is the time to let our light shine out to others," she said. "It's life-changing, and it's united us together as one. We are family at Lakeside – we have such a great atmosphere, and it's time to just make that even better."
The next Protect Prayer rally is March 22 in Bossier City. Any Bossier or Webster parish student is welcome to attend. Check the Protect Prayer Facebook page for more info.
Perhaps the best summary of Protect Prayer's message can be found at the end of their list of rights.
"First amendment rights are not surrendered at the school doors," it reads. "Have faith. Be strong. Believe."