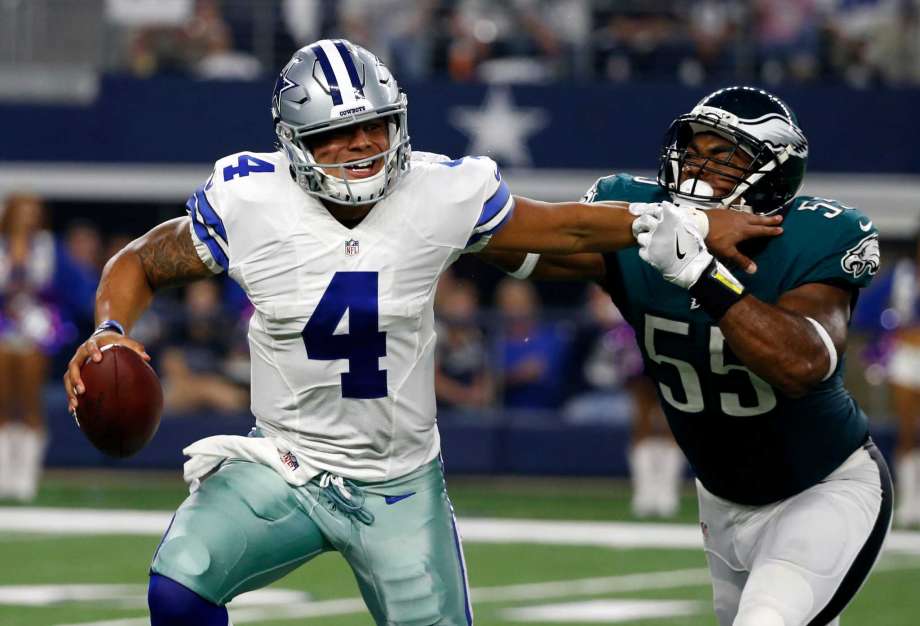 ARLINGTON, Texas — Dak Prescott threw a 5-yard touchdown pass to Jason Witten in overtime to give the Dallas Cowboys their sixth straight victory, 29-23 over the Philadelphia Eagles on Sunday night.
Prescott won the rookie quarterback duel with Carson Wentz, rallying the Cowboys with a late tying pass to Dez Bryant. Dallas (6-1) overcame a 10-point deficit in the fourth quarter to take a two-game division lead.
The 23-year-old Prescott recovered from a shaky start, finishing 19 of 39 for 287 yards with two scores and an end zone interception that cost the Cowboys points late in the first half.
Wentz had the Eagles (4-3) in position for a win with another efficient performance. But he couldn't move Philadelphia late in regulation with the game tied. The Eagles never got the ball in overtime after Prescott led the 75-yard scoring drive.
On the winning play, Prescott started to his right before spinning back to his left and finding a wide-open Witten, who broke Ed "Too Tall" Jones' franchise record with his 204th start.
Bryant had four catches for 113 yards, including a 53-yarder to set up the first Dallas touchdown, in the 2014 All-Pro's return after missing three games with a hairline fracture in his right knee.
Ezekiel Elliott's NFL rookie record of four straight games with at least 130 yards rushing end, but the NFL's rushing leader played a big part on the winning drive with 18 yards rushing and a 10-yard catch that set up Witten's score. He finished with 96 yards on 22 carries.
Prescott's TD pass to Witten tied Troy Aikman's rookie franchise record of nine scoring passes after Wentz broke Donovan McNabb's rookie mark of eight from 1999 with his ninth of the season, a 5-yarder to Jordan Matthews that put Philadelphia up 20-10 in the third quarter.
Darren Sproles had a season-high 86 yards rushing on 15 carries for the Eagles. Matthews had 11 catches for 65 yards.
NOT SO SPECIAL: The Cowboys had a rough first quarter on special teams. Lucky Whitehead fumbled the opening kickoff but recovered it. The Eagles later got the ball back after punting when Dallas was called for too many men on the field. Then the Cowboys were called for running into Sturgis, although replays showed a pretty good acting job and the penalty was declined because it wasn't a personal foul and Sturgis made the 30-yarder.
INJURIES: Eagles OL Allen Barbre left in the first half with a hamstring injury and didn't return. … Cowboys S Barry Church left with an arm injury in the second half and didn't return. … Cowboys CB Morris Claiborne left with a groin injury late in the fourth quarter.