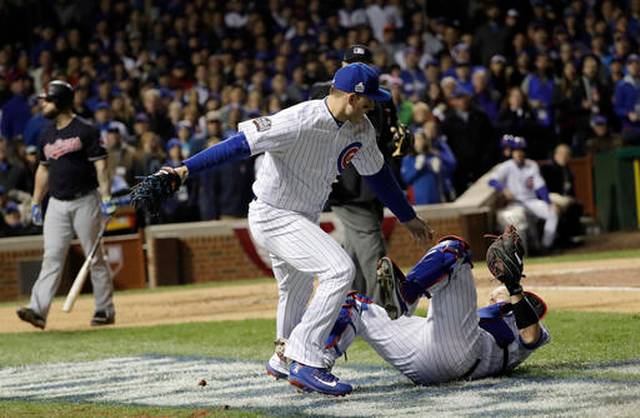 CHICAGO — David Ross isn't done just yet. Same for Jon Lester and the Chicago Cubs.
Ross played a starring role as the Cubs stayed alive in the World Series, topping the Indians 3-2 in Game 5 on Sunday. The veteran catcher, who plans to retire after the season, had a superb night behind the plate and delivered a clutch sacrifice fly in a key spot, helping Chicago to its first World Series win at Wrigley Field in 71 years.
He even got a shoutout from Pearl Jam frontman Eddie Vedder, who dedicated "Take Me Out to the Ball Game" to Ross during the seventh-inning stretch of his final home start.
"We love you Rossy," Vedder said as the crowd roared. "Let's take this show to Cleveland!"
Ross and his good buddy Lester also combined to slow Cleveland's attack after the Indians rolled to a 7-2 victory in Game 4 on Saturday night. Lester bounced back from a so-so outing in the series opener, pitching six solid innings to improve to 3-1 with a 1.93 ERA in five playoff starts this year.
It was a familiar performance for Lester, who helped Boston win the World Series in 2007 and 2013. The left-hander was 3-0 in three career starts in the Fall Classic before dropping Game 1 against Cleveland when he was nicked for three runs in 5 2/3 innings.
Ross' Game 5 included a pair of adventures in foul territory. He had one foul pop go off his glove near the railing of the visitor's dugout, but first baseman Anthony Rizzo was there for a juggling catch . He collided with Rizzo on a foul popup in the fourth and held on for the out.
But Ross put together his best work when he stayed behind the plate. He did a solid job of framing close called third strikes to Brandon Guyer in the fifth and Jason Kipnis in the sixth. After Kipnis' strikeout, Ross cut down Francisco Lindor trying to steal second for the final out.
Ross' defensive work was particularly important with Lester having his usual struggles with runners on the basepaths.
The Cubs trailed 1-0 before scoring three times in the fourth. Ross capped the rally with a fly ball to left with the bases loaded, driving in Ben Zobrist.
Ross, nicknamed "Grandpa Rossy" by his young teammates, was taken out for a pinch hitter in the sixth, and he shared a hug with Lester in the dugout.
Lester and Ross have been together for years and often hang out together off the field. Lester agreed to a $155 million, six-year deal with the Cubs in December 2014, a key moment in the club's climb to NL powerhouse. Ross then followed Lester to Chicago for a $5 million, two-year contract, and quickly became a mentor for some of the team's emerging players.